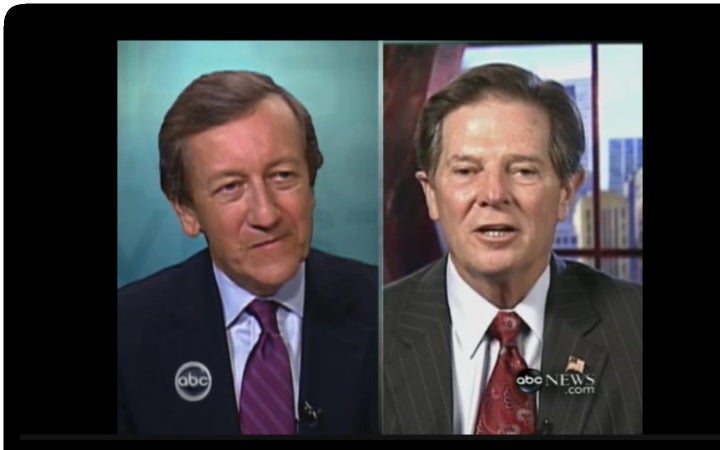 In an interview posted online today, former House Majority Leader Rep. Tom DeLay (R-Texas) told ABC's Brian Ross that there was no lesson to be learned from the end of a Department of Justice investigation into his ties with lobbyists. He claimed that he did nothing wrong, and blamed "career bureaucrats" that have "political agenda and a personal agenda" for the investigation.
"I didn't break the law," he said. "The Department of Justice spent six years investigating, and they could find nothing because there's nothing there."
"In 1995, Patrick Kennedy and Nancy Pelosi announced that they were going to get me. I've gone through all kinds of frivolous ethics charges," DeLay added. "I've had an indictment on laws that didn't even exist in Texas."
The conservative known as "the Hammer" defended the lobbyist-paid-for trips as saving taxpayer money. "I would take trips paid for by private interests and nonprofit interests because I didn't believe taxpayers should be paying for it," adding that it was "the right thing to do."
DeLay provided a few testy exchanges with Ross, who had closely followed the Texas Rep.'s lobbying scandals. Initially, Ross asked if a line was crossed. DeLay said no. He added that he and disgraced former lobbyist Jack Abramoff are not "too close."
"Many lobbyists are friends of mine," DeLay said. But when Ross later pressed on any lessons learned from the Abramoff case, which partially served as a rallying cry for Democrats during the 2006 elections, DeLay threatened to stop the interview.
DeLay said that despite being "nearly bankrupt," he wants to take up conservative causes. "I have no idea what the Lord has in store for me." Despite saying that politics is "hurting the nation" by "undermining the trust" in government, he pledged to "defeat Obama and Nancy Pelosi in any way" he could.
Republicans, he opined, should be more aggressive in repealing the "Obama agenda." He said that, should the GOP control the House of Representatives, one week per month should be reserved for a "repeal session" where members can repeal anything.
"The only regret that I have is this criminalization of politics," he said. "It's not bad enough now to just beat 'em in policy or let them ruin your reputation. They've got to bankrupt you, ruin your family, put you in jail, put you in the grave and then dance on your grave."
WATCH Part 1 below:
WATCH Part 2 below:
WATCH Part 3 below:
Calling all HuffPost superfans!
Sign up for membership to become a founding member and help shape HuffPost's next chapter