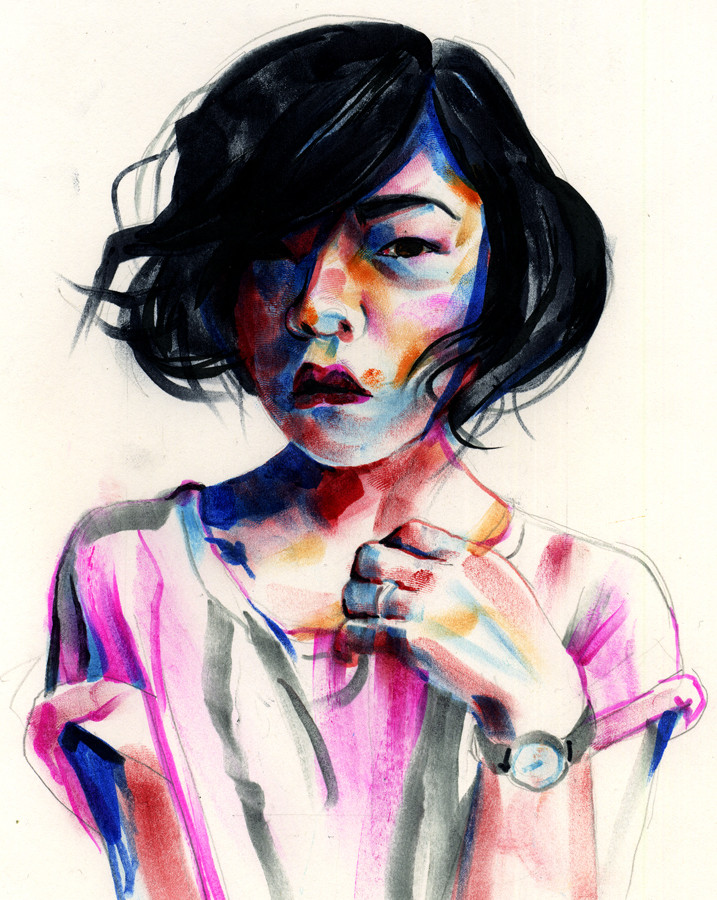 You'll never look at the half-dried chubby markers from your school days the same way again.
Seattle artist Tom DesLongchamp certainly didn't the day he decided to add some color to his portrait work beyond the traditional brush pen and black ink. "Since college, I've always kept a sketchbook which consisted mostly of life drawings with a simple black pen," DesLongchamp, who studied at RISD in Providence, Rhode Island, told The Huffington Post in an email. "I drew 95 percent by eye and was primarily concerned with practice rather than finished drawings."
And then: "Something shifted in my brain a few years ago, and I became very intrigued by texture and color values. I was working at my job at the time, and took a break to draw."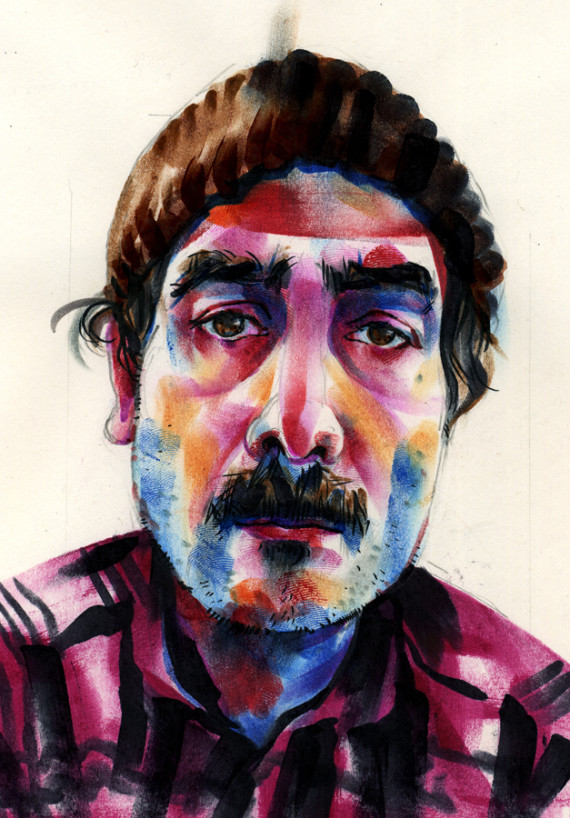 "I snapped a photo of my work buddy, Mike, and did a pencil sketch," he continued. "I looked around the office for something to add color with, and I found a crappy, partially dried-up, red Crayola marker on the floor. I made a mark, but didn't like how marker-y it looked, so I put some on my fingertip and smudged it on instead. I just used that red marker for a while, but eventually branched out to other colors as I randomly acquired them."
DesLongchamp's arsenal also includes "lots of paper cutouts for masking my smudges."
The faces peering out from DesLongchamp's Instagram feed are vibrantly colored and almost alive, drawn in both broad marker smudges and specific details: tiny wisps of hair or the glint off a pair of glasses. His background in animation is fitting; you almost expect the subjects to begin moving of their own accord. "Using markers has never been an intentional constraint," he said. "It's actually me branching out, since I used to only use a black pen. I'm still in the process of growing with mediums. I've recently been adding white tempera and gouache."
What's made the humble marker such a mainstay in his portraits today? "I enjoy the speed and simplicity of using markers. There's virtually no drying time, and they're non-toxic." The medium does bring along its own quirks, though: "The most challenging part of the portraits is not screwing them up, because unlike paint, I can't just rework it. It's a one-shot deal. I think that's kind of a fun challenge, though. It's sort of a performance, and I'm at the mercy of my own focus."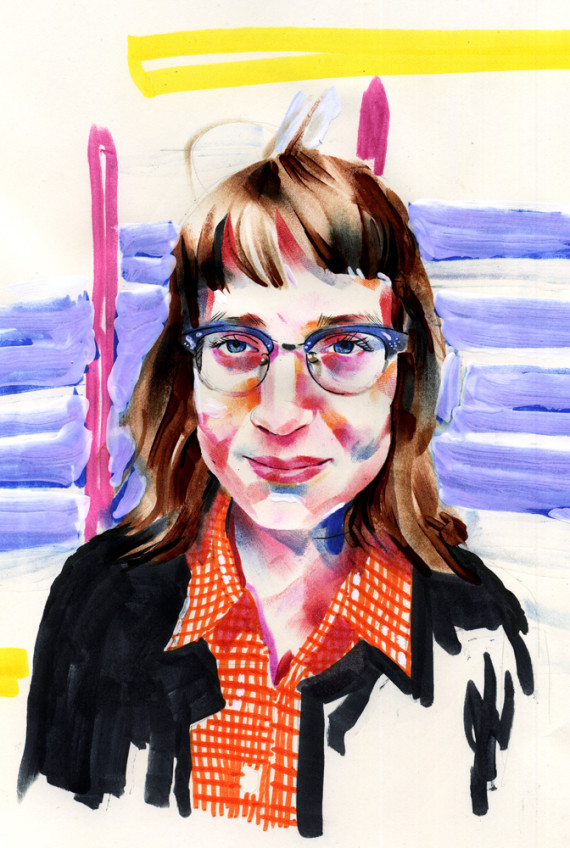 DesLongchamp initially kept his focus on his friend Mike Wurn, with the portraits becoming numerous enough for the artist to start the hashtag #dailyMikedrawing. (According to DesLongchamp, there are now 50-plus portraits of this one friend's face.) Eventually, he branched out to mostly featuring friends and family, along with a few choice famous faces -- even Abe Lincoln isn't safe from the marker treatment. "I love the surprise of posting drawings people won't expect," he said.
DesLongchamp -- who got his start painting in oil and acrylic in college -- originally worked as an animator/designer for an e-card software company, which allowed him the flexibility to pursue non-job creative work during the day. "I was really lucky that my boss didn't really care how I spent my time as long as I did good, on-time work for them." Eventually, DesLongchamp reached a point where he was able to quit his job and work from his home studio, doing a mix of animation services and portraits.
Working with Crayolas, DesLongchamp feels like he's "getting closer and closer to outright painting again." Nowadays he's influenced by artists like Edward Hopper, Wayne Thiebaud, Chuck Close and his former RISD drawing teacher, the late Alfred De Credico, who taught DesLongchamp "how to confidently leap into the unknown with material experimentation."
The result of that training is clear today, and DesLongchamp adopts that advice for artists looking to work with atypical mediums. "Don't settle for a style or medium too quickly. Keep making. Experiment with materials. Use them in a weird, new way. If you keep making the work, you will eventually settle into patterns of working, which could be called a 'style,' but is actually just a natural progression of discovery," he said.
"Don't be afraid of what you always seem to gravitate toward. I had periods in college where I was ashamed that I only seemed to like drawing faces. I thought, 'Shouldn't I like drawing everything?' and would get really depressed trying to draw houses, cars and landscapes. Follow what you love, because you'll burn out otherwise. "
More of DesLongchamp's portraits can be found via his Instagram. All images courtesy of the artist.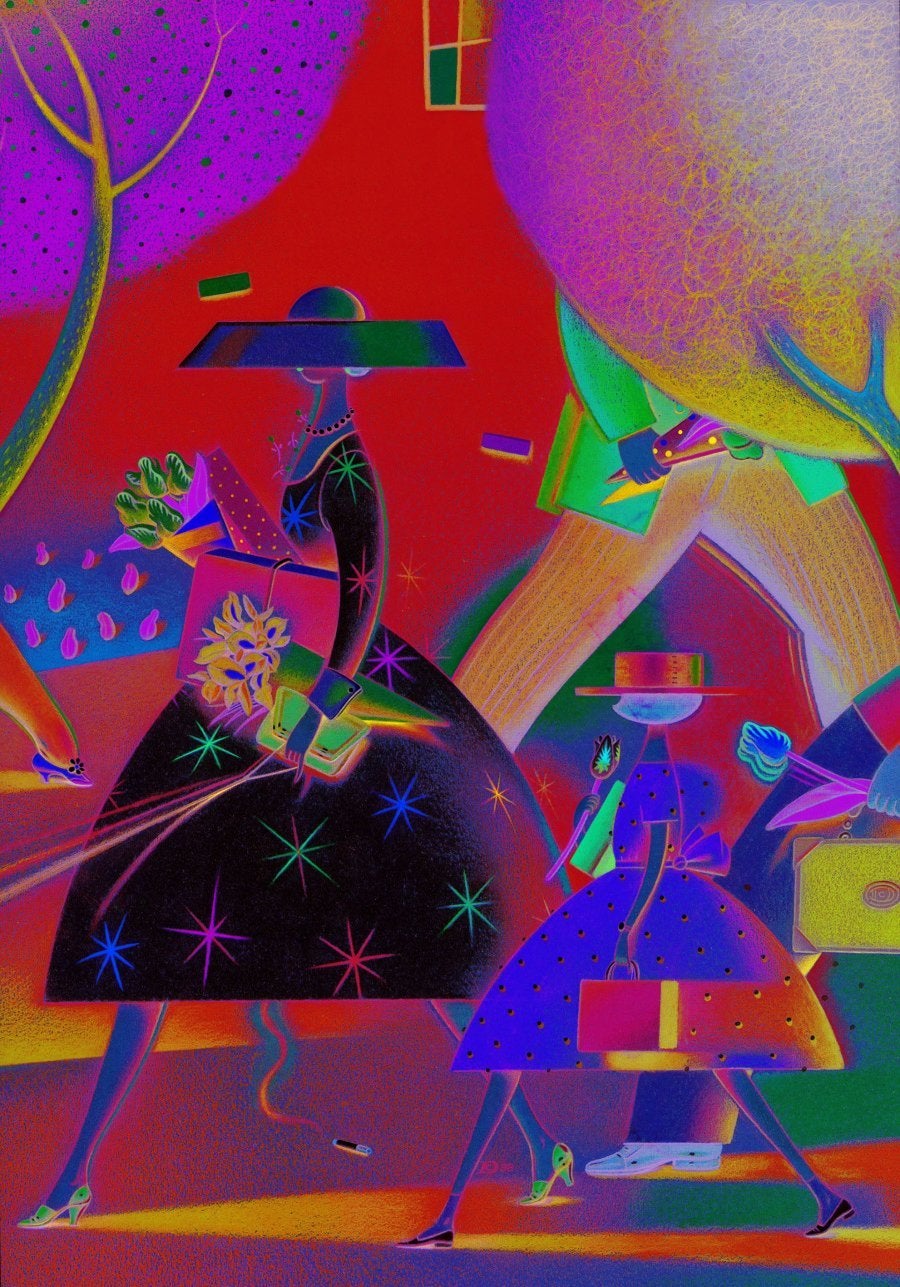 12 Illustrators You Should Know Right Now