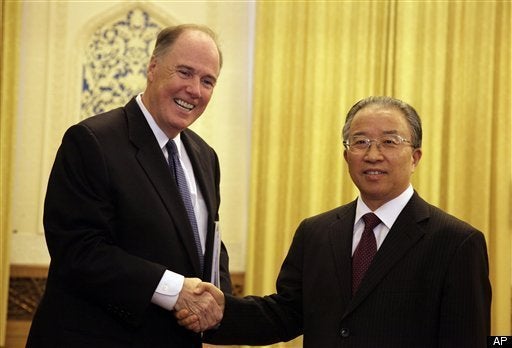 This story has been updated
Outgoing National Security Adviser Jim Jones once disparaged his replacement and current deputy, Thomas Donilon, for his lack of overseas experience, telling him that as a result: "You have no credibility with the military," according to Bob Woodward's "Obama's Wars."
In addition, Donilon, who previously worked as a vice president for floundering mortgage giant Fannie Mae and was known for his strong views and opinions, once offending Defense Secretary Robert Gates so much during a meeting that the Pentagon chief almost walked out, according to Woodward.
Gates asserted that Donilon would be a "disaster" as National Security Adviser, the book alleges.
Jones called Donilon into his office late last year to discuss Jones's plans to step down from the post, writes Woodward. After praising his deputy for his "substantive and organizational skills" which made him indispensable to the president, he also reprimanded Donilon for three major mistakes:
First, he had never gone to Afghanistan or Iraq, or really left the office for a serious field trip. As a result, he said, you have no direct understanding of these places. "You have no credibility with the military." You should go overseas. The White House, Situation Room, interagency byplay, as important as they are, are not everything.

Second, Jones continued, you frequently pop off with absolute declarations about places you've never been, leaders you've never met, or colleagues you work with. Gates had mentioned this to Jones, saying that Donilon's sound-offs and strong spur-of-the-moment opinions, especially about one general, had offended him so much at an Oval Office meeting that he nearly walked out.
Third, Jones said that Donilon was not good in his dealings with his staff at the National Security Council, displaying "too little feel for the people who work day and night...."
A senior defense official told The Huffington Post that Gates and Donilon have enjoyed a good working relationship for many, many months, emphasizing that the characterization in the Woodward book is extremely outdated and mainly concerned the 2009 review of the administration's policy on Afghanistan and Pakistan.
In addition, the official said that Gates looks forward to working with Donilon, adding that the promotion will not speed the departure of Gates, who has indicated his intention to resign soon.
At a press conference this morning, Gates praised Donilon:
I have thoroughly enjoyed working with Gen. Jones and I have, and have had, a very productive and very good working relationship with Tom Donilon, contrary to what you may have read and I look forward to working with him.
Popular in the Community