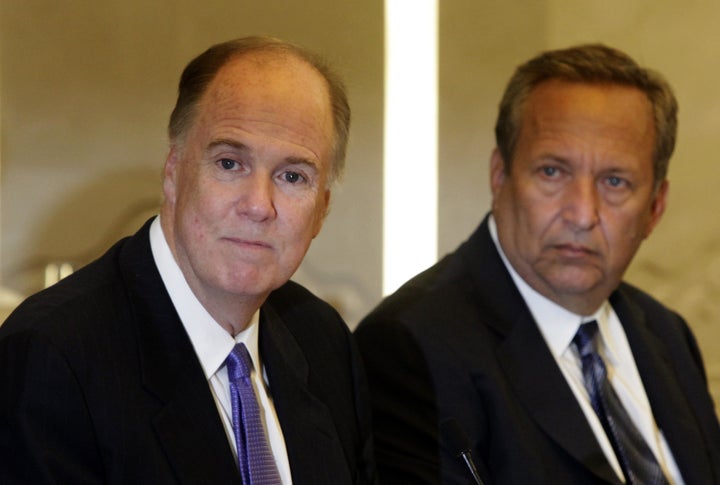 The White House announced Friday that Gen. James Jones is resigning his post as National Security Adviser, making way for his top deputy, Tom Donilon.
According to the AP reports, President Obama will announce the staff shakeup Friday in a speech from the White House Rose Garden.
Plans of James's resignation were no secret among Washington circles, nor is Donilon's promotion to the top spot, though there had been some buzz last month about him replacing the resigning Rahm Emanuel's as Chief of Staff. That role has since been assumed by Peter Rouse.
Tom Donilon's move to National Security Adviser will be effective in two weeks.
The New York Times provides a little background on Donilon's career:
Mr. Donilon began as young political operative for President Jimmy Carter and later was chief of staff for Secretary of State Warren Christopher in the Clinton administration. He has long operated in the area between politics and national security. He coached Mr. Obama on foreign policy for his debates during the 2008 presidential campaign.

As deputy national security adviser, he has urged what he calls a "re-balancing" of American foreign policy to rapidly disengage American forces in Iraq and to focus more on China, Iran and other emerging challenges. In the Afghanistan-Pakistan review, he argued that the United States could not engage in what he termed "endless war," and has strongly defended Mr. Obama's decision to declare that troops will begin leaving Afghanistan next summer.
The Washington Post notes a potential point of friction within the Administration:
[Donilon]'s been to Afghanistan only once, during Obama's six hours there in the dead of night back in March. (Well, once is probably enough.)

There may be detractors. Defense Secretary Bob Gates, for example, is quoted in Bob Woodward's latest as saying Donilon would be a "disaster" in the job.
Calling all HuffPost superfans!
Sign up for membership to become a founding member and help shape HuffPost's next chapter