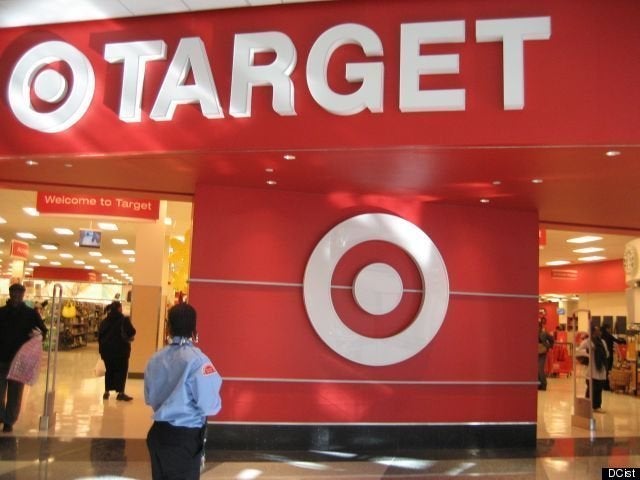 [UPDATED, please see below.]
Emmer says marriage "is the union between one man and one woman" and he supports the constitutional marriage amendment defining marriage as such. As a point of his "values" position, Emmer has been married to just one (presumably biological) woman since 1985. Meanwhile, claiming that it infringes on individual rights, he opposed the state's indoor smoking ban. Displaying a complete lack of self-awareness, Emmer called one of these two issues "social engineering." Can you guess which one?
Enter national mega-retailer Target, whose corporate headquarters is in Minneapolis. As Sauer reported last week, Target donated "$100,000 cash and another $50,000 of in-kind goods and services" to a political action committee named MN Forward. In turn, MN Forward has used those donations to run ads in favor of Emmer's candidacy. Sauer called Target's donations "surprising," and it's not hard to see why:
Progressive compared to its peers, Target extends domestic-partner benefits to gay and lesbian employees. It has also openly sponsored Twin Cities Pride and other gay and lesbian events in the state. Target puts its name on Minnesota AIDS Walk, a move that many corporations, worried about religious consumer terrorism, are far too cowardly to even consider.

Target's been deservedly rewarded, receiving a top rating of 100 percent on the 2009 and 2010 Human Rights Campaign Corporate Equality Index and Best Places to Work for LGBT Equality, the 2009 Rainbow Families Award and the 2009 Lavender Pride Award--and a reputation amongst the LGBT community as a "good" big box retailer.
In subsequent follow-ups, Sauer has documented that Target's response to inquiries on this matter is based on two points. First: that its donations are based "strictly on issues that affect our retail and business interests." Second: It continually insists that its "rating of 100% on the 2009 and 2010 Human Rights Campaign Corporate Equality Index further demonstrates the reputation our company has earned."
The Huffington Post reached out to the Human Rights Campaign today, to inquire about whether Target's political donations in this instance would affect that pristine 100 percent rating on its Corporate Equality Index. The short answer: No, because political donations aren't part of that index's calculations.
From HRC spokesman Michael Cole:
Since news of Target's contribution to MN Forward, an independent expenditure committee, became public last week, people have asked HRC if political contributions by companies are factored into a company's score on the Corporate Equality Index (CEI). Unless the contribution is to a ballot initiative that is anti-LGBT (such as California's Prop. 8 in 2008), political contributions are not factored into a company's score for a number of good reasons.


It's important to understand that the CEI is a measure of the workplace practices of a company toward its own LGBT employees. We don't believe that rating companies based upon their political contributions is an accurate reflection of their commitment to LGBT equality in the workplace. In fact, corporate America is leading the way on issues of equality: over 85% of Fortune 500 companies prohibit discrimination on the basis of sexual orientation and 40% include gender identity in their nondiscrimination policies; and 57% provide domestic partnership health insurance benefits. Companies most often contribute for reasons associated with their particular business.

With respect to the CEI and political contributions, it would be difficult to develop criteria by which to judge companies. Virtually every company in the Fortune 1000 today has contributed to candidates (of both political parties) that have voted against issues important to the LGBT community. There are Democrats and Republicans alike, for instance, that voted against the repeal of DADT in the U.S. House of Representatives. Should a company that contributed to these incumbents get points deducted from their CEI score? As a rule, we don't believe that political contributions to candidates make companies any less committed to a diverse and inclusive workforce.
HRC does pledge to keep an eye on this issue, however:
The advent of unlimited corporate political contributions as a result of a recent U.S. Supreme Court ruling is a subject of great concern to all progressive movements, ours included. We will continue to monitor its impact on issues of equality and will revisit the issue of whether and how to factor in the political contributions made by corporate America as new information becomes known to us.
Over at the Village Voice, Jen Doll speaks to Target spokesperson Jessica Carlson, and gets a little bit further with Target's side of this debate:
So, why donate to someone who's anti gay marriage if you call yourself a supporter of the gay comunity?

Carlson: At this point what we're sharing is what was in Gregg's email. To be clear, we donated to a political action committee, the MN Forward, which is a bi-partisan group, and not directly to Emmer's campaign.
Carlson goes on to say that she "can't speculate on the nature of where our donations will go" in the wake of this story.
UPDATE, July 29: After being told by the Human Rights Campaign's Michael that HRC's CEI index, which measured the corporate "commitment to LGBT equality in the workplace," was decoupled from the issue of political contributions, and that it would "be difficult to develop criteria by which to judge companies" in terms of their political activity, it turns out that it's not that difficult at all to establish such criteria. In fact, it looks like sufficient criteria has already been established. Per Abe Sauer, at The Awl:
In the HRC's CEI tally, a range of policies and practices can win a corporation points. For example, Target gets "+5" for making sexual orientation training required for all managers and supervisors. (A score of 100, which is what Target and Best Buy boast, is the highest possible.)

Yet, the last category taken into account on each company's index is "Responsible Citizenship" where corporations can lose overall points for failing to be a "good corporate citizen." HRC defines this category as "Employer exhibits responsible behavior toward the LGBT community; does not engage in action that would undermine LGBT equality. Employers found engaging in activities that would undermine LGBT equality will have 15 points removed from their scores."
It seems to me that HRC can start docking points from Target this very minute. Instead, as Sauer notes, HRC has opted to "[mire] itself in PR relationship quicksand that threatens the good work it actually does."
Popular in the Community