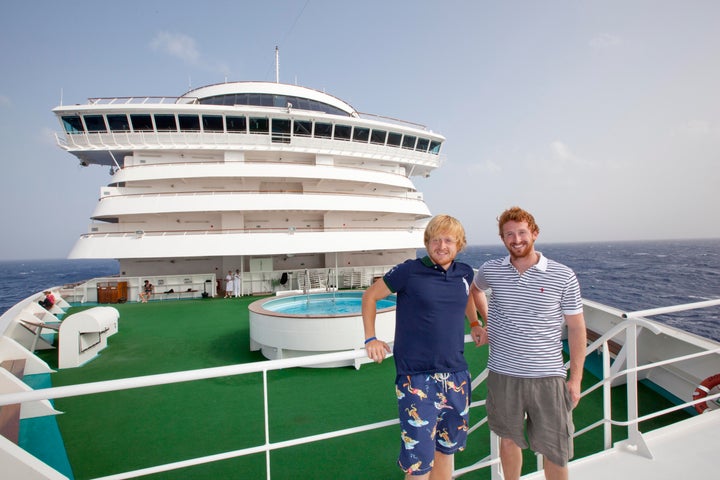 Eight days into the Talisker Whisky Atlantic Challenge, a two-month-long transoceanic rowing race that's staged every two years, Tom Fancett and Tom Sauer were paddling through rough seas. Their 28-foot boat, the PS Vita, which left La Gomera in the Canary Islands on December 4, was being steered by autopilot and seemingly navigating the 10-foot swells with little trouble.
They were in second place after eight days of racing, ahead of more than a dozen other boats, including one with a four-man crew, that were rowing the 2,933 miles from the Canaries to Barbados. It was the first time either of them had ever entered an ocean rowing race.
Then, around dusk on December 13, Fancett came on deck from the Vita's tiny cabin for his turn at the oars -- the two 23-year-olds worked in two-hour shifts -- and sat down, relieving Sauer, who went below. A wave that Sauer describes as "a wall of water" smashed into the slender blue boat at an odd angle and capsized it.
"I knew instantly that it wasn't going to be good," Fancett says.
Sauer swam out of the cabin, checked that his partner was uninjured and then, he says, "started surviving, really."
Their equipment, emergency beacon and a life raft were still on board. The water that evening was about 68 degrees, or as Fancett describes it, "warm for the first 10 minutes" before it feels "very cold." The men were nearly 500 miles from La Gomera.
"It's almost like we didn't have enough time to be scared. As soon as we capsized we realized, 'We have to act. We don't really have time to panic. If we panic, we'll probably die,'" Sauer says. "I was aware that if we didn't get the life raft, we'd be in serious, serious trouble. I told myself, 'I'm not bloody dying, we're doing this until we get the life raft.'"
Diving over and over under the overturned hull for what they estimate to be 40 minutes, the rowers finally freed the inflatable last resort from the jackstays that held it fast to the Vita. They also found and activated their emergency beacon, though they had no way of knowing if its signal was actually reaching anyone. And they had saved their "grab bag," the pre-packed emergency survival kit that contained, most critically, a manual water desalination device that could provide drinking water for weeks, if need be. They also had a fog horn, emergency rations, signal flares and at least one fish hook.
"Although it happened over the period of 40 minutes, it seemed to happen very quickly, so there wasn't really time to register a particular emotion," Fancett says. "It was hard to believe what was happening."
It was then about 8 p.m. Fancett, an Englishman who lives in London, and Sauer, a Dutchman who studied at St. Andrews but has spent most of his life in Russia, took stock of their situation, still afloat but cold and wet, with seawater occasionally sloshing in through the viewing portholes of their raft.
"It's very uncomfortable," Fancett says. "The overwhelming urge is to fall asleep, but you have to fight that because -- after setting off the emergency beacon -- the first 10 or 12 hours are your most likely window of being rescued."
They agreed to both stay awake, at least for the first 12 hours. The rowers set their watches to alarm every 30 minutes and agreed to each take a side of the raft, scanning 180 degrees of the horizon every half-hour for signs of, well, anything. They were in the middle of the world's second-largest ocean with no way to know when or if anyone would find them.
"You hope that someone has picked up the mayday, but you just don't know," Sauer says. "We were also mentally preparing for a longer stay."
And then, early in the morning of December 14, a cruise ship appeared. The Crystal Serenity, a vessel that can carry nearly 1,100 passengers in decadent luxury around the Mediterranean, the Caribbean or in this case, on a 13-day transatlantic crossing from Lisbon to Miami, for which list prices start at more than $4,000 per person, was coming to the rescue. Flagged in the Bahamas and christened by the English actress Julie Andrews in 2003, the 68,000-ton Serenity was under the command of Capitan Jon Økland, who'd been notified of the emergency by a branch of the Maritime and Coastguard Agency in Falmouth, England.
Økland turned to the south, covering nearly 140 miles to search for the lost rowers. With the Serenity about seven miles from the life raft and well in sight, Fancett and Sauer fired a red rocket flare -- followed by several more flares for good measure. It was about 6 a.m., roughly 10 hours since they'd climbed into their raft.
Alongside the Serenity, the rowers weren't yet out of danger. Swells smashed their tiny craft against the portside of the ship. Fancett wondered if, given the conditions, the raft might pop, capsize or be sucked underneath the larger vessel. The Serenity's crew threw ropes repeatedly from a fourth-deck pilot door until the men below finally managed to snare one. A ladder was lowered. They climbed aboard, finally out of the Atlantic, wet and alive.
"We weren't going to consider ourselves rescued until we found ourselves safely on board," Fancett says, adding with considerable English understatement, "The rescue itself was an eventful part of the whole experience."
The men were taken to the ship's sick bay for evaluation. Sauer called home, asking his parents to contact Fancett's family and to send copies of their passports to verify their identities to the crew of the Serenity.
"Then we went to our room and had room service," Sauer says. "It was great." They ordered French onion soup, steak, French fries and a hamburger. Fancett drank a Sprite. Sauer had a Diet Coke.
The rowers are now bound for St. Maarten, the next scheduled port of call for the Serenity before it reaches Miami.
Word of the rescue quickly spread among guests, including famed sex expert Dr. Ruth, who tweeted about the diversion and rescue on the evening of December 14:
(She also managed to promote one of her books, after Sauer told her he owned a copy.)
On Thursday night, in borrowed tuxedos, they attended a party with Captain Økland. When they arrive on the island, they expect to head for their respective embassies: Their passports are "floating around in the Atlantic," as Fancett puts it. Then, they're not sure what they'll do.
For now, Fancett and Sauer are doing interviews and enjoying the "surreal" experience of having survived a maritime catastrophe only to end up on a luxury cruise, signing autographs for passengers who consider them famous for, essentially, capsizing.
"It's very surreal to find yourself fighting for your life one minute and then being fitted for a tuxedo for a formal event the next morning," Fancett says.
"I don't really feel like my life has changed or anything," Sauer says. "I feel like we did what we had to do. It kind of all turned out how it was supposed to because we did everything we had to do."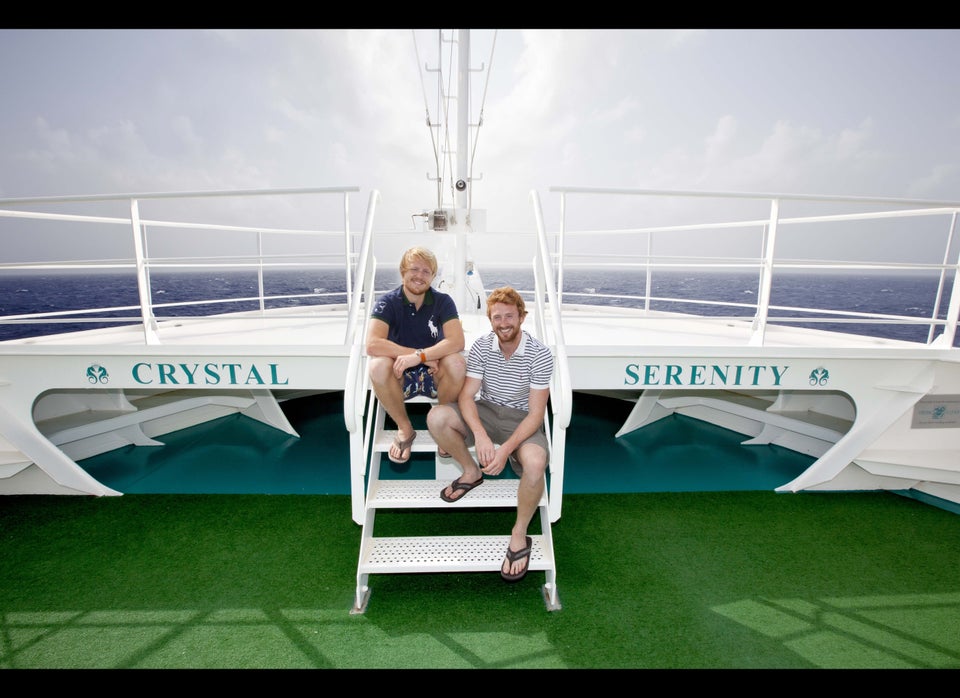 Crystal Serenity Rescues Ocean Rowers Tom Fancett And Tom Sauer
This article has been updated to include information about Dr. Ruth's reaction to the rescue.
Related