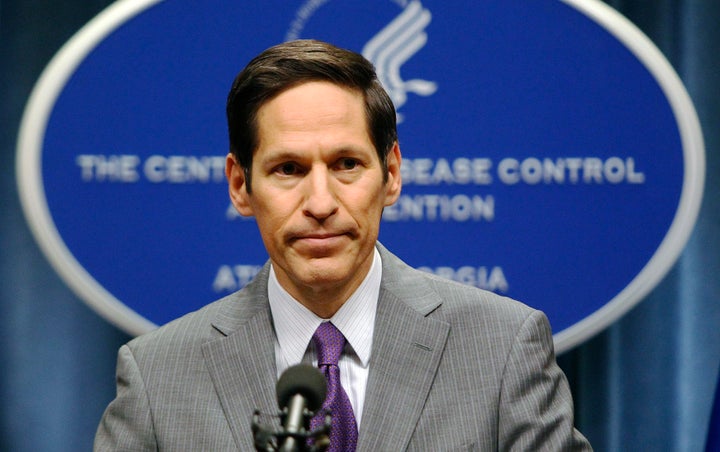 For Dr. Tom Frieden, fading quietly into retirement wasn't really an option.
Frieden announced Tuesday that he will spearhead Resolve, an ambitious initiative targeted at saving 100 million lives over 30 years and preventing global epidemics, after seven years as director of the Centers for Disease Control and Prevention.
The New York-based initiative plans to partner with governments and public health organizations around the world to reduce cardiovascular deaths and improve global epidemic preparedness.
Frieden said he had the opportunity to think big after ending his term as one of the longest-serving CDC directors in recent history. Tackling cardiovascular disease, which the World Health Organization says is the No. 1 cause of death globally, seemed like a good place to start. The disease kills nearly 18 million people each year.
The initiative will receive $225 million over five years from the Bloomberg Philanthropies, the Chan Zuckerberg Initiative and the Bill & Melinda Gates Foundation, marking the first time those three major philanthropic players have collaborated in funding such a project. Frieden said the majority of the funding will go toward scaling up "simple, inexpensive and underutilized" methods for countries to fight preventable cardiovascular disease, which can be linked to fatal heart diseases and strokes.
Frieden laid out three overarching goals: get rid of artificial trans fats, reduce sodium intake and implement better treatments for high blood pressure.
"It's not a matter of if there will be another infectious disease threat ― we know there will be another one. We need to be better prepared than we are today."
He said Resolve will also aim to help governments in low- and middle-income countries identify and close gaps in proper responses to outbreaks of deadly diseases. The group aims to create better disease-tracking systems, build laboratory networks, hire disease detectives and make sure there are highly trained rapid response teams working out of functional emergency units.
"It's not a matter of if there will be another infectious disease threat ― we know there will be another one," said Frieden, who oversaw the CDC's work on the Ebola and Zika outbreaks. "We need to be better prepared than we are today."
The initiative hopes to tap into potential sources of funds within countries, the World Bank and the private sector, all of which he said have economic and humanitarian incentives to close these gaps.
Ron Klain, who served as President Barack Obama's Ebola response coordinator, said the creation of an initiative like Resolve could not come soon enough.
"No threat has a higher chance of leading to a massive, sudden loss of lives in the next few years than a pandemic ― and the world is woefully unprepared," Klain told HuffPost. "Tom Frieden is the most respected leader in the world on this topic, both in the U.S. and overseas, and this effort, with the generosity of its donors, is vitally needed."
Frieden said Resolve will work with the World Health Organization, the CDC Foundation, the World Bank, the Bloomberg School of Public Health at the Johns Hopkins University and the Campaign for Tobacco-Free Kids to implement these public health strategies and initiatives globally. The initiative will be housed under Vital Strategies, a global health nonprofit that operates across 60 countries an specializes in public health initiatives and partnerships.
The organization is outside the government's chain of command, but Frieden said he plans to working extensively with public health officials. He also said Resolve could complement, but not replace, the role of government in public health.
"Resolve can work fast, flexibly and at scale," Frieden said. "We're not trying to reinvent the wheel, but make the car go faster."
Dr. Anthony Fauci, the director of National Institute of Allergy and Infectious Disease who has worked with Frieden to address outbreaks, said Resolve could have a major positive impact. He highlighted the initiative's ample resources and Frieden having control over an organization without the constraints of governmental bureaucracy.
"I'm really looking forward to working with him in the coming years," Fauci said. "It'll be interesting to see what we can do when he's on the outside and I'm on the inside."
This article has been updated with comment from Anthony Fauci.