Tom Frieden, the former director of the Centers for Disease Control and Prevention, was arrested Friday morning and charged with forcible touching, sexual abuse and harassment.
Frieden allegedly grabbed the buttocks of a 55-year-old woman, an acquaintance of decades, inside his residence in Brooklyn in October. The alleged incident was reported to police in July, and Frieden turned himself in on Friday.
Frieden's 59-year-old wife, Barbara Chang, is listed in public records as sharing the residence where the alleged incident occurred.
A "stonefaced" Frieden appeared in court Friday afternoon, according to the AP, which said he entered the courthouse in handcuffs. He did not enter a plea, and his next court appearance is Oct. 11.
The judge ordered Frieden to stay away from the woman who made the allegation and hand over his U.S. passport.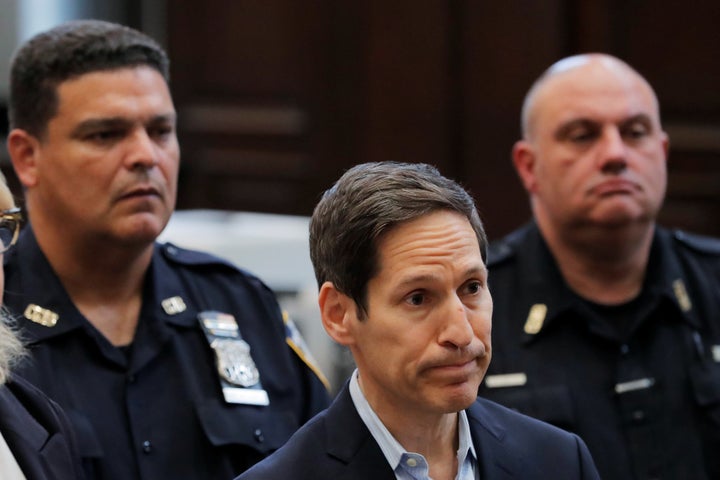 A statement issued on his behalf Friday said, "The allegation does not reflect Dr. Frieden's public or private behavior or his values over a lifetime of service to improve health around the world."
Frieden was one of the CDC's longest-serving heads, leading the agency from 2009 to 2017. He oversaw the agency's response to several major outbreaks, including Ebola, the H1N1 swine flu pandemic and Zika.
Before that, he was New York City's health commissioner from 2002 to 2009, leading the city's response to top outbreaks including multidrug-resistant tuberculosis and spearheading the elimination of transfats and smoking in NYC restaurants.
Frieden is widely regarded as one of the top public health authorities in the world, and is credited with increasing U.S. involvement in fighting the 2014-16 Ebola outbreak. He helped secure billions of dollars in global funding to turn the tide in the outbreak, which killed 11,300 people.
Frieden is currently the CEO of Resolve, an initiative backed by Bloomberg Philanthropies, the Chan Zuckerberg Initiative and the Bill & Melinda Gates Foundation that aims to save 100 million lives and increase global epidemic preparedness.
José L. Castro, the president and CEO of Vital Strategies, which owns Resolve, told HuffPost in a statement that Frieden had told him in April that a "non-work-related friend of his and his family of more than 30 years accused him of inappropriate physical contact."
Castro said he has never seen Frieden exhibit anything but professional conduct, and an outside expert determined there had been no workplace harassment at Resolve.
"Vital Strategies greatly values the work Dr. Frieden does to advance public health and he has my full confidence," Castro said.
A spokesperson at the Bill & Melinda Gates Foundation said, "We take allegations of sexual misconduct very seriously. We will be in touch with our grantee Vital Strategies to understand how they are handling this situation."
A statement from the Chan Zuckerberg Initiative said, "We are disturbed and saddened to learn of the charges being brought against Dr. Frieden. At the Chan Zuckerberg Initiative, we take any allegation of personal misconduct very seriously and are monitoring the situation closely."
A CDC spokesman declined to comment.
Related
Popular in the Community