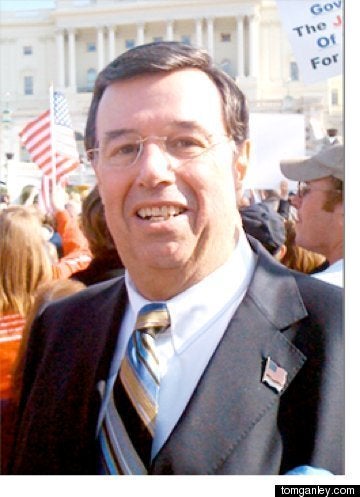 Ohio GOP congressional candidate Tom Ganley is the target of a new lawsuit alleging that the multi-millionaire businessman sexually assaulted a Cleveland woman in his office last year.
According to the Cleveland Plain Dealer, the claims come from a 39-year-old married mother of four who says she met Ganley at a Tea Party rally in July of last year, where she asked if she could get involved in the campaign.
After a series of meetings revolving around campaign duties and a potential car repair, on August 1, 2009, Ganley allegedly sexually assaulted the woman.
The Plain Dealer reports:
Ganley told her he wanted her to dominate her, parade her on a leash and have sex with her in front of his "play friends," the suit says. It accuses him of grabbing her from behind, wrapping his arms around her, kissing her and, despite her resistance, reaching into her pants.
Ganley and the woman have been seeking to settle out of court, but after no agreement could be reached, the accuser turned to a lawsuit.
Steve Dever, Ganley's attorney, has called the charges extortion and claims they are politically motivated.
Ganley has been the target of character attacks before. A DCCC ad against him in September sought to play on his profession as a "used car salesman" and alleged misconduct of his business.
"Millionaire used-car salesman Tom Ganley is trying to ride his reputation into Congress -- he should be trying to hide it," a narrator says in the new DCCC ad. "Sued by customers for fraudulent and deceptive practices, two 'F's' from the Better Business Bureau, over 160 complaints in just three years. Tom Ganley will try to sell you on his reputation, but with this used-car salesman, it's buyer beware."
Ganley's dealerships, CQ also reports, are currently facing lawsuits for racial, gender and age discrimination, a reportedly common occurrence in the auto sales business.
Ganley faces incumbent Democrat Betty Sutton in the 13th Congressional District race in November.
REAL LIFE. REAL NEWS. REAL VOICES.
Help us tell more of the stories that matter from voices that too often remain unheard.