Tom Gorman, director of the Rocky Mountain High Intensity Drug Trafficking Area Program, has been called a "drug-war soldier" for good reason -- he believes that anyone involved in marijuana regulation, apparently even state lawmakers, are committing "criminal acts."
"Frankly, everybody that has anything to do with this is engaged in a criminal act, because they're conspiring to allow criminal enterprise to go in," Gorman said.
Following Gorman's logic here, that means every elected official who has worked toward reasonable standards in the states that have either legalized marijuana for recreational use or for medical purposes are apparently guilty of criminal conspiracy.
Mason Tvert, one of the leaders of the Yes on 64 campaign in Colorado and current communications director of Marijuana Policy Project, told The Huffington Post that Gorman's statement ignores the facts on legal weed:
For years, Tom Gorman has demonstrated a reckless disregard for the facts in virtually every facet of his government-funded anti-marijuana activism, so it is not surprising that he is at it again. Mr. Gorman does not care about the fact that our prohibition policies have been ineffective, costly, and problematic. He does not care about the fact that a strong majority of voters in Colorado – most of whom have heard him out over the past several years – still decided to scrap those antiquated policies and adopt a more sensible approach to controlling marijuana.

As a law enforcer, Mr. Gorman should be protecting and serving the people, not ignoring them and looking for any excuse he can to continue punishing those who use marijuana. We can no longer afford to keep him and his marijuana prohibition-enforcing buddies in the business of arresting and prosecuting adults for using a substance objectively less harmful than alcohol. It is time for them to accept the fact that public attitudes and laws are changing and it is time to move on.
When reached for comment about whether or not helping to set up marijuana regulation in Colorado is seen as a criminal act as Gorman defines it, the Colorado Department of Revenue did not have a direct response and instead reiterated that the Department of Justice has not given them a clear answer on the matter. Ro Silva, Colorado Department of Revenue information officer, pointed toward the response U.S. Attorney John Walsh made in December of 2012 to a letter Colorado Gov. John Hickenlooper sent after signing A64 into law requesting a clear indication of what the federal government's reaction to the new law would be. "We need to know whether the federal government will regard Colorado State employees who regulate and oversee the growing and distribution of marijuana as acting in violation of federal law," Hickenlooper wrote.
The Department of Justice is reviewing the legalization initiatives recently passed in Colorado and Washington state. The Department's responsibility to enforce the Controlled Substances Act remains unchanged. Neither States nor the Executive branch can nullify a statute passed by Congress. In enacting the Controlled Substances Act, Congress determined that marijuana is a Schedule I controlled substance. Regardless of any changes in state law, including the change that will go into effect on December 10th in Colorado, growing, selling or possessing any amount of marijuana remains illegal under federal law. Members of the public are also advised to remember that it remains against federal law to bring any amount of marijuana onto federal property, including all federal buildings, national parks and forests, military installations, and courthouses.
More than five months after Colorado and Washington voters overwhelmingly approved measures which legalized limited amounts of marijuana for adult, recreational use, the federal government has still not made clear if they will allow states to foster a legal marijuana retail industry.
And although Gorman's RMHIDTA Program coordinates the federal and local drug-fighting efforts in Colorado, his strong point of view about marijuana's criminality may not be shared amongst other top federal officials.
Just last week, Attorney General Eric Holder gave voters in Washington and Colorado hope Thursday that the Department of Justice may not dramatically interfere with the marijuana legalization initiatives passed in November. Testifying before a House Appropriations subcommittee, he opened a window into DOJ's thinking as it makes its decision.
"We certainly continue to review the marijuana legalization initiatives that were passed in Washington and in Colorado," he said. "I mean, we are certainly going to enforce federal law. That is what we're going to do. Now is what we do across the board? Where there are federal criminal statutes that is the responsibility of the department to enforce them, and in making those enforcement decisions, we take into account how we can best use the resources that we have and we make determinations about where the greatest harm occurs and where we can have the greatest impact."

By leaving open the question of whether resources would be used to enforce the law "across the board," he gave hope to advocates of the measures.

"The attorney general's carefully phrased remarks leave me cautiously optimistic that the administration just might be trying to find a way to let things play out in Colorado and Washington without the Department of Justice getting in the way," said Tom Angell of Marijuana Majority.

Justice spokeswoman Allison Price cautioned against reading too much into his testimony. "The Attorney General was clear that the legalization initiatives in Washington and Colorado are under review by the Department," Price told HuffPost. "There were no additional announcements made in yesterday's hearing."

Shortly after the 2008 election, Holder said that DOJ would not use its resources to target people who are in compliance with the law in states where medical marijuana is legal. However, the DOJ in a number of instances has done just that.

"It's worth remembering that the president and the attorney general said positive things about respecting state medical marijuana laws early in the first term but then allowed DEA and other agencies to close down state-legal providers at an unprecedented rate," Angell said.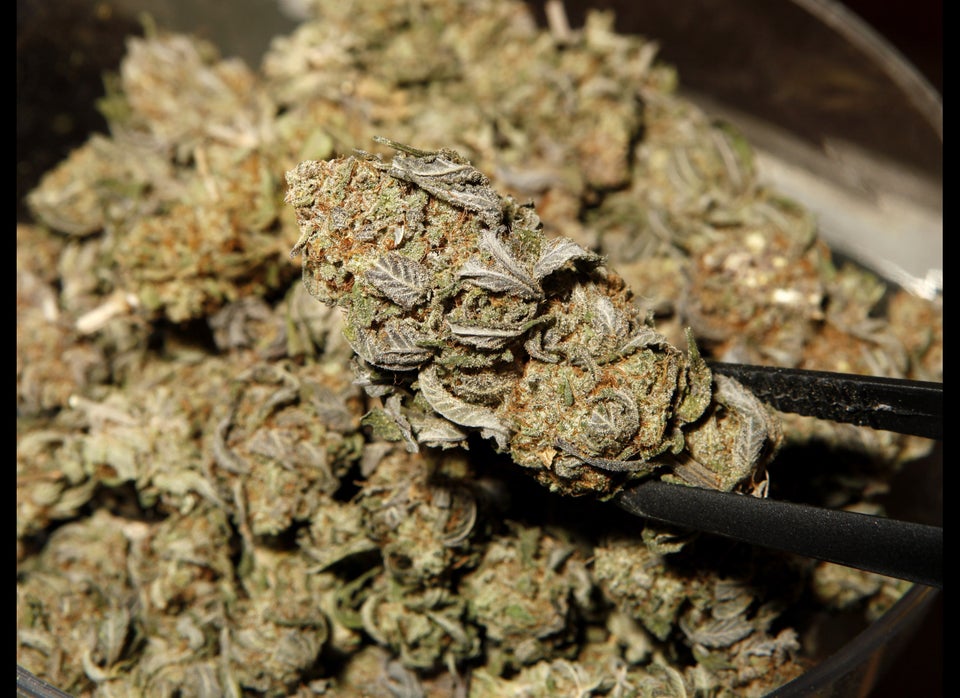 16 Facts About Marijuana And The U.S. Economy
Popular in the Community