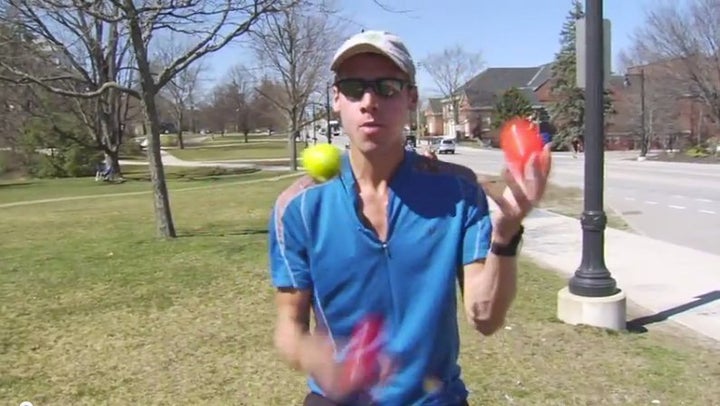 The University of New Hampshire's Tom Gounley, a double degree student, knows what it's like to go through college with a few balls in the air. On Monday, though, Gounley plans to juggle the Boston Marathon.
Some 27,000 runners and walkers will compete in the 2012 Boston Marathon, but he's likely to be the only "joggler," which means he'll run his own race with special rules.
If he drops one of these balls, he has to stop and resume jogging from the place he restarts his juggling. When he starts up the marathon's notorious Heartbreak Hill, he told ABC News that he will switch to juggling beanbags, so he won't have to chase rolling balls down it.
"I'm a ultrarunner, which means I love racing anything longer than a marathon," he said on his website, so the distance shouldn't be an issue. Boston's unique terrain shouldn't stop him either. He ran the race last year in just under three hours.
While juggling and eating a few apples, he told a UNH videographer that he learned to juggle in middle school during his "circus phase." With high school came his interest in distance running, so perhaps it's fitting that he started joggling at UNH.
Though joggling is simply running while juggling, Gounley told UNH's Scott Ripley that he trains for each very differently. While simply running, he heads out into the white mountains for a quiet experience. When joggling, though, he feeds off the attention from classmates while he runs laps around the campus. He expects plenty of energy and onlookers in Boston on Patriots Day.
Gounley's race is sponsored by Meat House butchers, where Gounley works. Anyone can follow his race on Twitter by following the hashtag #MeatHouseJoggler, which will be painted across his chest during the race.
As if the Boston Marathon weren't long enough, Gounley has higher hopes beyond heartbreak hill. In mid-May, he will attempt to break the world record for longest distance joggled continuously. He's hoping to run 50 miles in Augusta, N.J. as part of "3 Days at the Fair."
"I first came across the Guinness World Record for joggling 50 miles in December 2010. I realized it played to two of my strengths – a love of running ultramarathons and a middle school obsession with juggling. By May 2011, I couldn't get it out of my head, and I committed to gaining the world record before graduation from college in May 2012."
Perry Romanowski broke the record in 2007 when he finished a 50-mile ultramarathon.
Popular in the Community