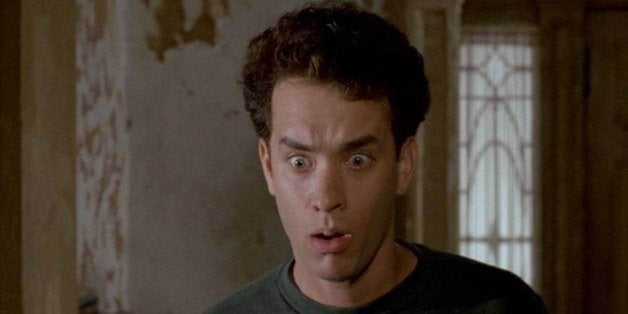 Monday will mark the 25th anniversary of "The 'Burbs," a somewhat forgettable but better-than-it-needed-to-be comedy that has found a new life as a cult favorite. (Though, sometimes I think it's harder to find movies that aren't considered cult favorites.) More important, though, it marks 25 years since we said goodbye to Funny Tom Hanks.
It's odd to think that there's an entire generation out there who only knows Hanks as the serious, kindly man who only appears in important movies. Sure, these people are aware that Hanks had a career making comedies, but they may not be aware just how dumb a lot of these comedies were. (I'm honestly using the word "dumb" in the most positive use of the word possible.) No, I'm not talking about "Splash," which was Hanks' first post-"Bosom Buddies" big break. And it doesn't include Hanks' early attempts at drama like "Every Time We Say Goodbye" and "Nothing in Common." But it does include six movies, released between 1984 and 1989, that represent an era we will ever see again –- the era of Tom Hanks Dumb Comedies.
"The 'Burbs" came at an interesting time for Hanks. It was filmed in the summer of 1988 -– the same summer that saw "Big" released into theaters, which earned Hanks a Best Actor Oscar nomination. "The 'Burbs" was actually the second Hanks movie released after "Big," following the also not appreciated at the time "Punchline." (In "Punchline," Hanks plays a standup comic who, for lack of a better term, is a bit of a dick –- not at all what audiences were expecting after watching Hanks play the lovable Josh Baskin in "Big.")
"The 'Burbs" really is Hanks' crossroads movie. His next film, "Turner & Hooch" might seem like it should be included in his list of dumb comedies, but "Turner & Hooch" is more of a sentimental family film –- this was, believe it or not, Hanks trying to grow up. After that was the dark comedy "Joe Versus the Volcano" (yes, another cult favorite), a movie about a man trying to kill himself that really isn't supposed to be that funny.
After that, Hanks went on to make the drama (and notorious bomb that certainly isn't a cult favorite) "The Bonfire of the Vanities," then his murderers' row of "A League of Their Own," "Sleepless in Seattle," "Philadelphia," "Forrest Gump," "Apollo 13," and "Saving Private Ryan." The era of Tom Hanks Dumb Comedies was over forever, and it ended 25 years ago.
So, for this solemn anniversary, let's rank the six quintessential Tom Hanks Dumb Comedies.
Today, "Volunteers," if it's remembered at all, is best known as The Place Tom Hanks Met Rita Wison. For sure, "Volunteers" –- directed by Nicholas Meyer ("Star Trek II: The Wrath of Khan") -- gets the least amount of repeat play on basic cable of any of Tom Hanks' early comedies. There's a reason for this. People liked young Tom Hanks because he was so charming, people were not interested in watching a snooty Tom Hanks act like a rich snob using a cheap Thurston Howell III accent. Put it this way: This is a movie that stars both Tom Hanks and John Candy and a lot of people have never heard of it outside of the immediate Hanks family. That's a bad sign. Not to mention, it falls into the "comedy that becomes a quasi action movie" trap.
5.) "The Man with One Red Shoe"
It's actually surprising that "The Man with One Red Shoe" hasn't become a cult classic. It seems there for the taking –- an early Tom Hanks movie that no one really seems to love that has an esoteric title, but certainly isn't that bad. The plot itself is interesting enough: Hanks is mistaken for a CIA informant (it's actually more complicated then that, but it doesn't really matter) and unknowingly gets caught up in a game of spy versus spy. Also: Dabney Coleman!
I just rewatched this on Netflix and the biggest problem is that the film tries so hard to keep up with its "spy caper"-type style that it doesn't fully allow itself to be what it really is: a Tom Hanks Dumb Comedy. And the movie never fully lets Hanks just be Hanks -– it's almost like the movie goes out of its way to make Hanks a little off-putting, which is a mistake considering the "innocent guy caught up in something he had nothing to do with" plot.
Any mention of the Dan Aykroyd/Tom Hanks version of "Dragnet" is an excuse to post the video of Tom Hanks rapping.
Hey: Dabney Coleman again! "Dragnet" was released to less than warm reviews and, today, it's not as if it's become a beloved movie. But, Hanks is working at the height of his comedic charm powers in "Dragnet," which actually works well against Aykroyd's comically monotone interpretation of Joe Friday. In other words: It's strangely rewatchable when it's on cable. Also, Tom Hanks gives the best delivery of "Thank God it's Friday" in the history of cinema.
If Joe Dante's "The 'Burbs" would have been released in, say, 1986, it would fit in more with the Tom Hanks career arc. But the fact that it was released after "Big" and "Punchline" makes it a fascinating specimen. And it was certainly the last time Tom Hanks would ever entertain the thought of co-starring in a movie with Corey Feldman. Then again, it also stars current Best Actor Oscar nominee Bruce Dern. The thing is, this movie is such an oddity.
Tom Hanks and Shelley Long buy a house on Long Island and the house provides wacky high jinks for all. That's pretty much it, but it does provide Hanks a platform for physical comedy –- which I wish he had done more of in his early career. (Which he also does here while he's fighting The Fonz on an episode of "Happy Days.")
The thing is, deep down, all of these movies are stinkers. The only reason we are still talking about them in 2014 is because Hanks elevated them to something more worthwhile. If "The Money Pit" had starred Jim Belushi, we would not remember "The Money Pit."
This is Tom Hanks' only real R-rated comedy –- which, coming on the heels of "Splash" and "Bosom Buddies," was kind of a surprise. In fact, "Bachelor Party" was released only three months after "Splash." (I remember begging my parents to take me to see "Bachelor Party" because I was a big Hanks fan from "Bosom Buddies." This was all set to happen until my father read a review and learned that the movie contained nudity. Though, I'm pretty sure he still went to see it.)
By the time "Bachelor Party" was released, Hanks was a legitimate star, which would account for the $38 million it made at the box office (it would have never made that before "Splash"). It's just interesting to watch Hanks so uninhibited. This isn't a guy worried about tarnishing his "brand" (in 1984, I'm not sure this was a word used to describe a human being) being in a raunchy R-rated movie -– this was just a guy who looked thrilled to be starring in any movie.
Mike Ryan is senior writer for Huffington Post Entertainment. You can contact him directly on Twitter.
Popular in the Community