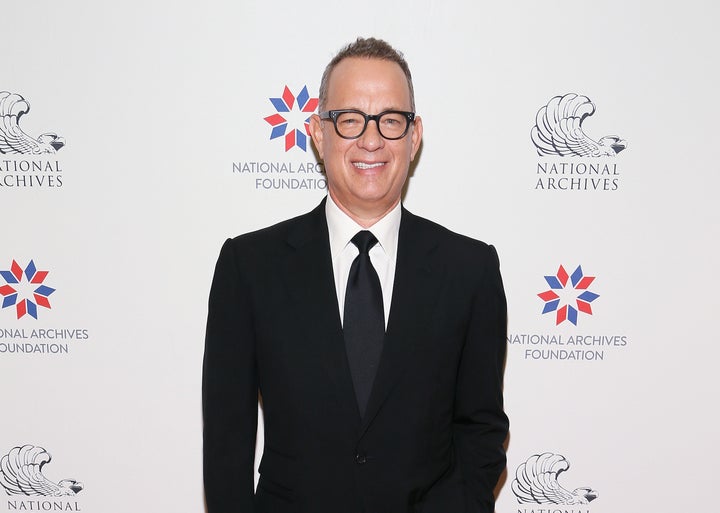 Worried about the state of the world today? Actor Tom Hanks recommends this: Brush up on your history.
At the National Archives Foundation's annual gala in Washington on Saturday night, Hanks was given the Records of Achievements Award "for his powerful illumination of the American story through his vast body of work in film and television."
Hanks, who has been described as "Hollywood's top history buff," spoke of the importance of learning from the past as a way to navigate the complexities of the present.
Hanks also touched on the national controversy regarding confederate monuments ― saying that while history should not be erased, an open discussion and reexamination of what's being taught and celebrated is also critical.
"Let's have that discussion, let's have that be part and parcel to an ongoing re-examination about what is taught about [America's founding]," Hanks said. "But the destruction, the destruction is anti-social, period, the end. Be intelligent, and be smart, write about it, bring it up, talk about it."
Hanks has said before that he supports moving Confederate monuments and statues to museums where they can be appreciated with ample context provided.
"If I'm black and I live in a town and every day I have to walk past a monument to someone who died in a battle in order to keep my grandparents and my great-grandparents illiterate slaves, I got a problem with that statue," he told The New York Times earlier this month . "I would say if you want to be on the safe side, take them all down. Put them in some other place where people can see them, in a museum somewhere."
The Records of Achievements Award is the National Archives Foundation's top honor ― one reserved for individuals "whose work has cultivated a broader national awareness of the history and identity of the United States through the use of original records."
"He's served in World War II (in both the European and Pacific theaters), negotiated for the U.S. in the Cold War, fought in Vietnam, worked in Congress, and led the space program," Ferriero wrote in a news release, referring to roles roles Hanks' has had. "He's fought pirates and deadly viruses, befriended mermaids, and saved both Private Ryan and Gary Powers."
Hanks said he was "dazzled" to be part of the gala and described his love for history and digging into archives for work.
"Part of my job has always been one not far from that of a lay-historian, to understand that I am a part of the documenting of the human condition and the American idea, even in the silliest of stories," he said in a statement.
Popular in the Community