The first trailer for September's "Sully" is here, and it's generating a "Big" reaction for Tom Hanks. 
Hanks plays the title role of Captain Sully in director Clint Eastwood's newest film. Oscar buzz is already swirling for the 59-year-old actor, who has received Academy Awards for both "Philadelphia" and "Forrest Gump."
The film will tell the aftermath of the "Miracle on the Hudson," when Captain Chesley "Sully" Sullenberger successfully landed a plane carrying 155 passengers on the Hudson River after colliding with a flock of geese. All of the passengers and crew survived, and Sully was deemed a national hero overnight. 
According to the trailer, however, it wasn't all medals and accolades for Sully, whose career was jeopardized during the investigation of the incident.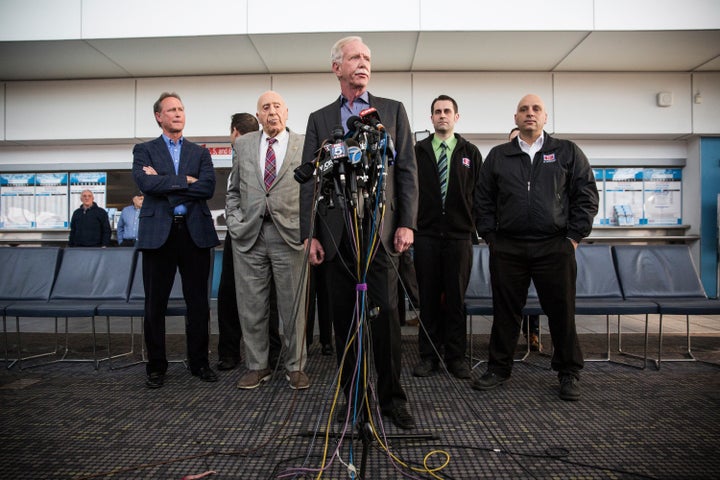 "Our job is to investigate how a plane ended up in the Hudson river," says one official in the trailer before being corrected by Sully's co-pilot, played by Aaron Eckhart, "on the Hudson." The difference between that one word, "in" or "on", seems to be the premise of the entire film -- did Sully crash the plane and get lucky that no one was injured, or did he make one of the best crisis decisions in aviation history?
In an interview with People, Eckhart said that Hanks "really embodied [Sully]." 
According to People, Sullenberger himself visited the film set, where an Airbus A320 was disassembled and placed in a pool to re-create the terrifying afternoon of Jan. 15, 2009. "I've been making movies for a long time, but whenever you see a complete plane in a pool right there -- it blew us away, everybody was very impressed with that," Eckhart said.
See "Sully" in theaters Sept. 9. 
Calling all HuffPost superfans!
Sign up for membership to become a founding member and help shape HuffPost's next chapter
BEFORE YOU GO
PHOTO GALLERY
Tom Hanks Career Hits