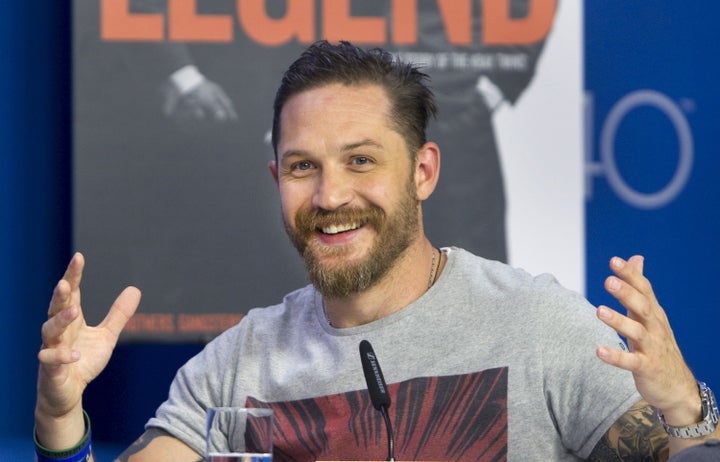 In a new interview with The Daily Beast, Hardy argued that journalist Graeme Coleman, who writes for the LGBT site Daily Xtra, worded the headline-making question "inelegantly," and the actor felt it was both "disrespectful and counterproductive." 
"I do think that there's a responsibility for people to own the way that they speak publicly," Hardy, who plays an openly gay gangster in his new film, "Legend," said. "I'm under no obligation to share anything to do with my family, my children, my sexuality -- that's nobody's business but my own. And I don't see how that can have anything to do with what I do as an actor, and it's my own business."
"I don't find it difficult for celebrities to talk about their sexuality," Hardy said. "Um, are you asking me about my sexuality?"
After Coleman answered, "Sure," Hardy plaintively responded, "Why?"
In hindsight, Hardy acknowledged that "destigmatizing sexuality" was important, but nonetheless chastised the Daily Xtra reporter for "inelegantly asking a question that seemed designed entirely to provoke a reaction, and start a topic of debate."
"I'm not a role model for anyone, and you're asking me something about my private life in a room full of people," he told The Daily Beast's Marlow Stern. "Also, if you felt it was so important for people to feel confident to talk about their sexuality, why would you put somebody on the spot in a room full of people and decide that was the time for them to open up about their sexual ambiguity?"
"There's also nothing ambiguous about my sexuality, anyway," he added. "I know who I am."
Coleman responded to the controversy in a lengthy Op-Ed for Gay Star News, pointing once again to Hardy's Attitude interview which inspired his initial TIFF question. 
"To be clear, I wasn't asking or expecting Hardy to out himself, no matter what his personal truth may be," he said. "My job at Daily Xtra is to examine sexuality and how it's dealt with in society. That includes shining a spotlight on the difficulties some celebrities still face in openly discussing the topic with a sometimes less than supportive audience."
Controversy or not, the jury's still out on "Legend," the release of which just got pushed back seven weeks to Nov. 20. 
PHOTO GALLERY
Celebrities Who've Faced Gay Rumors
Calling all HuffPost superfans!
Sign up for membership to become a founding member and help shape HuffPost's next chapter