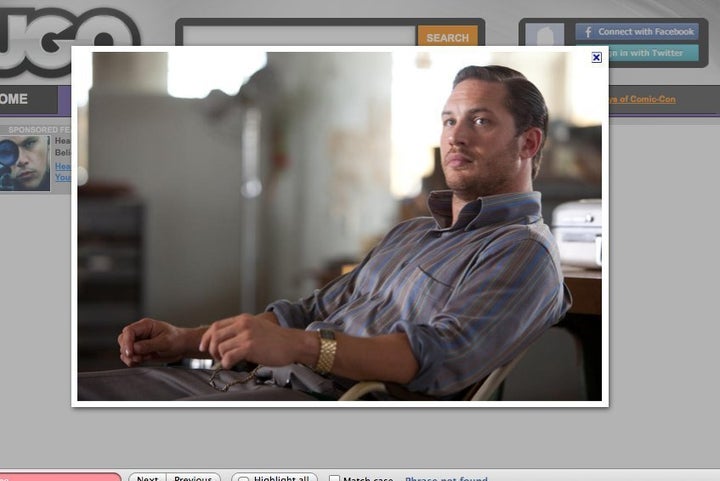 Tom Hardy, the dashing Brit in 'Inception,' has revealed more of his past in a Men's Health UK article (via Just Jared). He recently said in a different interview that he has had gay sex, adding, "Of course I have. I'm an actor for f*ck's sake."
On being addicted to drugs and booze:
"I thought I'd have a little bit of a party, and I'd end up high and frightened, in places that scared me. In a blackout I could end up anywhere. I might wake up somewhere the other side of London, or in another country. Or in bed with someone I didn't know, not knowing how I got there. Bleeding. This was on a daily basis. And I was going to work. I didn't want to appear rock 'n' roll. I didn't want anyone to know I was out of control, but I couldn't hide it. Eventually, the body gives up. My body told me. I was completely kaput. I was lucky I didn't get hepatitis or AIDS."
"Louis arriving was an absolute godsend. Children need things. Not want things. Want and need are two different things I have always mixed up. When Louis came along he was like, 'You can't think about you! I'm here!' It separated a lot of my selfish behavior."
On training for his upcoming film Warrior:
"We arrived at the gym at 7am. We'd have breakfast before we got there. Peanut butter on toast. Then we got in the joint, had our protein shakes and a gallon of water. Then stretching, warming up - skipping. Then we'd go into boxing for two hours. Two hours of pad work for elbows and knees, kicks and Muay Thai. Then a couple of hours of Jiu Jitsu. And then choreography. Then we'd do an evening session: a couple of hours in the gym. Variations of weights, hitting a different muscle group every day."
He was an alcoholic and crack addict until 2003. He has a son, Louis Hardy, with ex-girlfriend Rachael Speed and is engaged to actress Charlotte Riley.
Popular in the Community