 WASHINGTON -- Sen. Tom Harkin (D-Iowa) warned President Barack Obama that he "might as well take a four-year vacation" if the Senate fails to pass real filibuster reform -- and the plan being unveiled Thursday by Senate leaders doesn't qualify, the veteran lawmaker said.
"It's a baby step. Really, it's a baby baby step," Harkin told reporters Thursday before heading into a caucus meeting on the filibuster plan.
The Senate filibuster -- in which a single lawmaker can hold up a bill unless 60 senators vote to end debate on the matter -- has become the favored tactic for stalling Senate action over the last three sessions, with nearly 400 instances.
Senate Majority Leader Harry Reid (D-Nev.) had threatened action to change the rules, but the deal coming out Thursday only ends filibusters at the start of debates and not on the bills themselves or other steps along the way.
A group of lawmakers led by Sen. Jeff Merkley (D-Ore.) had hoped to re-institute the talking filibuster, in which a lawmaker who wanted to obstruct something would have to take to the floor to sustain an objection instead of literally phoning it in. Harkin also wanted to decrease the size of the majority needed to end filibusters in increments over an eight-day period.
"Does it help a little bit? Anything helps around here," Harkin said of the leaders' filibuster plan. "It still will provide a system where people can filibuster and they don't even have to come here."
And that will make it virtually impossible for Obama to carry out his vision for his second term, Harkin argued.
"I said to President Obama back in August ... and I said to him the night before the election, I said to him, 'Look, if you get reelected, if we don't do something significant about filibuster reform, you might as well take a four-year vacation,'" Harkin said. "This is not significant."
The president is left with few options, Harkin added.
"He can go out and give wonderful speeches and things like that, but with the House in the hands it's in and the fact that in the Senate now you have to have 60 votes to pass anything, well, I dare say that Obama's package -- his very aggressive proposals -- will not get very far," said Harkin.
Liberal groups echoed Harkin, saying that cherished initiatives of the left were certain to be blocked.
"This is a bad decision based on fear -- a decision that will ultimately hurt millions of people who would have been helped by progressive bills that Republicans are sure to filibuster," said Adam Green, a co-founder of the Progressive Change Campaign Committee. He took aim specifically at Reid. "For a guy who has been admirably strong on issues like protecting Social Security benefits from cuts," Green said, "this decision is unfortunately weak."
"It was George Bush who said, 'Fool me once, shame on -- shame on you. Fool me -- you can't get fooled again,'" said Becky Bond, the political director of CREDO. "It looks like Senator Reid got fooled again, but sadly it's the American people who are going to pay the price."
This story has been updated with comment from the Progressive Change Campaign Committee and CREDO. Language in the story has also been changed to clarify what the Senate leaders' filibuster plan would do.
Michael McAuliff covers Congress and politics for The Huffington Post. Talk to him on Facebook.
Support HuffPost
The Stakes Have Never Been Higher
Before You Go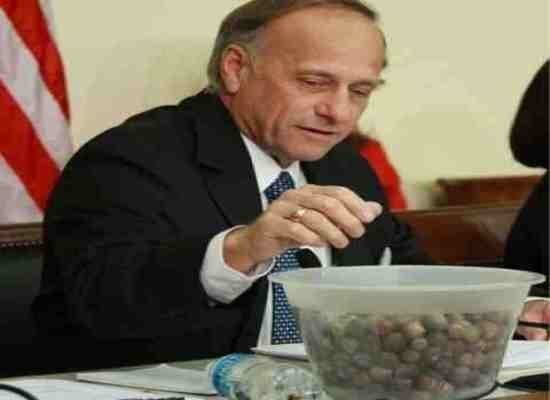 More Crazy Examples of Congressional Theatrics
Popular in the Community