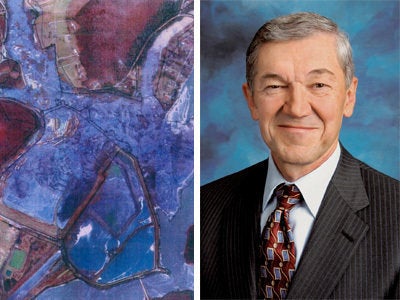 The major coal ash spill in Roane County, Tenn., which destroyed homes and has poisoned and gummed up portions of the Emory River, will get more national attention at the end of the week. The Tennessee Valley Authority, the federally-owned energy company whose fly ash (a byproduct of producing coal energy) burst into the river on Dec. 22, will be sending CEO Tom Kilgore to Washington on Thursday.
A Senate panel in Washington has asked TVA's Chief Executive Officer Tom Kilgore to testify Jan. 8 on whether more regulatory oversight is needed. A House committee chairman says he may seek federal rules for coal-ash storage sites. Tennessee Governor Phil Bredesen has ordered inspections of the TVA's waste sites and a review of state environmental regulations.

The question is whether the TVA may have received "exaggerated deference," said Bredesen, a Democrat, last week. The accident on Dec. 22 is also testing economic, political and social ties that go back generations in the seven southeastern states served by the Knoxville-based company.
Monday afternoon, a TVA Spokesman said they were not aware of any fish kills and were working with the Tennessee Department of Environment and Conservation to examine and mitigate any environmental damage that it may have caused.

When asked specifically about the hundreds to thousands of dead fish found near the steam plant in the Clinch River, TVA Spokesman Gil Francis said the sudden dip in temperatures could have played a role.
"I get a strong sense from TVA that they want to do all they can to make right what has happened," Corker, a Chattanooga Republican, said in a statement after touring the 300-acre spill site by helicopter, meeting with affected families and getting a progress briefing from TVA.

"As a first step, TVA should hold another public meeting to again lay out where they are and what they will do to make the people affected feel and be whole again. Once we've attended to those affected, I want to understand the steps TVA is taking to make sure this sort of incident with fly ash never happens (again)."
The spill is causing some to reevaluate a long relationship the Tennessee Valley Authority has had with locals ever since FDR created the company:
"There is less skepticism toward the TVA than would otherwise be due it when it comes to environmental matters because of this historical loyalty and belief that the TVA has had a positive impact," said Robert J. Norrell, a history professor at the University of Tennessee in Knoxville, about 35 miles northeast of Kingston, in an interview.

The power giant also made enemies along the way. To build its dams, the company flooded land it acquired through the power of eminent domain, often from unwilling sellers, including one of Norrell's grandfathers.

"They cleared out lots of people," said Norrell, 56. "There was kind of a refugee movement in that area. My Daddy was full of stories about the anger and bitterness people had about the TVA."
Related
Popular in the Community