I look forward to watching Tom Llamas anchor the noon and 5 p.m. news on WNBC every day. He's a genuinely lovely guy who is extremely talented and devoted to his job. He is not the typical anchorman who just reads the teleprompter but he is actually invested in every story. I met up with Tom last week to talk about everything from how he got started at NBC to Twitter.
JZ: Do you love your job?
TL: It's a great job. Every day it's something new and I get to be creative. I get to tell people stories about what's going on in the community.
JZ: What's your routine everyday?
TL: I'm usually up around 5:45 reading the papers and watching the morning shows. My wife is in the business as well. She is a producer at MSNBC so she is also already up and plugged in. I usually go to the gym then I will pitch some story ideas to our producer. I will email something that I heard about and think we should follow. I'm always in the office at nine for our editorial meeting. After the meeting I start prepping for the noon show. I'm looking at the scripts and rewriting them. The show is from 12-12:30. It's great to have a beachhead before the 5:00 and after Today in New York as far as coverage goes. After the noon show I'm working on packages and following stories for the 5'oclock news.
JZ: Do you prefer the noon show or the 5 o'clock news?
TL: I like them both. The 5:00 is great because it's an hour so you can have more stories. Noon is great because it's sort of like a morning show and some people are still starting their day. The news is harder at 5.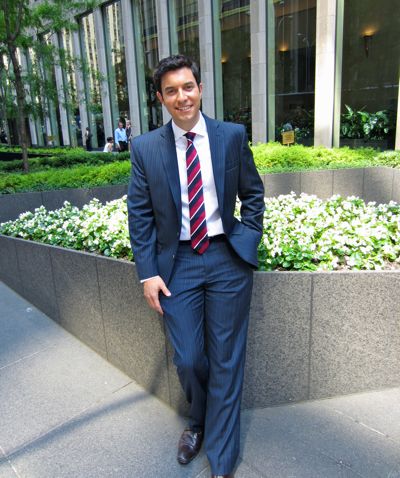 JZ: Do you ever say no to an assignment?
TL: Not really unless there is no news value. News is also an acronym for what people need to know, what they should know and what they want to know. If it's in one of those categories then I will do the story. A few days ago I was in Kentucky in a pond catching turtles for a segment on The Today Show. People may not think that's a story but once they see it they will understand that it's very interesting. I like all types of stories ranging from people who are making a difference to breaking news.
JZ: Did you always want to be in media?
TL: The way I got into the business was at career day at my high school. A reporter spoke in my writing class. He said that if you really like to write you should check out broadcasting and I have been hooked ever since. I got my first internship that summer when I was 15 and I have been in newsrooms ever since.
JZ: How did you get to NBC?
TL: I had been doing internships and the summer before my senior year I knew I wanted to come to New York. I applied for a bunch of internships but didn't get callbacks. Out of the blue I got a callback from NBC News Specials. They do all the special events like the royal wedding and conventions for NBC News. So I came to 30 Rock as an intern. I tell this to interns all the time.
JZ: Do you remember your first paycheck?
TL: Yes, it was $14.00 per hour as an overnight production assistant at MSNBC. I think my hours were 10 p.m. to 7 a.m. and I was off Mondays and Tuesdays. There was no one else on that shift so I got to do a lot. Then about 3 months after I started 9/11 happened and we were in a continuous 24-hour news cycle and it was all hands on deck. Since I had been interning for so long I knew how to write and edit so I kept getting more and more work. As soon as someone gives you an opportunity and you show them you can do that job then it's on to the next job. Little by little I worked my way up and now I'm here.
JZ: Do you love social media?
TL: I like Twitter more than Facebook. Twitter is a great way to deliver and get news. In news writing less is more and 140 characters is great. If you can't grab that headline in 140 characters than it's not a story. Viewers tweet us all the time and they tell us what stories they like and don't like. It's great to interact with them and get that instant feedback. It's great for the viewer and the journalist.
JZ: Do you find it hard to unplug with the never-ending news cycle?
TL: I always tell reporter that you always have to be working. If you are at a party you can have a good time but if you hear something talking about something new or different that's going on you have to be working. In this business to be at the top of your game you really can't unplug.
JZ: What would people be surprised to know about you?
TL: I'm Cuban American. My parents both fled Cuba. My mother in 1959 and my dad a few years later. I'm the son of political refugees. I think that's something people wouldn't expect. It's crazy to think what my parents and really my grandparents did. They left a country where they had jobs and were successful and came here not speaking the language and had no money. To start from scratch is just amazing but they did it and put their kids through college.
JZ: Do you have a motto?
TL: I like the saying the every setback is a setup for a comeback. Also, "Todos los tigres son iguales" which means all tigers are the same. A fellow reporter once told me that when I was on assignment in Haiti working around the clock.
Popular in the Community