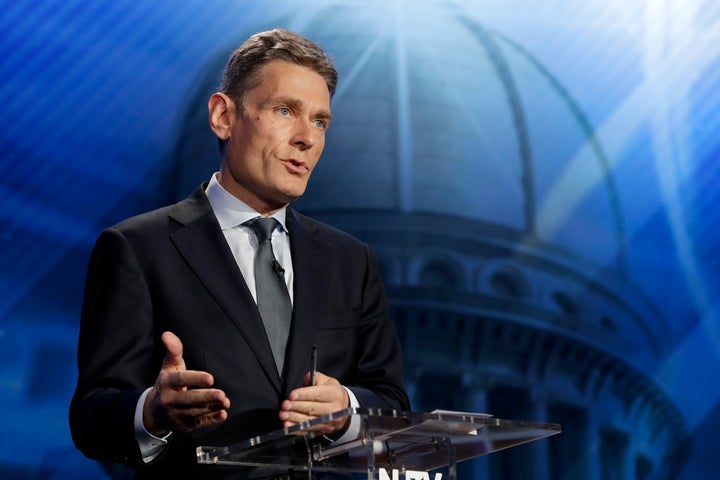 Tom Malinowski, a long-time human rights activist and former State Department official, defeated Rep. Leonard Lance (R-N.J.) Tuesday night in the contest for New Jersey's 7th Congressional District, joining other Democrats who managed to win traditionally GOP-held seats in the Northeast.
By beating Lance, Malinoswki ended 37 years of Republican control of the district. Lance, a former state lawmaker, had been in office since 2009 and won re-election in 2016 by 11 percentage points. 
Voters in the district, a suburban-rural mix that hosts one of President Donald Trump's beloved golf courses in Bedminster, seemed to buy Malinowski's message that Trump needs an effective check and that a GOP figure would not provide one.
Lance had touted his bipartisan credentials and attempted to portray Malinowski as excessively liberal. 
But concerns over GOP plans for health care ― Lance flirted with but ultimately voted against the party's proposals to replace the Affordable Care Act ― and the Republican tax bill's impact on New Jersey seemed to feature more in voters' thinking.
Malinowski, who was born and spent his early life in communist Poland, is likely to be an influential figure on Capitol Hill. He's already well-known in Washington, having worked for over a decade as a lobbyist for the nonprofit group Human Rights Watch after serving at the State Department and the White House under President Bill Clinton. He played an especially big role in the congressional fight against torture, led by figures like the late Republican Arizona Sen. John McCain.
President Barack Obama appointed Malinowski as his top human rights official in 2013. He used the perch to influence Obama's responses to situations like Syrian President Bashar Assad's vicious war on his own people and crackdowns by Russian President Vladimir Putin, whose connection with Trump Malinowski now frequently criticizes. He helped create pressure against Trump's initial effort to lift sanctions on Putin just before leaving government.
In 2014, Malinowski met with a domestic opposition group during a visit to the U.S.-aligned Middle Eastern monarchy of Bahrain. Though such meetings are fairly standard for U.S. diplomats, Bahrain reacted by declaring him persona non grata ― and Malinowski led a vocal U.S. government response that represented a rare rebuke to one of many partner governments that say America should limit its talk about human rights for the sake of their stability.
With foreign policy high on Democrats' agenda for the next Congress, Malinowski is expected to feature in party debates about how to deal with Trump's support for authoritarian leaders abroad and the president's policy of deploying more U.S. troops abroad while insisting he ― like much of the public ― wants America's wars to end. 
The Trump presidency represents "a controlled experiment in what it means for the United States to be absent as a moral leader around the world," Malinowski told Politico last year. "The bad news is a lot of people are going to be harmed because of this. The good news, I hope, at the end of it is that we will see as clearly as we have never seen before the value of America playing that role because we will see the consequences of our absence."
Calling all HuffPost superfans!
Sign up for membership to become a founding member and help shape HuffPost's next chapter