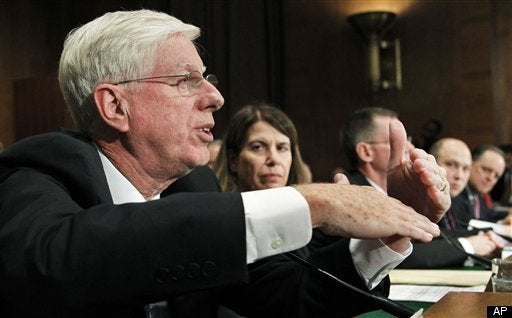 The leader of a nationwide investigation of foreclosure fraud told homeowners Tuesday that the probe will have some serious consequences for bankers.
"We will put people in jail," Iowa Attorney General Tom Miller said, according to homeowner advocates present at the meeting in Des Moines.
Miller said the 50 attorneys general participating in the investigation want criminal prosecutions as part of a big settlement with home-loan providers. The probe launched this fall in the wake of news that the foreclosure processes at many large banks are as bogus as the lending practices that fed the housing bubble in the first place, as banks granted loans indiscriminately to feed derivatives-market speculation and failed to track original mortgage documents after packaging the loans and selling them to investors.
Several banks temporarily halted foreclosures shortly after some of the more egregious practices were revealed, but resumed seizing homes as the scandal fell off the front pages.
Other components of the proposed settlement would require banks to modify home loans and reduce debt burdens for customers whose homes are worth less than their mortgages.
"One of the main tools needs to be principal reductions, just like in the farm crisis in the 1980s," Miller told the assembled homeowners, adding that he also supported restitution for victims of wrongful foreclosure. "There should be some kind of compensation system for people who have been harmed."
Struggling homeowners who apply for mortgage modifications often make the unhappy discovery that the foreclosure process starts at the same time as the modification process -- and the foreclosure moves faster than the modification.
It shouldn't be that way, Miller told the homeowners in Des Moines: "To have a race between foreclosures and modifications to see which happens first is insane."
Foreclosures continue even for borrowers applying for help under the Obama administration's signature anti-foreclosure effort, known as the Home Affordable Modification Program. Fewer people have received "permanent" five-year modifications under HAMP than have been bounced from the program.
And even though 76 percent of HAMP borrowers owe more than their homes are worth, 95 percent of permanent modifications actually saddle borrowers with additional debt instead of reducing it, according to a watchdog report released Tuesday.
Homeowners and homeowner advocates praised Miller for his comments at the meeting.
"We are very pleased with how this meeting turned out, and now our expectations are higher than ever," said Deacon Mike McCarthy, a member of Iowa Citizens for Community Improvement.
"Attorney General Miller made it clear that he sees this investigation as a chance to clean up the foreclosure crisis that has ransacked our communities for over three years now and continues to push down housing values for everyone," said Gina Gates, a foreclosure victim affiliated with the faith-based national community organizing group called People Improving Communities through Organizing. "He stated that loan modifications will be a core component in any settlement."
Popular in the Community