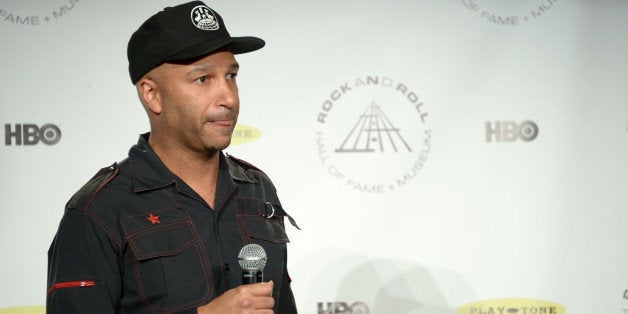 Tom Morello, celebrated rock guitarist and progressive political activist, expressed ambivalence about performing in Israel in an interview with The Huffington Post on Thursday.
"I have never crossed a picket line and I am not about to start," Morello said when asked if he would play in Israel.
Pressed on the matter, Morello said he was deferring a decision until a concrete opportunity presented itself.
"My global touring has been curtailed by being a T-ball coach for my boys," he said. "I am in no hurry to be breaking any boycotts."
Morello noted that he played in Israel twice with his band Rage Against the Machine, which broke up in 2000. When his group performed in the country, Morello said, "there was no boycott in existence."
In video from Rage Against the Machine's performance in Israel in June 2000, Morello mentioned the political tensions in Israel over its policies in the occupied West Bank and Gaza.
"There is a tremendous amount of understanding among our Jewish fans [in Israel] who disagree with their government's more repressive policies toward the occupied territories," Morello said.
In recent years, a number of high-profile musicians have refused to perform in Israel to protest the Israeli government's treatment of Palestinians. The call for artists to boycott Israel comes from Boycott, Divestment and Sanctions of Israel, a broader campaign that was started by Palestinian civil society groups in 2005. The BDS movement, as it is known, asks for people, governments, corporations and other institutions to boycott Israel until it ends its occupation of Palestinian territories captured in 1967, grants equality to Palestinian Israeli citizens and endorses the right of Palestinian refugees from 1948 to return to the areas from which they fled or were expelled.
Abraham Foxman, national director of the Anti-Defamation League, rejected the notion that there is a significant movement to boycott Israel.
"There is no 'picket line' around Israel," Foxman said. "Attempts to mount a campaign to get musicians to refuse to play in Israel have, by and large, been unsuccessful, with only a handful succumbing to the pressure."
Foxman also said those calling for artists to boycott Israel are "using the rhetoric of boycott to promote the isolation and demonization of Israel and to deny the Jewish people their right to self-determination and a homeland."
Morello has been unequivocal in his support for Palestinian human rights and opposition to the Israeli occupation of the West Bank and Gaza, but until the interview with HuffPost, he had not publicly expressed his views on an Israel boycott.
The video for "Multi_Viral," a March 2014 song on which Morello collaborated with Calle 13 and Kamilya Jubran, depicted a Palestinian boy using a guitar as a tool for political resistance.
During Israel's invasion of Gaza in the summer of 2014, Morello took to Twitter to mock the Israeli government's justifications for the war and to condemn the killing of Palestinian children.
This article has been updated to include Morello's comments while touring in Israel with Rage Against the Machine in 2000.
Calling all HuffPost superfans!
Sign up for membership to become a founding member and help shape HuffPost's next chapter
BEFORE YOU GO
PHOTO GALLERY
Musicians vs. Politicians: Artists Fight Back