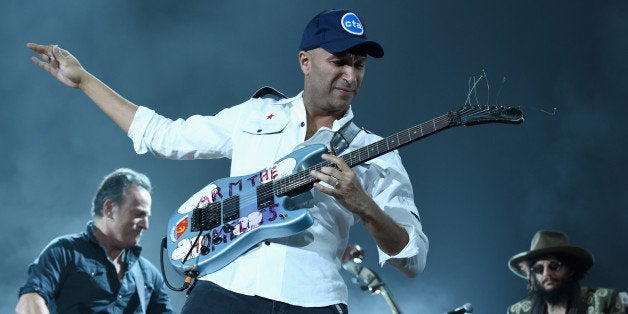 Tom Morello, the celebrated rock guitarist and progressive political activist, announced on Thursday the launch of his new Firebrand Records, a record label devoted to radical-themed music from around the world.
Firebrand plans to release its records digitally through the distribution company Kobalt, and they'll be available on most digital music platforms, including iTunes. As part of its launch, the label has released a nine-song sampler of its artists.
Morello brings to Firebrand Records his musical expertise as guitarist for popular alternative metal bands Rage Against the Machine and Audioslave, and his political activism as a vocal critic of the Iraq War, a supporter of the Occupy Wall Street movement, and a proponent of criminal justice and policing reform. He has been performing solo as The Nightwatchman since 2003, and has collaborated with a number of artists, including Bruce Springsteen.
Morello spoke to The Huffington Post about Firebrand Records, radical music and his views on some of the political causes that have been making news. The interview has been condensed and edited for clarity and brevity.
How did you come up with Firebrand Records?
I have been approached dozens of times over the years to form a label. It always sounded like a big burden with low personal reward until we started musing about a label specifically oriented toward rebel music from around the world. Ryan began talking about this, and he ... has been to 19 different countries and had aligned a number of really great artists from around the world.
Will artists have to prove their revolutionary bona fides in order to join the label?
There is not a genre litmus test for this label. From the heartland, Dylan-esque, Replacements rock of Ike Reilly, to Built for the Sea, which is a Portishead of 2015, and Son of Nun, who ran a medical tent during the uprising in Baltimore -- the bona fides that one must present is that there is a "new world in our songs."
This is an interesting time to start a record label. How will you guys be partnering with artists to promote their work?
Traditionally labels have exclusively begun as profit-making enterprises.
Firebrand is not a nonprofit -- it is to promote and propel artists whose message we believe in to the four corners of the globe and to make a home for those global artists.
How will your label share profits with artists?
As someone who has endured some good deals and some horrific ones, we split everything with the artists. Ryan and I come from the world of punk rock equality. In the brief negotiations we have had so far, where unconventional things have been proposed, we have been OK with them. This is a label nurturing radical music and not trying to become Sony records.
How do you feel about streaming services like Spotify?
As a Spotify user, the advantage to things like Spotify is that there is a real democratization of music. That is the main goal of Firebrand ... to push [our artists'] music as far as they possibly can.
When will Firebrand Records' first album come out?
Ike and Ryan have records ready; so does Son of Nun. The initial push is going to be letting the world know about this roster of eight artists. Expose the world to this concept of a different kind of record label, a record label united by a point of view. That is nothing that exists in 2015.
As the record industry of Rome burns, we are the Huns at the gates.
Have you had issues with fans who disagree with your political views resisting your message?
Many and often [chuckles]. First of all, my politics have not been well hidden over the course of the last decades. Every once in a while you get someone who says, "Shut up and play guitar." If you're saying that, you've missed a few chapters. The strength of music in conveying a social message is that it casts the nets wide. While it has a political bent, you do not have to be politically inclined to enjoy the beats and razor-like insightful lyrics of Son of Nun, or the hard-rocking good humor of Ike Reilly.
That was one of the strengths of Rage Against the Machine: It introduced an audience to ideas because of the great rocking of the band. First and foremost, the artists have to be great. The fact that they also convey a message is the icing on the cake.
I do not know that we have learned. One of the few nonpartisan issues these days is that the Iraq War was a disaster. And it is not, and I do not think it is ever, the time to say, "I told you so." It is better to look at the criminal behavior that got us into that war and make sure history does not repeat itself.
The video for "Multi_Viral," your track with Calle 13 and Kamilya Jubran, depicts a Palestinian boy using a guitar as a tool for political resistance. In the past, you have played in Israel. With artists' participation in the international boycott of Israel heating up, will you still play there?
When Rage played there twice, there was no boycott in existence. I will cross that bridge when I come to it. Let me put it to you this way: I have never crossed a picket line and I am not about to start.
Sounds like you will honor the boycott.
My global touring has been curtailed by being a T-ball coach for my boys. I am in no hurry to be breaking any boycotts.
Do you plan to endorse a candidate in the 2016 elections?
I have not yet. The one candidate that I previously endorsed for higher office was Cindy Sheehan. I worked as a scheduling coordinator for former Sen. Alan Cranston (D-Calif.) for two years. I saw the internal workings of Washington, and it is as disgusting as you think it is. Even for Cranston, who was extremely progressive politically. Personally it was so distasteful to someone who cares about the issues to see what he had to do.
Are you excited by the gains of the Fight for 15?
The fact that issues of income inequality are even on the agenda and that there have been successes -- it is an issue I firmly stand behind. My take is that $15 is not enough. The fact that it has momentum, it is a great start. It is the kind of issue that can galvanize people around a whole bunch of other issues, too.
Does Occupy Wall Street deserve credit for some of these recent developments?
The credit can exclusively be given to the Occupy movement. While it had its failings, it put economic inequality on the front burner.
Is there one issue you wish Americans were paying more attention to, even in radical or progressive circles?
No. Stand for what you believe in, and the issues that resonate most with you. Right now, I am fighting for Firebrand Records and to build a family of artists and an army of supporters around some great music.
This page contains materials from The Huffington Post and/or other third party writers. PricewaterhouseCoopers LLP ("PwC") has not selected or reviewed such third party content and it does not necessarily reflect the views of PwC. PwC does not endorse and is not affiliated with any such third party. The materials are provided for general information purposes only, should not be used as a substitute for consultation with professional advisors, and PwC shall have no liability or responsibility in connection therewith.
Calling all HuffPost superfans!
Sign up for membership to become a founding member and help shape HuffPost's next chapter
BEFORE YOU GO
PHOTO GALLERY
Musicians vs. Politicians: Artists Fight Back