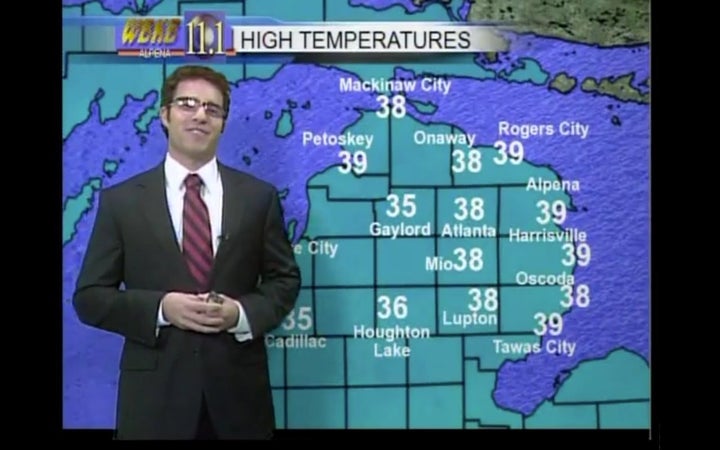 Forecaster Tom Murphy isn't satisfied with just standing in front of a green screen and reading temperatures off a teleprompter. He got into this business to keep people informed, to make them smile, goshdarnit, and to push a little love for the New York Giants on ... Northern Michiganders?
At least, that seems to be the attitude of the weatherman for Alpena Mich.'s WBKB. Murphy slips in references to rappers Drake and Snoop Dogg and even the Looney Tunes character Foghorn Leghorn -- all in a day's forecast. This recent highlight reel shows Murphy giving a shout-out to his "friends in Jerz" and explaining he why he can't come up with a good joke to make about temperatures in the mid-30s.
His official WBKB profile says Murphy's favorite musical artists are "Outkast, Lil Wayne, Jay-Z, U2, Otis Redding and Bruce Springsteen," though we'd have pegged him as more of a Nelly fan. (At one point in the reel, he calls the hip-hop artist a "great poet and philosopher.")
Murph -- his station nickname -- grew up in Morristown, N.J., (that explains the Giants fandom) and graduated from the University of Miami.
Calling all HuffPost superfans!
Sign up for membership to become a founding member and help shape HuffPost's next chapter