In a Saturday blogpost, Democratic National Committee chairman Tom Perez vowed to enact reforms to the party's presidential nominating process aimed at ensuring that "the new DNC will work to rebuild trust with the people we represent."
Perez's column on Medium, entitled "Making 2020 Transparent," was a response to revelations by former interim DNC chairwoman Donna Brazile last week that in a signed agreement the committee had effectively surrendered its independence to Hillary Clinton's campaign in August 2015 ― months before 2016 presidential primary voters went to the polls. Many supporters of Sen. Bernie Sanders (I-Vt.) interpreted the news as confirmation that the party had treated him unfairly.
"I am more committed than ever before to restoring voters' faith in our democratic process because even the perception of impartiality or an unfair advantage undermines our ability to win," Perez said. "That is unacceptable."
"After listening to Democrats from every wing of our party, I've developed a series of concrete reforms to put our principles into action and guarantee that under my watch, the new DNC will work to rebuild trust with the people we represent," he said.
The "principles" Perez plans to employ include deciding the presidential primary debate schedule well before voting in the contests begins and making transparent to the public any joint fundraising agreements the DNC makes.
He also promised to support the work of the Unity Reform Commission, a panel formed in July 2016 as a compromise with delegates who backed Sanders at the Democratic National Convention.
"We will work with the Unity Reform Commission to implement their collective recommendations for meaningful change in our party," Perez said.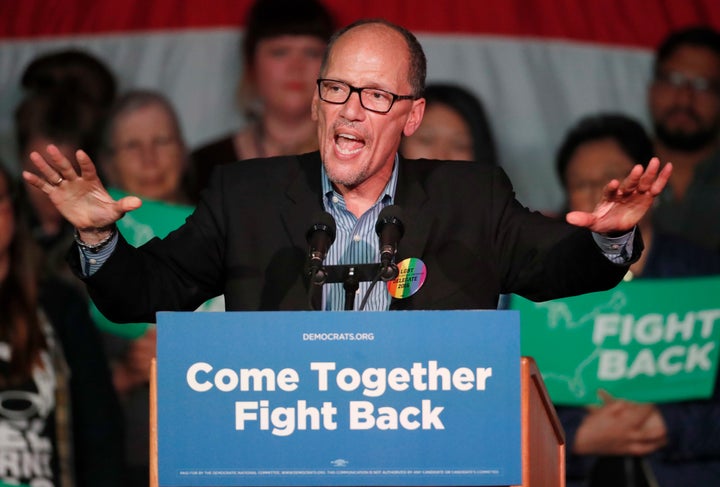 The commission is due to recommend reforms to the nominating process by January 2018. The 21-member panel is discussing plans to make the party's budget more transparent, diminish the role of so-called superdelegates in the nominating process, and make it easier for independents and new voters to participate in Democratic primaries and caucuses.
Nomiki Konst, one of eight Sanders appointees on the commission, expressed disappointment that Perez did not explicitly address DNC budget transparency and prohibiting the committee's voting members from having business with the organization or other conflicts of interest that could jade their ability to act impartially.
"At this point, with barely any funds, compromised integrity and low trust, Chairman Perez needs to prove above and beyond that he's willing to reform this party," Konst said in a text message to HuffPost. "Make it transparent, accountable, inclusive and eliminate conflicts of interest that have burdened it."
Calling all HuffPost superfans!
Sign up for membership to become a founding member and help shape HuffPost's next chapter
BEFORE YOU GO
PHOTO GALLERY
2017 Scenes From Congress & Capitol Hill