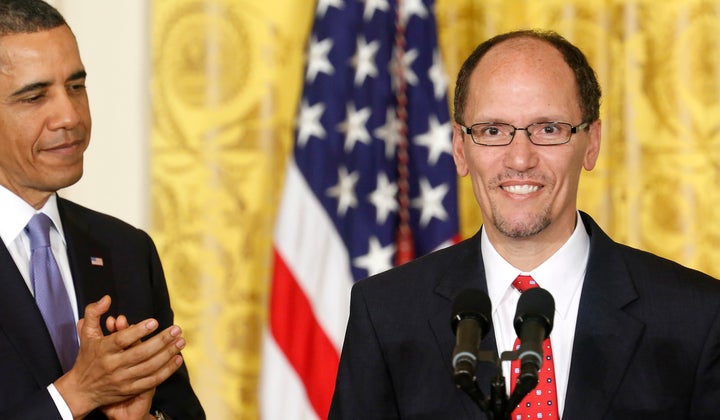 WASHINGTON ― Tom Perez, President Barack Obama's labor secretary, announced on Thursday that he was entering the race for chair of the Democratic National Committee, transforming a relatively sleepy contest into a pitched battle about the future of the party.
"We have a lot of fighting to do. We have a lot of advocating to do. And I've been doing that all my life," Perez said on a call announcing his decision. "We are really in the battle for the future of America. And given what happened last month, I don't think there has ever been a point in my life where the position of chair of the Democratic Party has ever been more important."
In throwing his name out for chair, Perez complicates what had seemed like a smooth path to the position for Rep. Keith Ellison (D-Minn.). Ellison was the favorite in a race featuring South Carolina Democratic Party Chairman Jamie Harrison and New Hampshire Democratic Party Chairman Ray Buckley, primarily because he had the support of numerous luminaries in the party ― both in Congress and in the influential labor community.
But party officials close to Obama have worried that Ellison's brand of unflinching liberalism (both on foreign and domestic policy), and his relative inexperience in building party infrastructure, make him a risky choice to lead a party in exile.
Perez is hardly an old hand when it comes to Democratic party-building either, though he emphasized on the call that his focus at the DNC would be on revitalizing a 50-state strategy for the party, strengthening its grassroots organizing and empowering "state and local leadership."
"The party needs strong progressive leadership that can deliver results for all Americans," he said. "I think I could make a difference, because I'm a proud progressive and I've been getting stuff done throughout my career."
Prior to running for DNC chair, Perez worked in the Senate and President Bill Clinton's administration and served in Maryland state politics before leading the Justice Department's powerful civil rights division during the Obama administration. In 2013, he took over the Labor Department, where he earned respect within the White House and the admiration of officials outside of it for pushing through regulations that expanded overtime pay and bolstered workplace conditions. He was also on the front line of efforts to increase the minimum wage.
Indeed, the ideological gap between him and Ellison is not particularly vast. They differ most notably in their respective positions on Obama's pursuit of a Pacific trade pact, which Perez supported and Ellison opposed.
Ellison called Perez "a great public servant" Thursday and said he welcomed him to the race.
"I look forward to discussing how Democrats can speak to all Americans, harness the grassroots to turn out the vote, and strengthen our state and local parties," the congressman said in a statement.
Where the race will be waged, observers predict, is on matters of style, not substance ― with the main dispute over whether the party tries to duplicate Obama's electoral success or adopts a more combative, unapologetic approach. Ellison was an enthusiastic booster of Sen. Bernie Sanders (I-Vt.) in the Democratic presidential primary (Perez supported former Secretary of State Hillary Clinton). And many Democrats, including Senate Minority Leader Chuck Schumer (D-N.Y.), are eager to keep that faction of the party content and inside leadership circles.
Ellison's candidacy certainly seems to share DNA with Sanders. His DNC platform calls for making "labor a full partner" with Democrats. He also emphasizes relying on small-dollar fundraising over big-money donors.
One Democratic state party chair backing Ellison said that while they respected Perez, they liked that Ellison already had experience turning out new voters, raising money and understanding what's going on in the Midwest. The fact that Sanders likes Ellison, this official added, certainly doesn't hurt.
"Having Bernie Sanders' endorsement? Absolutely that's important, because there are a lot of people that love Bernie who are watching what he's suggesting. And Bernie's really making a difference and being a great voice for our party," the official said. However, they emphasized that many Clinton supporters are also backing Ellison.
Ellison's defenders often note that he is one of the few elected officials to have walked picket lines with union activists or voiced his disagreements with Obama administration policy ― and his supporters believe this is precisely the reason Obama allies encouraged Perez to run. One Democrat supportive of the congressman's bid said this is "about the White House picking whatever horse they feel can defeat Ellison."
Perez seemed to acknowledge this line of criticism during Thursday's call, conceding that members might be wondering, "Is this another guy from Washington who is trying to talk the talk but hasn't walked the walk?"
But his support isn't limited to Obama allies (though several of them tweeted their excitement with the news of his announcement). On Thursday's call, he was joined by several state party chairs who praised his past work in Maryland and his capacity as an effective communicator.
Perez, who was often discussed as a potential gubernatorial candidate in Maryland, said he made the decision to pursue the party post instead because of the weight of the political moment. He said he was not interested in using the DNC job as a stepping stone to political office in Maryland, because he believes the chair post is "a full-time job."
"I really believe this is one of those 'Where were you?' moments on our nation's journey to form a more perfect union," he said. "We must resist the Trump agenda, because it's a scary agenda."
Want more updates from Amanda Terkel? Sign up for her newsletter, Piping Hot Truth, here.
Popular in the Community