Members of the left wing of the Democratic Party are furious at Democratic National Committee Chairman Tom Perez for removing party officials who backed Minnesota Rep. Keith Ellison's chairmanship bid from key party committees.
"It's a slap in the face to the activists in the party that are working so hard to make the party more responsive to the grassroots," said Charles Chamberlain, executive director of Democracy for America, a digital grassroots group. "The idea that you're going to purge Ellison supporters and bring the party together doesn't make any sense at all."
Becky Bond, founder of Knock Every Door and a veteran of Sen. Bernie Sanders' 2016 Democratic presidential campaign, argued that the decision to remove Ellison surrogates puts Ellison, whom Perez brought on as deputy DNC chairman, in a "really hard place."
"Ellison is someone who is the voice of the activists and grassroots of the Democratic Party," Bond said. "If the grassroots feel Ellison is being ignored, that's going to read that our priorities are being ignored."
Ahead of the DNC's first meeting under Perez's leadership, which began Thursday in Las Vegas, Perez released his roster of 75 at-large DNC members as well as appointments to key DNC committees.
Activists immediately noticed that four Ellison supporters either lost their at-large posts or spots on influential committees. James Zogby, president of the Arab-American Institute and a top Sanders backer, was removed from the Executive Committee, which has major budgetary authority. Ray Buckley, the New Hampshire Democratic Party chairman who earned praise for treating Sanders fairly, lost spots on both the DNC Executive Committee and the Rules and Bylaws Committee, which regulates the party presidential primary.(Buckley endorsed Ellison for chair after ending his own bid to lead the organization.)
Barbara Casbar Siperstein, the DNC's first transgender member, was removed from the Executive Committee and the DNC at-large roster. Alice Germond, who worked as a secretary for the DNC for decades, lost her at-large DNC spot as well.
Of the four, at least one regained a top post through other means. Buckley picked up a spot on the Executive Committee on Friday afternoon, after members of the DNC's Eastern Caucus elected him to represent them on the influential body. A bid by Zogby to do the same was unsuccessful.
For the broad camp of progressive Democrats (mainly Ellison or Sanders supporters) concerned about making the party more accountable to the grassroots and bringing in more independents, seats on the Rules Committee are especially prized.
Many activists felt that the DNC inappropriately put a finger on the scale for presidential candidate Hillary Clinton in the 2016 primary, and now worry that it will not adopt a fairer process in 2020. The Rules Committee is charged with considering the recommendations of the DNC's Unity and Reform Commission, a panel convened to reform the presidential nominating process that will present its slate of suggestions by the end of the year. (The commission consists of 10 Clinton appointees, eight Sanders appointees and three Perez picks.)
Reformers hope that the party will accept a dramatically reduced role for superdelegates ― the party officials who can vote in presidential primaries independent of the will of the primary voters in their state ― as well make it easier for independents to participate in primaries and other party functions.
"I don't know what the Rules Committee is going to do," Bond said of their forthcoming assessment of the Unity Commission's recommendations. "But I know that there are five Clinton-appointed Unity Commission members on the Rules Committee and no Bernie-appointed ones now that Perez has shaken it up."
Of course, the power of the Rules Committee is a matter of debate. Regardless of how the Rules Committee votes on the Unity and Reform Commission recommendations, the panel's recommendations are subject to a vote among the entire voting DNC membership.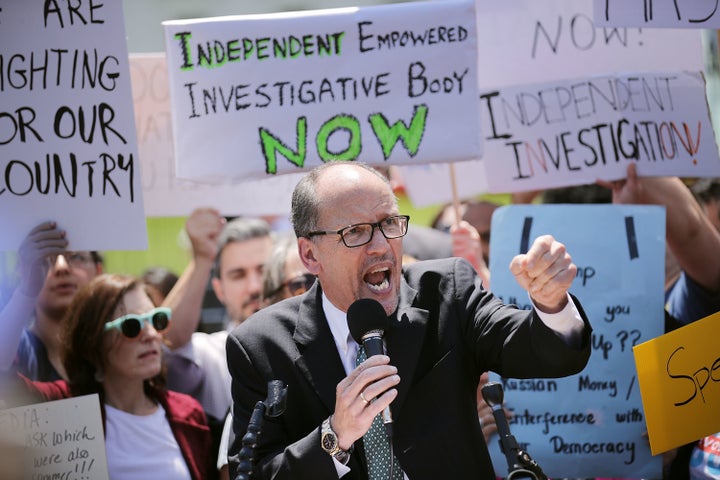 Perez's critics have been piqued that the DNC responded to these concerns by highlighting the racial, ethnic, gender and sexual identity diversity of the broader at-large roster.
"This slate doubles millennial and Native American at-large representation, provides unprecedented representation for our allies in the labor community, and increases the presence of Puerto Rican at-large members at a time when the Trump administration refuses to take responsibility for the millions of Americans who are still suffering through a major humanitarian crisis," DNC spokesman Michael Tyler told NBC News in response to the criticism.
The DNC's response obfuscates the more critical question of who sits on key committees and the need to represent reform-minded people of all races and backgrounds in positions of influence, according to progressive critics.
"It's not only misdirection, but it's also divisive," Jane Kleeb, an Ellison supporter and chair of the Nebraska Democratic Party, said of the diversity retort. "It continues to paint the Bernie people as not caring about our native and Latino and black brothers and sisters, which is complete nonsense."
The anger at this particular line of attack came to a head at an Executive Committee meeting Friday when Karen Carter Peterson, the DNC's vice chair of civic engagement and voter participation, accused Ellison loyalists of plotting to remove black women from party leadership and replace them with a less diverse slate of at-large members. Ellison and Zogby rose to deny that.
"The progressive DNC members were absolutely not strategizing to remove these black women from the DNC," said Yasmine Taeb, a Virginia Democratic National Committee member. "We want to make sure that the DNC is inclusive of everyone from all of the wings of the party whether that means inclusivity of ideas and thoughts or race and other backgrounds."
"We hope all of the other DNC members agree with us," Taeb added. "We support Chairman Perez's mission in trying to empower diverse Democrats."
Ellison's office declined to comment for the story.
An Ellison spokesman told NBC News, however, that some of Ellison's suggestions for party leadership positions were accepted "and some were not."
DNC communications director Xochitl Hinojosa rejected the idea that Ellison supporters are not represented on key committees. Hinojosa noted that the DNC's Rules and Bylaws Committee includes five people who backed Ellison's bid for the DNC chairmanship: Nevada union official Artie Blanco; AFSCME president Lee Saunders; American Federation of Teachers president Randi Weingarten; Indiana Democratic Party chairman John Zody; and Florida Democratic Party chairman Stephen Bittel.
The DNC does not look at presidential primary preferences when making committee assignments, Hinojosa added.
"There will always be small things that seem controversial and attempts to take us back to the 2016 primary, but Democrats from all parts of the party are thinking about how best to win in 2017 and beyond," Hinojosa said.
"Independents, who we need to win, are looking at our party and saying we want you guys to change things."
The fuss over Perez's appointments is the latest flare-up of a long-simmering dispute in the Democratic Party between progressive reformers and establishmentarians.
Political observers frequently boil the internecine battle down to a replay of the contentious primary conflict between Clinton and Sanders in 2016.
There is, of course, some truth to this characterization. Ellison, who endorsed Sanders in 2016, had the support of many Clinton backers in his bid to chair the DNC, but the excitement behind his campaign was always driven by progressives associated with the Sanders campaign. His supporters saw his bid as an opportunity for the party to correct its mistakes from the 2016 election and embrace grassroots populism ― and they resented the intervention of figures like former President Barack Obama on behalf of Perez.
When Perez won in February, he immediately sought to assuage progressive skepticism by naming Ellison as his deputy.
Now some supporters wonder how far Perez's commitment to Ellison's agenda goes.
"Keith has been one heck of a loyal foot soldier," Chamberlain said. "He has been shafted over and over again by a chair that appears to be incompetent at coalition politics."
Rather than come down to a conflict between supporters of different candidates, the debate is now between supporters of all politicians who want to wipe corporate influence out of the party and those who do not, according to Bond, who is also a former leader of Credo, a leading progressive online activism group.
"You're seeing it break down much more along issue lines: People who believe we need to be the party that stands up for a $15 minimum wage, single payer health care; that stands up for a strong real message on racial and economic justice that comes with actions that back it up," Bond said.
Last week, Perez rankled many of these anti-corporate Democrats by appointing Dan Halpern, a former chairman of the Georgia Restaurant Association and past board member of the National Restaurant Association, as a deputy finance chair of the DNC.
The Georgia Restaurant Association and the National Restaurant Association have both opposed increases in the minimum wage, leading to charges that Perez had appointed a minimum wage opponent to a top fundraising post.
But in his capacity as CEO of Jackmont Hospitality, an Atlanta, Georgia-based foodservice company, Halpern has publicly expressed support for an increase in the federal minimum wage.
Joe Dinkin, national communications director of the Working Families Party, mentioned Halpern's appointment in a broader criticism of Perez's recent decisions.
"For the sake of the nation, the DNC should reverse course, spend less time courting big donors and more time bringing progressives voices into the party instead of silencing them," he said.
Still other Democrats argue that the divide within the party is less about ideological differences than it is a fight between incumbents wary of threats to their power and reformers eager to open the party up to newcomers.
"Are you interested in changing how the party operates? Because that's then how we recruit and engage grassroots Democrats into our party," said Kleeb, who also sits on the board of Our Revolution, the legacy organization of the Sanders campaign. "Independents, who we need to win, are looking at our party and saying we want you guys to change things."
One thing seems indisputable: This is not the debate the party wants to be having just weeks before key legislative and gubernatorial elections in New Jersey and Virginia.
The stakes are especially high in Virginia, where Lt. Gov. Ralph Northam (D) is running for governor of a state where Clinton defeated Trump by 5 percentage points. The latest polling shows him neck-and-neck with Republican Ed Gillespie.
Bond expressed hope that Perez would mend fences with progressive activists sooner rather than later.
"Perez still has time to show to the grassroots that he's listening to people like Keith Ellison and that he is respecting and listening to the priorities of the grassroots," she said.
Support HuffPost
The Stakes Have Never Been Higher
Before You Go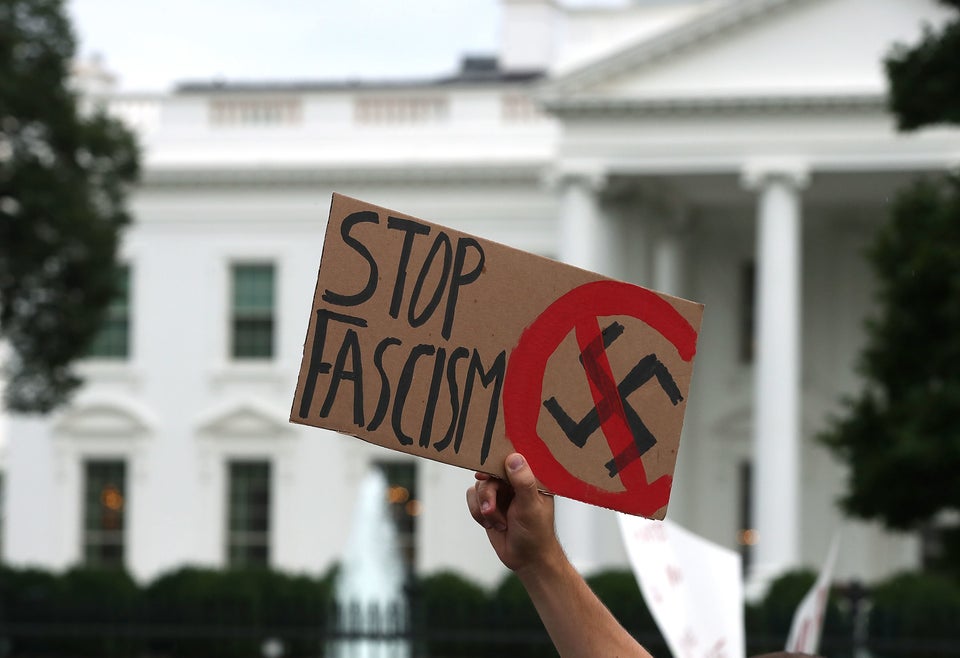 Anti-Hate Protests Against Trump
Popular in the Community