WASHINGTON ― Former Labor Secretary Tom Perez on Friday announced the support of several prominent Texas Democrats for his bid to chair the Democratic National Committee, including three voting members of the DNC.
The voting DNC members endorsing Perez are Celina Vasquez, Texas Democratic Party Chair Gilberto Hinojosa and Texas state Sen. Jose Rodriguez.
U.S. Rep. Filemon Vela (D-Texas), Harris County Commissioner Rodney Ellis and former Houston Mayor Annise Parker also endorsed Perez's bid to lead the Democratic Party.
"Tom Perez understands the complex challenges we have in Texas and understands the national party needs to make investments instead of treating Texas as an ATM machine," Hinojosa said in a statement announcing his endorsement. "Tom is a friend, and if he's elected chair, he will speak to the broad tent of the party and has the experience to turnaround [sic] large complex organizations."
The string of endorsements adds to Perez's vote count as he courts the 447 party officials who will elect the next chair. Texas has several additional voting members who have not yet announced their support for anyone's candidacy.
Friday's announcement also provides a publicity boost for Perez ahead of a regional forum for DNC candidates in Houston on Saturday.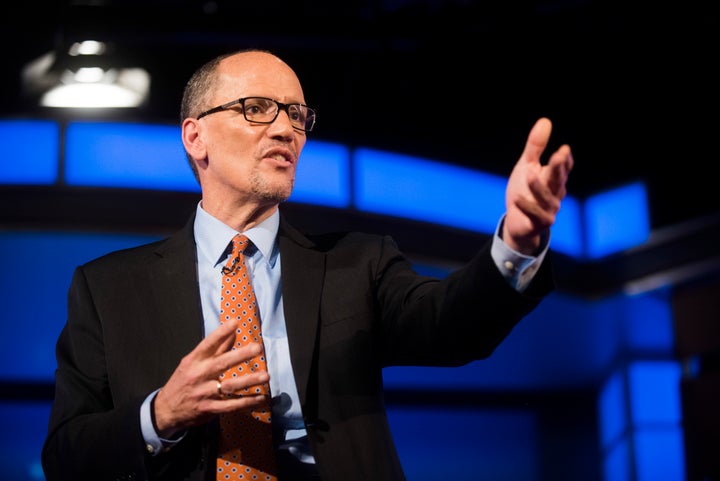 The forums give voting members an opportunity to hear from the seven major candidates, including Perez, U.S. Rep. Keith Ellison (D-Minn.), South Bend, Indiana Mayor Pete Buttigieg, Idaho Democratic Party Executive Director Sally Boynton Brown, New Hampshire Democratic Party Chair Ray Buckley, South Carolina Democratic Party Chair Jaime Harrison and media strategist Jehmu Greene.
Friday's endorsements follow several other major declarations of support for Perez.
Los Angeles Mayor Eric Garcetti, a voting DNC member, endorsed Perez earlier this month. And on Thursday, the United Brotherhood of Carpenters, a 500,000-person building trade union, endorsed Perez. He already has the support of the United Food and Commercial Workers union, and the International Association of Fire Fighters. Ellison, widely viewed as Perez's chief rival in the race, enjoys the endorsement of the AFL-CIO, the country's largest labor federation, and several of the country's other large unions, including AFSCME and the Communication Workers of America.
Watch HuffPost's full interview with Tom Perez over here.
The struggle between Ellison, an early backer of Sen. Bernie Sanders (I-Vt.) in the 2016 presidential primary, and Perez, who endorsed former Secretary of State Hillary Clinton, is widely viewed as a proxy battle between different factions of the Democratic Party. While Sanders supporters and many Washington-based Clinton backers have rallied behind Ellison, other Clintonites have gotten behind Perez. Former President Barack Obama, under whom Perez served, has lavished glowing praise on him.
Since the race began in November, however, ideological and policy battles have taken a back seat to insider politicking. Contenders are, after all, competing for the hearts of the 447 insiders who decide the race, not the party's primary electorate. In a Jan. 18 debate among DNC candidates hosted by The Huffington Post, the candidates avoided highlighting their policy differences, with Ellison downplaying his desire to reinstate a ban on lobbyist donations to the DNC.
Hinojosa was open about his support for Perez in an interview with HuffPost earlier this month. Friday's statement represents his formal endorsement, according to Perez campaign spokeswoman Molly Nuñez.
DNC members are expected to vote on the next chair on Feb. 25 in Atlanta.
CORRECTION: An earlier version of this story misstated that Unite Here endorsed Perez; the union has announced its support for Ellison.
Calling all HuffPost superfans!
Sign up for membership to become a founding member and help shape HuffPost's next chapter
BEFORE YOU GO
PHOTO GALLERY
Democratic National Committee Chair Candidates