The head of the Democratic National Committee said Wednesday that it's perfectly appropriate for the party to continue to remind people of the sexual misconduct allegations against President Donald Trump, and there should be an investigation into his conduct. 
"If the tables had been turned, and it were a Democratic president accused of this and a Republican Congress, you'd have 18 different special investigations going on right now. It'd be the only thing they'd be doing," DNC chairman Tom Perez said in an interview with HuffPost.
He also stressed that he has "repeatedly" said that those involved in sexual misconduct "should step down."
"I've said that about Democrats, and I've said that about Republicans," Perez added. "And I've said that about the occupant of the Oval Office."
He acknowledged, however, that it's unlikely Trump will heed his resignation call. 
"I was born at night, but I wasn't born last night," Perez said.
Twenty-one women have accused Trump of sexual misconduct, including assault. Although the president has denied the allegations, they have gained renewed attention in recent weeks as other powerful men, including members of Congress, have been forced to give up their jobs over misconduct charges.
More than 100 House members, as well as a handful of senators ― all Democrats ― have called on Trump to leave office or be investigated over the charges. 
"President Trump should resign," Sen. Kirsten Gillibrand (D-N.Y.) recently said. "These allegations are credible; they are numerous. I've heard these women's testimony, and many of them are heartbreaking.
Other Democrats, however, have demurred from such comments. Doug Jones, the newly elected Democratic senator from Alabama, said he believes it's detrimental for the party to focus on the allegations. 
″People had an opportunity to judge before" last year's presidential election, Jones said on CNN on Sunday. "I think we need to move on and not get distracted by those issues."
"I don't think the president ought to resign at this point," he continued. "We'll see how things go."
Perez said Wednesday that he disagreed. 
"We've been very clear at the DNC that the issue of sexual assault, harassment and sexual misconduct, it transcends party," he said. "Whether it's a Democrat or a Republican, whether you're in the House or the Senate, whether you're in a corporate board room or you're on the factory floor or you're in the Oval Office."
Sen. Al Franken (D-Minn.) announced earlier this month that he would resign soon amid mounting allegations of unwanted groping and other sexual misconduct. Reps. John Conyers (D-Mich.) and Trent Franks (R-Ariz.) each gave up their seats this month in the face of sexual misconduct allegations.
Some Democratic senators have subsequently argued that the drumbeat for Franken's resignation was premature. Sen. Joe Manchin (D-W.Va.), who refused to join his colleagues in calling for Franken's departure, told Politico that the pressure on the Minnesotan from his fellow Democrats to step down was "atrocious." He called on Franken to withdraw his resignation pending the results of an Ethics Committee investigation. 
Sen. Patrick Leahy (D-Vt.) said on Monday that he regretted calling on Franken to resign, arguing that his colleague was entitled to the "due process" of an Ethics Committee inquiry.
Addressing such concerns, Perez said that when the congressional process for addressing sexual misconduct allegations "doesn't work very well, it doesn't give you a lot of confidence."
"The chronic slowness of the process, and the chronic secrecy of the process had the effect of enabling rather than preventing misconduct," he said.
Perez was among the leading Democrats who called on Franken to resign. He told HuffPost on Wednesday that he still believes he made the right decision. 
"Yeah," he said. "Absolutely."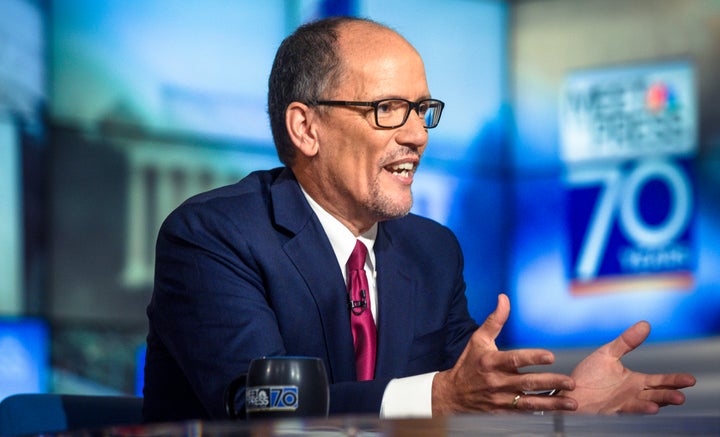 Calling all HuffPost superfans!
Sign up for membership to become a founding member and help shape HuffPost's next chapter
BEFORE YOU GO
PHOTO GALLERY
Donald Trump's 2017