The speech, Perez's first appearance at a demonstration after winning a contentious race to lead the party last month, delivered on a campaign promise to bring the Democratic Party closer to the grassroots, anti-Trump activism movement.
"We've spent so much time since January 20th, we see America at its worst, but then we come here and we see America at its best," Perez told a crowd of hundreds in Lafayette Square Park in front of the White House. "I see people all over this country standing up and taking notice and saying, 'You know what, Mr. Trump, history has its eye on you. And you know what, Mr. Trump, America is at its best when we are building bridges of opportunity and not walls of distrust.'"
Trump's travel ban, which freezes refugee admissions for 120 days, resonated with Perez, the DNC's first Latino chair, because his grandparents left the Dominican Republic to escape a "brutal dictator," he said. 
"America was that land of opportunity, just like it's been for everybody else," Perez said. "And that is why for me, this isn't just a matter of interpretation of the Constitution, it is about who we are as a nation."
The rally was organized by Yasmine Taeb, a human rights lobbyist for the Friends Committee on National Legislation, a Quaker advocacy organization, and featured more than a dozen other speakers from  progressive and civil rights groups, including the American Civil Liberties Union, Our Revolution, MoveOn.org, Lambda Legal, National People's Action and the Jewish group Bend the Arc.
Perez said at a Jan. 18 debate sponsored by The Huffington Post that the Democratic Party should be involved in "protests" and "direct action" against Trump. Ten days later, he joined a protest against Trump's first travel ban at the airport in Houston. 
Perez has taken pains to assuage the concerns of party leaders who backed his chief rival, Minnesota Rep. Keith Ellison, immediately naming Ellison deputy DNC chair. 
Taeb, a Democratic national committeewoman from Virginia who voted for Ellison, invited Perez to the rally. She said he canceled a previous engagement to attend.
"That to me shows that he really values what the grassroots thinks and says, and he wants to make sure that he's standing with us as we're protesting and resisting," Taeb said. "He not only spoke, but he actually stayed, and that, to me, means a lot."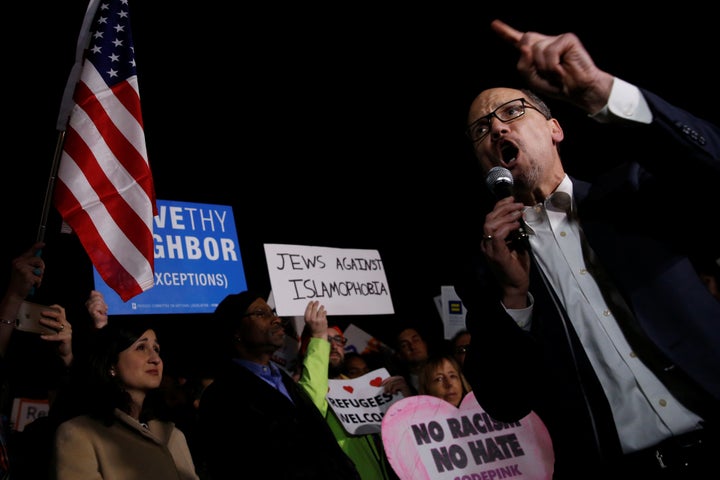 There were no significant disturbances at the hastily arranged event, which drew local activists holding homemade signs with messages like, "Deport White Nationalists."
Initially rally organizers convened at the edge of the sidewalk directly in front of the White House, but, without explanation, the Secret Service closed that part of the park. In response, there were shouts of "shame" and groans from many activists, but leaders and speakers quietly complied.
Trump's new travel ban, which goes into effect on March 16, is a significant climb-down from the expansive order in late January that embroiled the country's airports in chaos. That travel ban was stopped in federal court a few days after it was enacted.
The new ban will prohibit entry for non-visa holders from Iran, Sudan, Somalia, Yemen, Libya and Syria for 90 days. Unlike the first prohibition, it will not apply to Iraq or to people with visas that predate the ban. It also does not exempt religious minorities from the refugee admission freeze.
Those at Monday evening's demonstration made clear, however, that they do not see this order as fundamentally different than the first. They argued that the countries Trump singled out, all of which are majority-Muslim, shows that the intent of the order is still to keep Muslims out.
Joanne Lin, legislative counsel at the ACLU's Washington office, called the executive order, Trump's "second Muslim ban" and predicted it would meet a fate similar to the first.
"For some reason, President Trump and his advisers like losing and they like losing badly, over and over again," Lin said.
Calling all HuffPost superfans!
Sign up for membership to become a founding member and help shape HuffPost's next chapter
BEFORE YOU GO
PHOTO GALLERY
Trump's First Speech To Congress