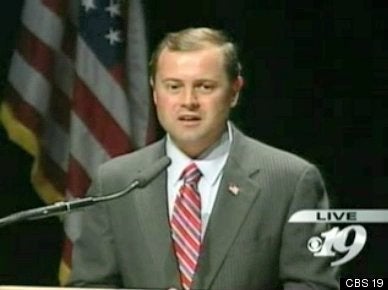 Rep. Tom Perriello (D-Va.), fighting to hang on to his congressional seat in a heavily Republican district against GOP challenger Robert Hurt, gave an impassioned defense of progressive policies and urged patience in getting the economy back on its feet in a debate on Tuesday night.
"This has got to be our time in America," said Perriello. "This has got to be our time to believe that we can still out-compete the world. This is not our time to put our head in the sand. The American dream is crucial here. But how does that American dream look if you are cutting funding to education and not supporting early childhood development or not making college more affordable? If you're not standing up and supporting the small business lending fund and the 17 tax cuts for small business?"
On the campaign trail, he has been one of the lawmakers standing by his progressive record. In his closing statement in Tuesday night's debate at Piedmont Virginia Community College, Perriello not only urged patience in turning the economy around, but said that a quick-fix mindset was what hurt the country in the first place.
"I believe we've taken great steps to try to rebuild America's competitiveness," he said. "We've got to get out a mentality that says the right solutions are the ones that turn things around overnight. Instant gratification is part of what got us into this place. A greed and instant-gratification culture in Washington among politicians looking for symbolism instead of solutions. On Wall Street, people who are building an economy around speculation instead of building, making and growing things. And even among homeowners and consumers."
WATCH PERRIELLO'S CLOSING STATEMENTS (AIRED ON CBS 19 IN VIRGINIA):
Perriello still generally trails in polls against Hurt, sometimes by double digits. He won the district from incumbent Republican Virgil Goode two years ago by just 745 votes.

Popular in the Community