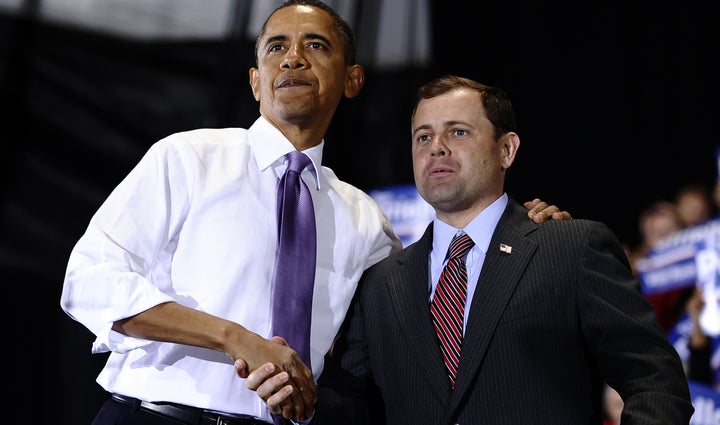 Champagne corks popped in Charlottesville, Virginia, as hundreds of overjoyed Democrats crowded onto the brick-paved pedestrian thoroughfare to cheer the election results and toast the future. Not only had Barack Obama been elected the next president of the United States, but liberal voters had ousted arch-conservative Rep. Virgil Goode from Congress, replacing him with a young Democrat named Tom Perriello.
Perriello's victory on Nov. 8, 2008, seemed to symbolize a sea change in Virginia politics. One of the most reliably conservative states in the country for more than four decades, Virginia was starting to look like the edge of a new Democratic wedge into the South.
But the good times didn't last. Within two years, Perriello had been voted out in the tea party wave that swept half of Virginia's U.S. House Democrats from office. Today, Republicans control both chambers of the state Legislature, and the governor's mansion is up for grabs this fall in what will be one of the most closely watched political contests of the year. Perriello is back, campaigning for the gubernatorial post as an unapologetic progressive, hoping to win both his party's nomination and the November election by positioning himself as an ultra-liberal antidote to President Donald Trump.
"What people want to see right now is that willingness to stand up to Trump and limit those really unconscionable and unconstitutional moves and also have a positive vision," Perriello said in an interview with the HuffPost politics podcast "So That Happened." "A lot of the pundits around Virginia said Trump is not a local issue, it's not a Virginia issue, and I told some of them that is a really elite perspective."
Listen to the full interview, embedded below. The discussion begins at the 15:40 mark: 
Perriello jumped into the race in January, roiling a primary field that Democratic Gov. Terry McAuliffe had cleared for the state's lieutenant governor, Ralph Northam.
Perriello insists he's focused on defeating a Republican in the fall, but he isn't above barbing his primary opponent.
"I don't really think of Ralph Northam as my opponent … I'll let others talk about Ralph Northam," Perriello told HuffPost before launching a brief attack: "This week we did find out that he voted for George W. Bush twice back at a time when we were trying to fight against the very massive tax cuts for the rich that got us into this economic trouble."
Northam told The New York Times in February that he had been apolitical during the Bush years and now considered the votes to be "wrong." Perriello has blemishes of his own with the mainstream of the Democratic Party. In 2009 he voted to prohibit insurance companies from covering abortion under the Affordable Care Act, a vote he says he regrets.
But Perriello's pitch is mostly focused on a wonky brand of economic populism that he thinks Democrats can muster to counter Trump's thunderous demagoguery. Perriello sees corporate monopoly power elbowing out small businesses and undermining rural economies, and he is worried about the potential for automation to swiftly replace large numbers of workers with robots. He's prone to riffs about issues like excessive concentration in the beer market, where two conglomerates control over 90 percent of production.
"We need to get away from some of the monopoly approaches on energy and food production," Perriello says. "Look at the impact of those small breweries around Virginia! It's been enormous, and that's a tiny part of the market!"
Monopoly is a hot topic in D.C. intellectual circles, one that often competes with the rise of the robots as an explanation for the country's economic troubles. Perriello picks both. "I have a foot in both camps of the nerd conversation going on up here," he says, which has to be part of what he calls a "vision of inclusive economic growth."  
"I'm going out and spending time in Trump country and with Trump voters," Perriello says. "Democrats cannot run on a status quo message. And we have to understand how much pain and disruption there's been in the economy and have a better set of ideas."
I'm going out and spending time in Trump country and with Trump voters.

Tom Perriello, Democratic candidate for Virginia governor
Trump pushes a fiery brand of hyper-nationalist populism in which he, the leader of the movement, yells at things that are bad for working people ― like a company closing a factory and moving production to Mexico. Before he'd even taken office, Trump scored a populist political win when he got a heating-and-cooling company to keep its furnace plant in Indiana. Trump's success with the Carrier Corp. stunned a political establishment that has long told blue-collar workers they were doomed to lose their jobs to robots or foreigners.
But Perriello said forcing old factories to stay in the U.S. won't work as a populist strategy. He called Trump's deal "the Carrier con job" because it ignores the economics working against workers ― and because Carrier's remaining workers will probably be phased out in favor of robots anyway.
"What they did was use taxpayers to subsidize the death of additional manufacturing jobs in America," Perriello said.
During the campaign, both Trump and Democratic primary candidate Bernie Sanders repeatedly bashed Carrier's plan to close the plant and fire 1,400 workers. After he won, Trump used the levers of power to make Carrier's parent company, a federal contractor called United Technologies, reconsider. Part of the deal gave United Technologies $7 million in state tax credits over 10 years. In exchange, 800 Carrier workers would stay on the job ― but it's not clear for how long.
"We're going to make a $16 million investment in that factory in Indianapolis to automate to drive the cost down so that we can continue to be competitive," United Technologies CEO Greg Hayes said in a CNBC interview after the deal. "What that ultimately means is there will be fewer jobs."
Vice President Mike Pence, then governor of Indiana, had directed the state's economic development office to see what it could do for Carrier. It's typical for any governor to try to entice big companies with tax breaks, but Perriello said he'd try to help the state's economy with a more populist, bottom-up economic strategy.
"If we focused as much attention on helping people start a business or helping small businesses add someone on the payroll, we'd be going in a better direction than what we tend to do, whether it's stadiums or other things," he said.
Calling all HuffPost superfans!
Sign up for membership to become a founding member and help shape HuffPost's next chapter
BEFORE YOU GO
PHOTO GALLERY
These Photos Of The Trump Administration Say Pretty Much Everything