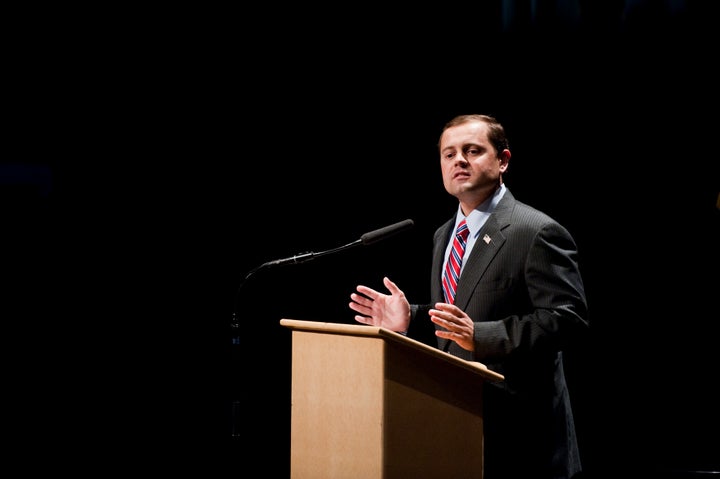 The US Congress is a great representative body, but that doesn't mean that all its representatives are great. During my 40 years in Congress, there were many occasions when I was proud of my colleagues, but there were more times than I can count when a colleague would tell me he or she wanted to follow their conscience, but that doing so would risk angering some constituency or one special interest or another.
But one of my colleagues stuck out because he never made an excuse when it came time to take the tough votes: Representative Tom Perriello. Perriello, who is now a candidate for Virginia Governor in the June 13 Democratic primary, faced a tougher political landscape than most.
He squeaked into office from Virginia's conservative Fifth Congressional District by a smaller margin – 727 votes – than any other Member of Congress elected that year. Nonetheless, he was always willing to vote his conscience, even when it meant taking on the powerful corporate interests that were willing to spend millions of dollars to undermine his candidacy.
Perriello faced massive pressure from Tea Party Republicans and polluters to oppose the Waxman-Markey climate bill I authored as Chairman of the Energy and Commerce Committee. The legislation would have dramatically cut pollution and shifted energy to locally produced solar and wind, helping create jobs throughout the nation and in Virginia. It faced hundreds of millions of dollars in attacks by oil and coal companies who wanted to protect the status quo.
Too many Democrats from less conservative districts than Tom's told me they thought the legislation was good for America and the world, but that they weren't willing to risk their political fortunes to vote for it. Some voted for it, and then tried to back away from their vote on the campaign trail.
In contrast, Tom proudly voted for this legislation, and then went back to his district to explain why he took the vote he did, and how a shift to clean energy would dramatically bolster Virginia's economy.
When we turned to writing the health care bill that became the Affordable Care Act, we faced another tough fight that involved taking on Republicans who just weren't willing to support anything Democrats proposed no matter the merits – and no matter that it made health care coverage significantly more affordable and provided coverage to tens of thousands of Virginians.
Tom advocated for changes to the legislation to help his constituents, such as increasing compensation for rural hospitals, and making sure the legislation remained affordable. But the Republicans running ads and riling up Tea Party activists didn't care about the content – they were still out to get anyone who voted for Obamacare. Tom proudly stood up and voted for expanded health care. Again, he stood up for his vote, and hit the trail to defend it.
I have to say that Tom was also willing to stand up to Democrats when he believed the cause was right: even though the administration was pushing it, Tom opposed the second Wall Street bailout. It was a principled decision of the type that Tom always takes. Even when people disagree with Tom, they respect him because they know he's operating on principle. I think that quality is ultimately what allowed him to outperform pundit predictions in his conservative Virginia district.
During his campaign for governor, that kind of courageous conviction is still on display. Unlike his opponent, Tom has taken a clear stance against the construction of polluting new fossil fuel pipelines that risk fouling Virginia's gorgeous forests and streams. And he's just as willing to take on the big special interests as ever: he has pledged not to take a dime from Dominion Power, the Commonwealth's worst polluter.
Of course, being Governor isn't just about taking the right stands – it's also about delivering for the citizens of Virginia. In my 40 years in Congress, I literally never met anyone who worked harder for his constituents than Tom Perriello. He expanded outreach to African-Americans who had previously been underserved, but also made sure that rural white voters had their voice heard in Washington, regardless of their political beliefs.
People are looking for authenticity and integrity in politicians; the election in 2016 brought home this point. They want someone who will stand up for and explain what they believe and will fight for it. Tom is the kind of elected official who can bring back people who have been disillusioned in the past, and want to be energized and inspired about the future.
I'm confident that when Tom is Governor, he will stand up for progressive, American values, and ensure that every Virginian gets a fair shake. During the Trump era, Virginia can show the rest of the country how government should be run.
I don't usually get involved in state races, especially when there are two Democrats in the race. But I am confident that Tom Perriello represents the future of the Democratic Party in Virginia and beyond, and can't wait to see him in office.
Popular in the Community