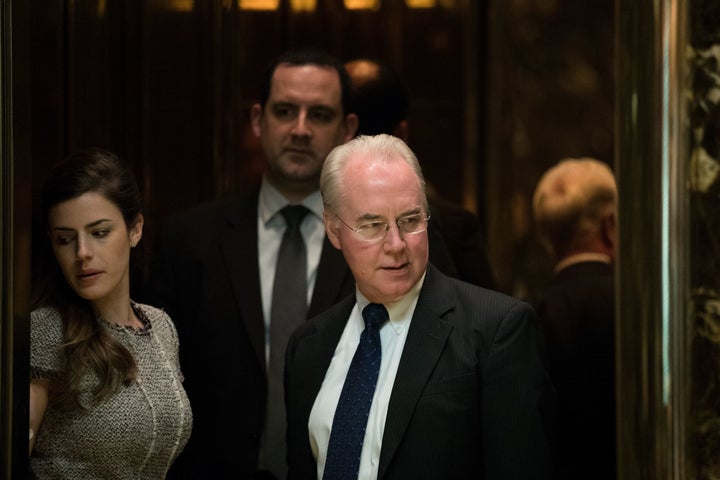 Rep. Tom Price (R-Ga.), the Obamacare opponent President-elect Donald Trump has picked to head the Department of Health and Human Services, once balked at a question about President Barack Obama's birthplace.
In July 2009, The Huffington Post sent reporter Mike Stark to ask Republican congressmen on camera whether they agreed with the racist conspiracy theory gaining traction at the time that Obama was not born in the United States and therefore not permitted to serve as president.
Many of the Republican House members HuffPost spoke to either refused to answer or implied that the questions about Obama's birthplace were legitimate.
Price's response was to run away from HuffPost and up the stairs of the Capitol building in a move Stark dubbed "The Rocky." You can see it about two minutes into the video below.
The New Yorker staff writer Jelani Cobb tweeted on Tuesday that Price once told him on a flight that he was not sure if Obama was a citizen.
But after HuffPost's video came out, a spokesman for Price told the Atlanta-based site Creative Loafing that Price believed Obama was a natural-born U.S. citizen. He avoided HuffPost because he was "running to catch a vote," the spokesman said.
"It had nothing to do with what [the reporter] was asking," the spokesman said. "He completely believes the president is a U.S. citizen who was born in the United States. There's nothing to it. We have no concerns over the president's citizenship or nationality. I don't know why we were included in this video."
Asked to respond to the statement from Price's spokesman, Cobb insisted that the conversation nonetheless took place. They were discussing the case of Terry Lakin, an Army doctor who refused to deploy to Afghanistan because of his birther beliefs, according to Cobb. Price suggested Lakin might have raised questions worth investigating, Cobb recalled.
In fact, there is demonstrable evidence from the time period that Price considered questions about Obama's birthplace legitimate. After Obama released the long-form copy of his Hawaiian birth certificate in April 2011, Price expressed his dismay that the president had not produced the document earlier.
"The question that the American people are asking is, what took you so long?" Price said in an appearance on Fox Business.
Asked whether the release of the birth certificate had closed the debate over Obama's birthplace, Price refused to give a definitive answer.
"Oh, I don't know. There were all sorts of questions that were being asked about it," Price said.
"This isn't a top issue for Republicans ― it's been a top issue for many folks across the country," he added.
This story has been updated to include Price's comments on Fox Business.
Popular in the Community