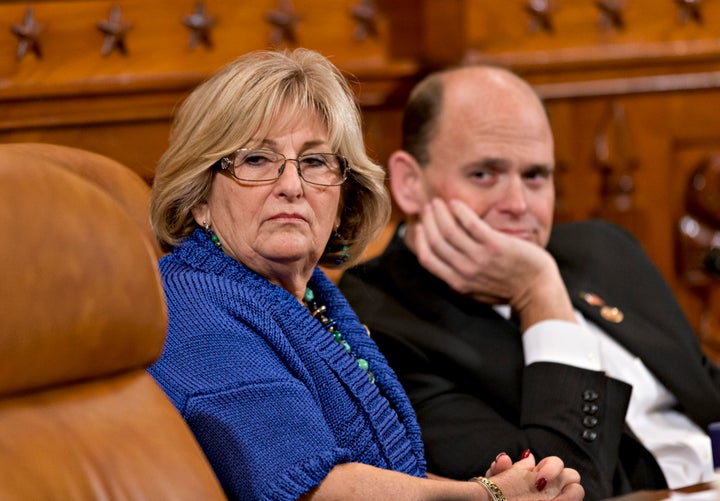 WASHINGTON ― If you're asked to supply a reason why you might vote for your opponent ― essentially just an invitation to say something nice ― please think of a reason better than "your wife is attractive."
At a recent debate in New York's 23rd District, Rep. Tom Reed (R-N.Y.) and his challenger, Democrat John Plumb, were asked, "What qualities does your opponent possess that would cause you to vote for them?"
Plumb stumbled through the answer a bit, somehow relating the question to working across the aisle. But Reed took it to another level.
"I was hoping you were going to say something nice about me, John. I think that's what the question was, where you would agree with us," Reed began, seeming to understand the question a bit better.
The New York Republican said he'd talked with Plumb on the campaign trail and gotten to know him a little.
"You recently got married to a beautiful lady," Reed said. "And that maybe is a reason why I would consider voting for my opponent, given the relationship that he has there."
Yes, you heard it right. The reason Tom Reed would consider voting for John Plumb is because John Plumb married a "beautiful lady."
If the answer sounds a bit Donald Trump-ish, that's probably no coincidence. Reed was one of the first congressmen to endorse Trump, and he's stuck by the nominee throughout the campaign, despite being in a close race in New York's westernmost district, and, you know, all the crazy things Trump has said.
When Trump's lewd 2005 comments on "Access Hollywood" surfaced, Reed did call the comments wrong, but he didn't withdraw his support.
"Women are never to be talked about in this way. As someone with eight older sisters, a wife and daughter I care deeply about, it is disappointing and offensive to hear these words," Reed said, talking about women and their value in relation to himself. "It is not right and these comments must be called out for what they are, just wrong."
Both Reed's campaign and Plumb's declined to comment.
Popular in the Community