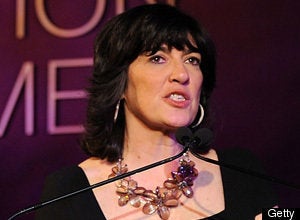 Washington Post TV critic Tom Shales' critique of Christiane Amanpour as ABC's choice for "This Week" host is so vicious, the network has chosen to respond.
Shales describes Amanpour as "the opposite of the perfect candidate," writing that she "is widely considered to [be] deficient" on domestic policy issues, the traditional fare for Sunday morning political shows.
Finally, Shales cites a TVNewser report claiming internal tension over the selection of Amanpour to claim that "ABC News is practically in a state of internal revolt over her selection."
Shales writes that "either [Jake Tapper or Terry Moran] would have made a better 'This Week' anchor" and that ABC News President David Westin, who has led "World News" and "Good Morning America" through relatively quiet and uneventful transition periods, "now seems to have ended his winning streak with a resounding clunk."
From many angles, it was a bad choice -- one which could create so much consternation that Westin will be forced to withdraw Amanpour's name and come up with another "nominee" for the job. That would hardly be a tragedy -- considering how many others deserve it more than she does.
There has always been all kinds [of] fretful ink spilled about decisions we've made that ultimately turn out quite well for ABC News. If we are being accused of hiring one of the most well respected journalists in the world we proudly plead guilty and cannot wait for Christiane to focus her considerable talents on the Sunday morning landscape.
What do you think? Vote below:
Related
Popular in the Community