WASHINGTON ― Billionaire environmentalist Tom Steyer won't run for political office this year, putting his focus instead on helping Democrats win control of the House in the 2018 elections.
"I am willing to do whatever it takes to help save our country," Steyer said on Monday at a press conference near Capitol Hill. To that end, he announced plans to invest $30 million to boost voter turnout among younger Americans.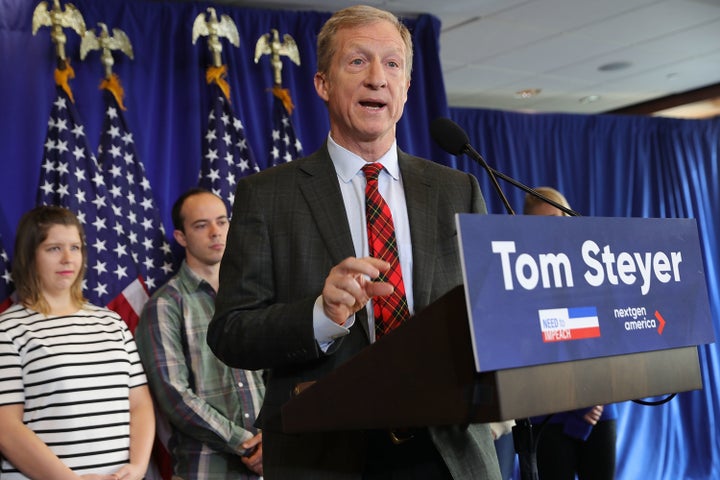 The initiative will be run by an arm of NextGen America, the political organization he founded that supports progressive positions on climate change, immigration and health care. The group said it aims to conduct "the largest youth vote organizing effort in American history." 
As one of the Democratic Party's top donors, Steyer was discussed as a potential candidate in either the race for California governor or Senate this year. His moves opposing the Trump administration have also spurred speculation about a possible presidential run in 2020.
Steyer is one of the most prominent advocates of impeachment proceedings against President Donald Trump. Last year, he collected millions of signatures calling for Trump's impeachment and paid for billboards in New York's Times Square as part of a $20 million ad campaign urging Congress to act.
"My fight is not just in California, my fight is in removing Donald Trump from office, and from power," Steyer said Monday, adding that he believed that the president had committed eight impeachable offenses so far.
Steyer said his group would help elect Democrats to the House even if they do not necessarily back impeaching Trump."We are not going to have a litmus test on impeachment," he said.
The news is a blow to Republicans, who hoped to use the push for impeachment to drive a wedge between wary incumbent Democratic lawmakers and the party's more liberal base.
Still, a spokesman for the Republican National Committee characterized Steyer as a hindrance to Democratic prospects this year.
"Tom Steyer can light as much of his money on fire as he wants, but that doesn't change that Democrats like Nancy Pelosi view him as a distraction" because of the impeachment issues, Michael Ahrens said, referring to the House minority leader from California. "If Democrats' message for 2018 is a baseless impeachment threat that the majority of voters disagree with, they're going to lose."
Democrats believe turnout among young Americans will be one of the keys to retaking at least one chamber of Congress in 2018 and thus stopping the Republican legislative agenda. The party saw a major voter surge in college areas in recent elections. Young people came out in droves to help elect Democrats Doug Jones to the Senate in Alabama and Ralph Northam to Virginia's governorship.
For this year's midterm campaign, Steyer's group set goals of registering 250,000 young voters and helping to elect progressive House candidates in at least 10 states. NextGen said plans on hiring 200 full-time staff to organize on more than 300 college campuses.
"In 10 months, God willing, the people of America are going to send a wave across the nation," Steyer said at his press conference. "This tide will wash away the stain of the Trump administration." 
Steyer did not address whether he had plans for political office beyond 2018. He also dodged a question about a new potential Democratic presidential candidate ― Oprah Winfrey.
The talk show host's powerful speech at the Golden Globes awards ceremony on Sunday night set off speculation about a possible campaign challenging Trump in 2020 ― CNN reported that Winfrey was "actively thinking" about jumping into the race.
Steyer praised Winfrey's speech as "fantastic," but stressed he is concentrating on "November 2018."
This story has been updated with comment from a spokesman from the Republican National Committee.
REAL LIFE. REAL NEWS. REAL VOICES.
Help us tell more of the stories that matter from voices that too often remain unheard.