In the video, Steyer addresses the need to weaken corporate interests and address the country's wealth inequality. He calls for strengthening lower and middle classes and for environmental protections. 
"Really what we're doing is trying to make democracy work by pushing power down to the people," he says. "We have a society that's very unequal and it's really important for people to understand that this society is connected. If this is a banana republic with a few very, very rich people and everybody else living in misery, that's a failure."
Steyer's video flashes images of Trump's son, Don Jr., billionaire Jeffrey Epstein, who was indicted on sex trafficking charges this week, incarcerated businessman Martin Shkreli, incarcerated investment scammer Bernard Madoff, and Trump's incarcerated former campaign manager Paul Manafort.
"I think people believe that the corporations have bought the democracy, that the politicians don't care about or respect them, don't put them first, are not working for them but are actually working for the people who have rigged the system," Steyer says.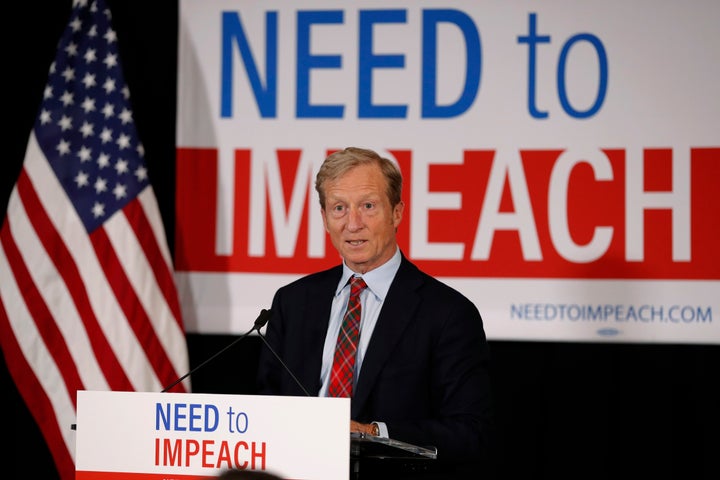 Steyer, a former hedge fund manager who Forbes estimates as being worth $1.6 billion, has said he will spend at least $100 million on his campaign. This sum exceeds the combined amount raised by former Vice President Joe Biden, South Bend Mayor Pete Buttigieg, Sen. Elizabeth Warren (D-Mass.,), Sen. Bernie Sanders (I-Vt.) and Sen. Kamala Harris (D-Calif.) over the last three months, tThe New York Times pointed out.
Steyer's video notes that he and his wife signed the Giving Pledge, which requires participants to give half of their wealth to philanthropy or charitable causes. Since retiring from investing, he has devoted his time to politics and environmental conservation. 
This is the first time that Steyer has entered a race for political office, though he previously considered running for governor of California in 2018 and the Senate in 2016.
Steyer, when he announced he would not run back in January, said that he was satisfied with the field of Democratic contenders, particularly Warren for her take on the economy, and Washington Gov. Jay Inslee for his focus on climate change, Politico reported.
Steyer said at the time he would focus on his anti-Trump organization, Need to Impeach, into which he's invested millions.
Recent reports leading up to Steyer's presidential announcement, however, said he now believes he can do better than other Democratic candidates and could successfully challenge Trump on both the economy and the environment. This decision took into account Inslee's extremely low poll numbers, the Atlantic reported, citing several sources close to Steyer.
This article has been updated to include comments from Steyer's video announcement. 
Calling all HuffPost superfans!
Sign up for membership to become a founding member and help shape HuffPost's next chapter