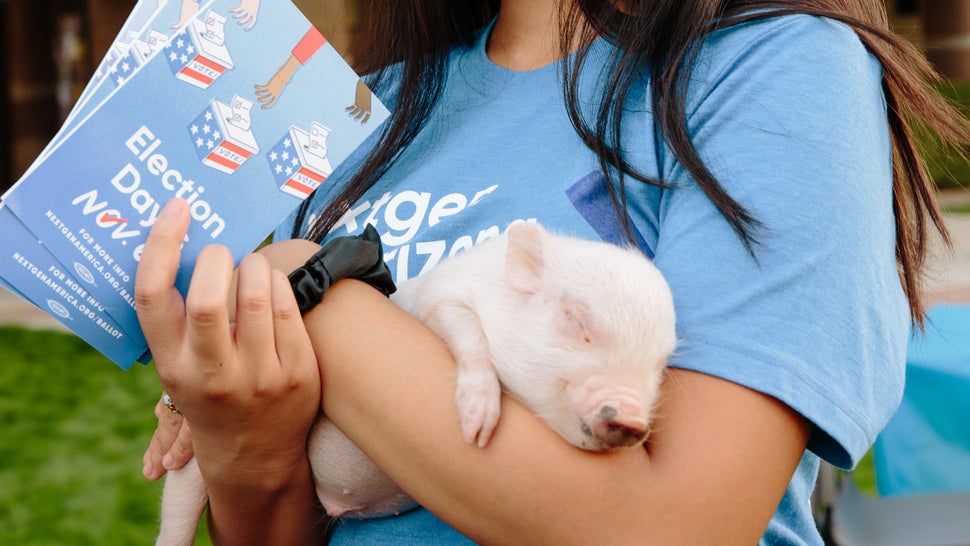 GLENDALE, Ariz. ― Tom Steyer, a former hedge fund manager who has become one of the Democratic Party's biggest individual donors in recent years, has spent $33 million this election cycle trying to increase young voter turnout. Most of the money has gone to hire 750 NextGen America organizers, spread across 11 states and 419 college campuses. Another huge chunk ― more than $10 million ― has gone to digital advertising targeted at people aged 18 to 35.
But one day last month, on the Arizona State University campus in Glendale, a small portion of Steyer's fortune went to pay for the rental of an alpaca named Spot, a piglet named Jack Skellington, six goats, a sheep and a group of baby chicks so small they had to remain in a bucket.
Students crowded around the animals, taking selfies. Their stop at the makeshift petting zoo gave NextGen organizers and volunteers time to approach them, hand them a voter guide and help them make a plan to vote. By the end of the Votes and Goats event, more than 75 students had filled out a mail-in ballot.
"Animals are a really cool attraction," said Ephraim Infante, a recent Arizona State graduate and NextGen organizer. "Being able to put a voter guide in their hand goes a long way. In the past, young people haven't really been talked to. This is our chance to talk to them."
Arizona State isn't the only place where NextGen is deploying petting zoos, and petting zoos aren't their only tactic. They're also passing out toilet paper to students who live off-campus, and bringing "puppies to the polls," and basically any other Instagram-able stunt you can think of. 
"We think the best thing that works is voter-to-voter conversation, peer to peer," Steyer would explain later. "But the other thing we've found that works is that human beings love animals. People love puppies. If that's what it takes to get people to vote, we're shameless."
Steyer's combination of shamelessness and money might be what it takes to solve one of the Democratic Party's biggest problems: How do you turn out the young people who show up in presidential years but regularly skip the midterm elections, when a majority of the nation's gubernatorial races are decided and when control of Congress regularly changes hands?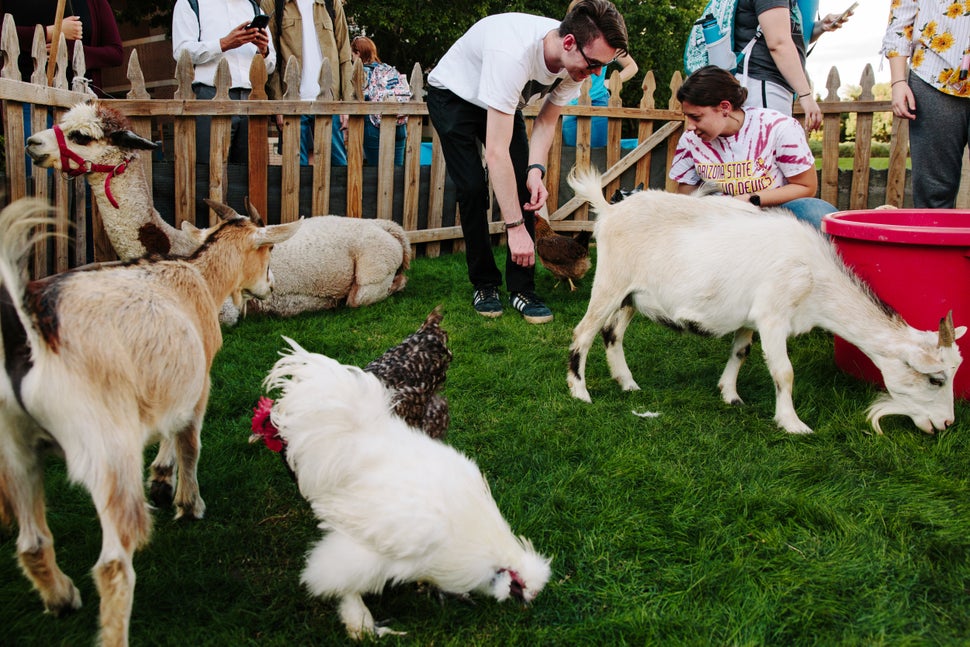 The fact that Steyer ― who will likely run for president himself in 2020 ― took up this assignment, if you want to call it that, points to his strange standing in the party. While he has been one of the party's largest donors, he's somewhat estranged from the Democratic establishment. Even before he began feuding with House Minority Leader Nancy Pelosi and others over his push to impeach President Donald Trump, many Democratic operatives viewed him as something of a dilettante. 
And his decision to build his own group, NextGen, contrasts with the approach of the other Democratic billionaire who might run for president, former New York City Mayor Michael Bloomberg, who has mostly directed his money toward major Democratic super PACs to spend on traditional television advertising. Asked about the differences between them, Steyer shrugged and said he didn't want to criticize Bloomberg. Then he quickly added, "We've never supported a Republican" ― a reference to Bloomberg's bipartisan tendencies.
Since Trump's election, Steyer has been consistent in drawing a clear distinction between the two parties. His goal, simply, is to bring out more Democratic voters.
"We're only focused on growing the electorate," said Ben Wessel, director of the youth vote at NextGen. "We don't need to worry about what a Republican-leaning ironworker named Bob thinks."
NextGen, which is using college-age organizers to rally their peers to the polls, looks to be the biggest and best-funded effort to turn out young people in a midterm election ever. The group operates in Arizona, California, Florida, Iowa, Michigan, Nevada, New Hampshire, North Carolina, Pennsylvania, Virginia and Wisconsin. It could make or break key Senate, House and governor's races. 
While nearly half of eligible voters 18 to 29 tend to cast a ballot in presidential years, that number typically plummets to between 20 percent and 30 percent during a midterm election. The last midterms, where Democrats fell before a second consecutive Republican wave, saw the lowest turnout from voters 18 to 29 in decades, according to U.S. Census data. 
There's some evidence that's changing in 2018: While polling indicates young voters aren't going to turn out at the high rates of the senior citizen crowd, they do seem more excited to vote than in any recent midterm election. A poll from CIRCLE, a center at Tufts University that studies youth voting trends, found 34 percent of 18- to 29-year-olds said they were "extremely likely" to vote this year, which is getting closer to the 40 percent who said they were "extremely like" to cast a ballot in the run-up to the 2016 presidential election. "We're really seeing positive signs and signals, especially for a midterm election," said Abby Kiesa, director of impact at CIRCLE.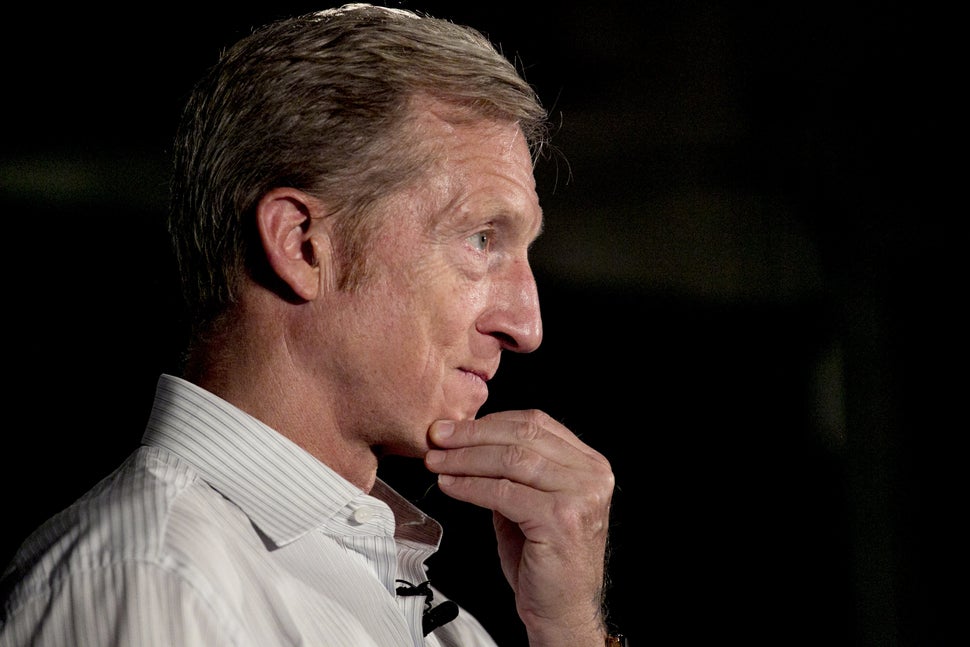 Another chunk of evidence suggesting higher youth turnout comes from early voting: In Texas and Nevada, youth turnout is up 500 percent from the 2014 midterms, according to an analysis by the Democratic data firm TargetSmart. In Georgia, it's up 400 percent. Arizona has seen a 300 percent spike. 
It's hard to attribute all of this to NextGen. After all, they're not even operating in Texas and Georgia. But the 2017 gubernatorial races point to the group's potential impact. In Virginia, where NextGen ran extensive operations, youth turnout spiked to 34 percent, according to an analysis from CIRCLE. In the more sleepy New Jersey gubernatorial contest, it stayed steady at 18 percent. 
Steyer, chatting over a Cobb salad and an Arnold Palmer at a hotel in Washington, explained why he decided to dedicate millions to the cause of convincing young people to actually vote, when historical evidence shows them stubbornly resistant to showing up at the polls.
"It can make a gigantic difference," he said. "And also, no one's doing it. It's not like there's gigantic competition to do this job," he added.
On specific campuses, NextGen can point to some success as well. In Iowa, their organizers registered one-fifth of the student body at Grinnell College. About one-third of the student body showed up to vote on the first day of early voting. At Bennett College, a small, all-women's historically black institution in Greensboro, North Carolina, organizers registered about one-third of the student body and have been leading 50-person marches to the polls.
NextGen has made sure to focus on historically black colleges and community colleges, two groups they think were typically ignored as traditional efforts to turn out student voters often came down to encouraging the College Democrats chapter at big universities to hand out fliers on the quad. 
Steyer, Wessel and other NextGen organizers can display a bit of dismissiveness toward those traditional efforts to get young people to the polls. Nonpartisan campaigns aiming to guilt students into voting don't work. "Voting as a civic duty is a total garbage argument," Wessel said. The giant, celebrity-laden concert tours? "We've tried everything," Steyer responded. "We've tried concerts. They don't work."
Instead, NextGen focuses on having young people talk to young people about what can happen if they do vote. The voter guide that organizers passed out in Arizona reminds students that the Democratic Senate candidate here, Rep. Kyrsten Sinema, "will stand up to Trump" while her GOP opponent, Rep. Martha McSally, will not. It says the same for Democrat David Garcia, the gubernatorial candidate running an uphill race against Republican incumbent Doug Ducey. 
"Young people are tired," Infante said. "A vote for Doug Ducey or a vote for Martha McSally is a vote for Trump, and we're reminding them of that." 
Calling all HuffPost superfans!
Sign up for membership to become a founding member and help shape HuffPost's next chapter