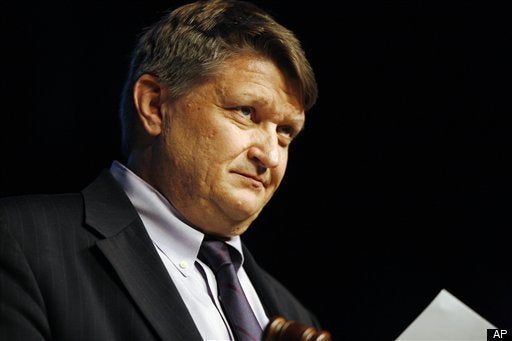 Few expected Peter Boyles's radio show to be a peaceful affair when Republican Party Chair Dick Wadhams and Tom Tancredo appeared together on the program this morning. Last week, Wadhams immediately spoke out forcefully against Tancredo's ultimatum to Republican Gubernatorial candidates. Wadhams had referred to Tancredo's threat to run as a third party candidate as "a joke," and "nothing more than Tom following his own ambition."
As the interview proceeded, however, listeners were made aware of far more chasms in the Colorado Republican Party than just the obvious rift between Tancredo and Wadhams.
After Wadhams opened the segment by backhandedly admonishing Tancredo for not returning his calls last week, Tancredo returned fire by urging state party chair to disclose conversations the two had about the Republican candidates for Governor.
"One of the things I didn't want to do necessarily was bring to light all of the things that you've told me about the candidates we presently have, but if you really want to press this, then let's go to it."
Tancredo then alleged that Wadhams had repeatedly spoke of how he found Republican candidate Scott McInnis to be "untrustworthy" and considered Dan Maes's long-shot gubernatorial bid to be "a joke."
At one point, Tancredo bellowed "You hate the people you've got on the ballot. You hate them both. You don't trust either one."
Wadhams denied Tancredo's characterizations of his feelings toward the GOP candidates for governor, but Boyles backed up Tancredo's claims, telling Wadhams "you've said some pretty weird things about those jokers to me, too."
When Tancredo called Wadhams a liar, Wadhams asked incredulously, "the guy who reneged on his term limits pledge is calling me a liar?"
The party chair then mocked the right-wing views that have endeared Tancredo to conservatives. "What's your agenda?" Wadhams asked Tancredo. "What are you going to talk about? Impeach Obama and bomb Mecca?"
The Republican Party has stated its desire to force Tancredo off the ballot, but has no apparent means of doing so. The party is expected to replace whichever of its two scandal-ridden candidates wins the August 10 primaries with a more viable general election candidate, but Wadhams has been clear he believes the race is a lost cause for Republicans as long as Tancredo remains a third-party candidate.
Popular in the Community