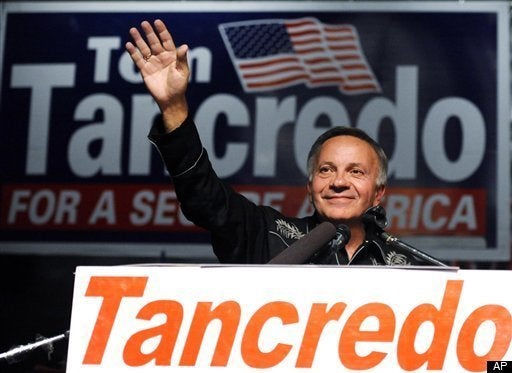 Tom Tancredo isn't going anywhere soon.
After months of keeping a relatively low profile in the wake of his failed run for Colorado governor, the outspoken opponent of illegal immigration penned an email assuring supporters that he's "fully back in the fray."
"Now we're getting ready to fight Barack Obama's 'backdoor amnesty' scheme, and are working with State Senator Russell Pearce to get Arizona-like laws passed in the other states and to stop the practice of giving citizenship to the babies of illegal aliens," Tancredo wrote in his email, which was first reported by The Hill.
But Tancredo's firebrand opposition to immigration may not be as welcomed in today's GOP as it was during his failed presidential bid.
Yesterday, former Republican Minnesota Senator and current CEO of the American Action Network Norm Coleman offered an unsolicited rebuke of Tancredo to ABC News. "Let me be very clear: It's not just a tone issue it's a substance issue," Coleman said. "We have to be very clear in rejecting [former Republican congressman and gubernatorial candidate] Tom Tancredo, saying he's not the voice of the Republican Party, on issues dealing with Hispanics, immigration. What we have to do is simply have a pro-active agenda."
Tancredo says he plans to remain active in Republican Politics through his Team America PAC.
He switched party affiliation to run for governor as a member of the American Constitution Party in 2010. His recent return to the GOP was unceremonious. At the time, Colorado Republican Party chair Dick Wadhams refused to comment to the AP on whether he thought Tancredo would be welcomed back by party members in Colorado.
Related
Popular in the Community