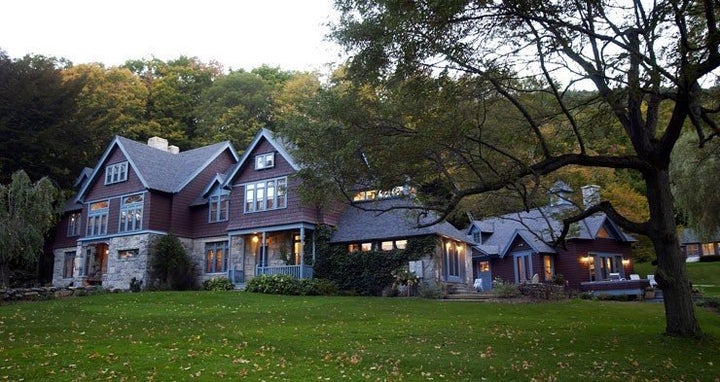 For Tom Werman, producing is producing, whether it's a multi-platinum album by Mötley Crue or a "Tomelette" -- Werman's signature breakfast treat at Stonover Farm, the popular New England Bed & Breakfast he runs with his wife Suky.
Werman made his name as the go-to producer for hard-rock and heavy-metal masters from the
1970s to the '90s. Nearly two dozen of his records -- by such superstars as Ted Nugent, Cheap Trick, Molly Hatchet, Twisted Sister, Poison and Dokken -- have gone gold or platinum.
As the '80s came to a close, tastes changed. The phones didn't ring quite as often. And Tom had the first of three epiphanies. "One day, on my way out the door to the studio, the sounds of the Beastie Boys' "Licensed to Ill" wafted downstairs from my 16-year-old daughter's bedroom. I shouted, 'Julia, how can you listen to that? It sounds like it was recorded in five minutes!' She replied 'But Dad, that's just it...' At that moment, I understood that everything I'd learned about recording music no longer applied."
Werman continued to pursue music projects into his mid-50s, when a round of golf inspired a second epiphany. Regular links-mate Tom Kelly (writer of "Like a Virgin," "True Colors" and many more), "interrupted my bitching and moaning and told me about the bestseller 'Who Stole My Cheese?' To make sure I would read it, he gave me a copy; I devoured it in 40 minutes, got up, smacked my forehead and began to plot my reinvention."
Two weeks later, Tom was scouring Massachusetts, his home state, in search of the perfect location to implement Plan B -- a B & B for the Type-A. While driving around Lenox -- a small town deep in the Berkshires (home of the renowned Tanglewood Music Center) -- the third epiphany came to light. "I noticed a 'For Sale' sign almost hidden by a snow drift. The minute I walked in the door, I heard a choir of celestial voices..."
After three years of renovation -- think mixing a record in four dimensional space-time -- Stonover Farm opened in 2002, with Linda Ronstadt as its first guest.
The Wermans refrained from blanketing every inch of wall space with chintz and stuffed animals -- Stonover's rural charm derives solely from its setting, ducks and pond included. And they offer all the electronics a Type-A compulsive could want, with an extensive library of CDs and DVDs to match.
Stonover comprises just five rooms, all suites. Werman, who polished his bread-making skills at the San Francisco Culinary Institute, cooks breakfast to order for each guest. His Tomelette is a combination of sauteed mushrooms and local goat cheese with garden-fresh herbs. If that's not your cup of herbal tea, you can get just about anything else except eggs Benedict, which, Tom explains, is just too complicated.
Other guests who have treasured the anonymity afforded by the layout include Rudy Guiliani, Chelsea Clinton, Bonnie Raitt, Alan Alda and Leonard Nimoy. Werman's heavy-metal cohorts from the wild and crazy days have not visited. "When I left, I closed it down," he says.
Werman sees B&B entrepreneurship as a variation on producing records as much as a radical lifestyle shift. "In the studio, I strove for perfection. For me, the only way to achieve power in recorded music was to have order. Public taste was moving farther and farther away from this, so I devoted my energy to integrating a group of elements -- art, crafts, furniture, bushes, stonework -- to achieve an environment that people enjoy and want to experience again and again, like a catchy song."
Werman grew up playing guitar in various bands, even jamming a couple of times in 1965 with an unknown named Jimi. Soon after, he grabbed an MBA from Columbia and landed a job at Grey Advertising, where he promoted the virtues of peanut butter (Jiffy) and laundry detergent (Gain). A letter to Clive Davis led to a gig at CBS Records, where success with Ted Nugent put him on the royal road to heavy-metal heaven.
What advice for fashioning a Plan B does Werman offer the hordes of music biz refugees and other contemporaries out of a job or dreading the next round of layoffs? "Do what you love," of course. But equally important for Werman's passage was to list the things he would have been bad at. "For instance, I'd be a terrible CEO. That job requires the ability to focus on the 'big picture,' but my talent has always been to focus relentlessly on the minutiae, the small details in my immediate environment."
At age 67, Werman has no intention of slowing down. As if the long hours at Stonover Farm aren't enough, he's at work on a book of recollections about the heyday of heavy metal. Modest proposal for a title: "From Umlauts to Omelettes."
REAL LIFE. REAL NEWS. REAL VOICES.
Help us tell more of the stories that matter from voices that too often remain unheard.