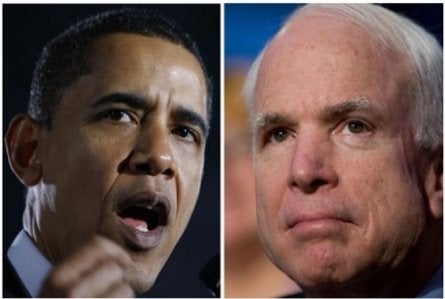 The Chicago Public Library welcomed Tom Wolfe to its Winter Garden on Thursday night as his book, The Right Stuff, was named the Fall 2008 One Book, One Chicago selection. After an hour-long conversation on stage with renowned Chicago journalist Carol Marin, Wolfe met with the audience backstage for autographs and a little conversation.
When it was finally my turn to stand in front of Mr. Wolfe with my copies of The Electric Kool-Aid Acid Test and Bonfire of the Vanities, I asked: "I know that you voted for George Bush in 2004, but do you think that either of these candidates in 2008 have 'the right stuff?'"
Wolfe quickly responded: "I'm voting for John Silber, a write-in vote. He was president of Boston University -- not College -- and he almost won the governorship in a very close race of Massachusetts. He's a Democrat, but no matter what he's like Epictetus the Stoic; he cannot assent to what he knows is wrong. He cannot disagree with what he knows is right." Then he smiled and included with a wink, "Just like any other politician."
Mr. Wolfe told the audience earlier that his new book will be called Back to Blood, and it will take place in Miami, Florida. "It's not about wet blood," he clarified. "It's about blood lines." Wolfe also said that it revolves around immigration, there will be passages of great sex detailed with long words, and that it's scheduled to come out in 2009.
Some pictures from the night: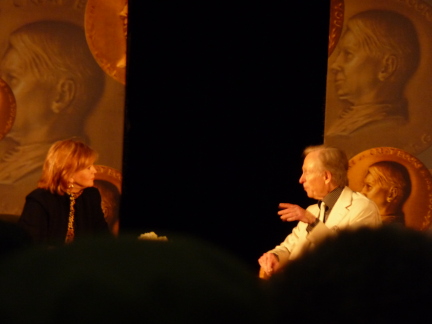 Tom Wolfe talking with Carol Marin about his visit to the new wing of the Art Institute of Chicago. Mr. Wolfe is a known critic of the merits of modern art (and of blogs).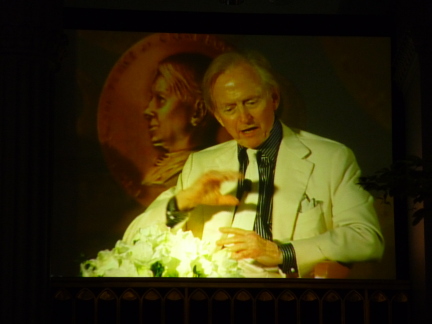 Up on the projection screen, Mr. Wolfe says that two young novelists who have "the right stuff" are Richard Price (The Wanderers) and Carl Hiaasen (Striptease).
Mr. Wolfe is given a frame containing the Chicago Public Library's original catalog card for The Right Stuff.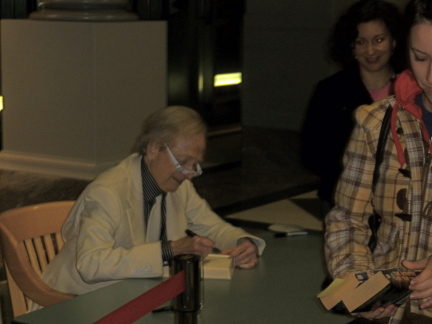 Popular in the Community