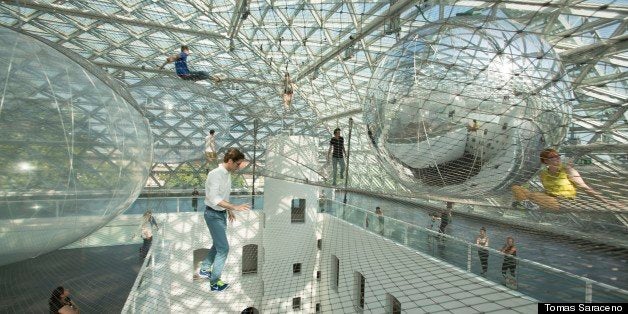 Step into a Tomás Saraceno exhibition and prepare to be transported. Last summer's rooftop installation "Cloud City" offered New Yorkers a chance to frolic among shiny, steel objets d'art. This summer, Saraceno's newest and most ambitious participatory installation transforms viewers into mutant spiders, weightlessly scaling webs high above the ground.
For the exhibition, entitled "In Orbit," Saraceno installed a multi-layer, netted web 65 feet high at Germany's K21 Staendehaus museum. The three levels of netting are connected by airfilled PVC balls reaching up to 30 feet in diameter. Those who enter Saraceno's hybrid vision experience into a constantly fluctuating geography, in which the landscape and viewers constantly shift.
The museum describes the experience of interacting with the piece below:
"When several people enter the audacious construction simultaneously, their presence sets it into motion, altering the tension of the steel wires and the intervals between the three meshwork levels. Visitors can coordinate their activities within the space, and are able –- not unlike spiders in a web –- to perceive space through the medium of vibration. Saraceno himself speaks of a new hybrid form of communication."
The piece uses the concept of weightlessness to align the vastness of floating in the universe to the minutiae of exploring a neural pathway or navigating a spider's terrain. In Saraceno's visual geography, interconnectedness reigns on both macro and micro levels.
For three years Saraceno worked with arachnologists, engineers and architects to craft his weightless jungle gym. Although "in orbit" is pegged to be the most ambitious exhibition of its kind, Saraceno is far from the first artist to create immersive art environments. Artists including Anish Kapoor and Ernesto Neto have mastered the craft of artistic audience participation, a recipe that continuously draws crowds yet is received with skepticism by critics. Roberta Smith called the formula of Saraceno's "fun-house formalism... fairly mindless" in a review of "Cloud City."
Saraceno's installations certainly appeal to the body over the brain, but we feel there is much to be learned from his art-science hybrids, even if this learning must be accomplished by experience. And if that experience is crawling through layered webs up in the sky, we're not complaining.
"In orbit" opens today at the K21 Staendehaus museum in Germany. Stable shoes and overalls will be provided by the museum (yes!). If you can't make it, live vicariously through these heavenly photos in the slideshow below.