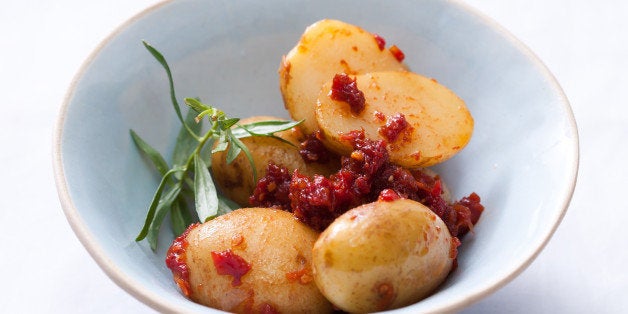 Tomatoes are the crowning glory of summer. But just because it isn't summer, that doesn't mean we have to miss out on its great flavor. The best way to indulge in tomatoes is with a tomato dressing recipe -- that way, you can put it on everything. And when tomatoes aren't in season, you can use oil-packed dried tomatoes which have a great concentrated flavor.
This tomato dressing recipe takes five minutes to make -- five!! -- and calls for only five ingredients. It's ridiculously simple. It makes a great topping for potatoes, broccoli and any other vegetable you might like. The tomato dressing is also a nice way to dress up a cheese plate, served on top of feta of goat cheese.
Get more salad dressing recipes.