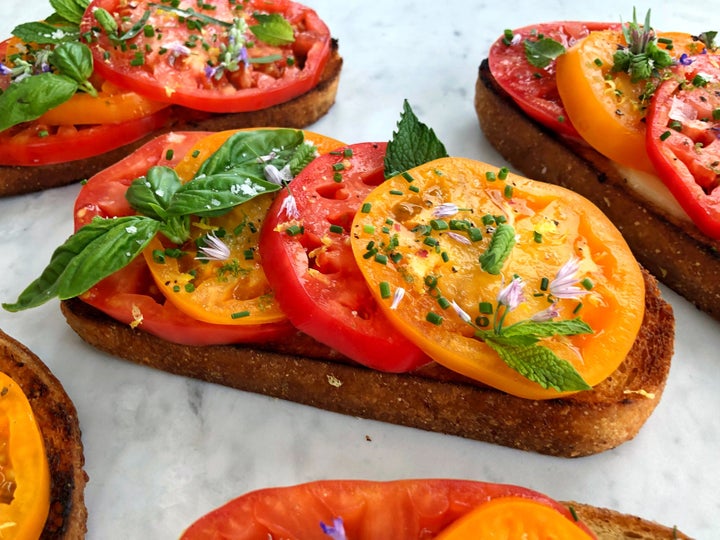 OK, so I'm officially calling this season the summer of the tomato toast.
If you've spent any time on Instagram, pictures of avocado roses have quietly exited the building to make room for these stunning slices of rainbow heirlooms covering crusty bread. And I couldn't be more excited. We're in peak tomato season, so we've got to capitalize on this ripe bounty before it slowly fades to pumpkins and root vegetables come fall.
The second I noticed this timely trend, it brought me back to my days as a line cook at ABC Kitchen, where in the summer the heirloom tomato toast reigned as king. It was a simple dish with exceptional ingredients: toasted sourdough, freshly grated Parmesan, thick slices of local heirloom tomatoes, olive oil and a healthy Salt Bae sprinkle of flaky sea salt.
Through careful attention to each ingredient, the toast was greater than the sum of its parts. This summer, I've been making a version of that dish every time I entertain. No matter how extravagant the meal (I'm talking huge steaks and peach desserts galore), everyone always comes back to talk about the tomatoes. Let's break down how to live your best summer produce life.
The Bread
In the words of the omnipotent Oprah, "I LOVE BREAD." This is the vessel of carbs for your tomatoes, so picking the right slice is important. I'm always going to be Team Sourdough. The tang in the bread bridges beautifully with the bright acidity from fresh slices, while the already dark crust gets almost burnt in the pan, making for a deep caramelized crunch.
The Mayo
There can be a great deal of divide when it comes to an affinity for mayonnaise. I'm just going to throw it out there: It's the best condiment ever created. In this recipe, by spreading this garlic mayo on both sides of your bread before toasting, you're able to infuse a rich garlicky flavor while providing full surface area contact with fat for an evenly golden crust.
I spread even more mayo on the bread before topping with the tomatoes (à la the classic tomato-mayo sandwich) to give a little punch of richness.
The Tomatoes
These are the true stars of the show. You want to pick ripe tomatoes that don't feel like rocks (underripe) or like water balloons (overripe). Using a serrated knife helps get perfect slices of the delicate fruit without losing any of the flavorful juices or seeds. Just make sure your tomatoes are room temperature; cold tomatoes are grainy and gross.
The Toppings
Juicy slices are bursting with sweetness, acidity and even a hint of umami, so they require minimal zhuzhing. I love to add fresh herbs for a verdant pop and some citrus zest for zing. Then, all you need is a drizzle of your fancy olive oil and flaky sea salt and you're set.
So hop on the trend and make this for your summer gathering. This toast is the best thing since, well, sliced bread.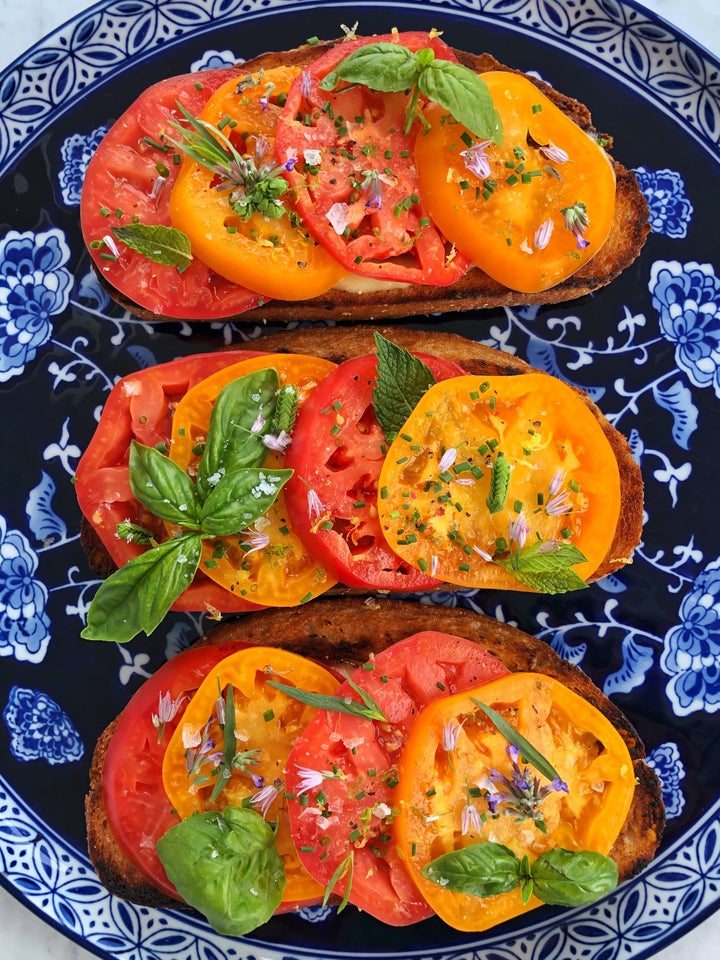 Heirloom Tomato Toasts
Yield: 8 servings
Prep Time: 20 minutes
Cook Time: 10 minutes
Total Time: 30 minutes
1 egg yolk
1/2 tablespoon kosher salt
1/2 teaspoon dry mustard
2 garlic cloves, finely grated
1 tablespoon lemon juice
1/2 tablespoon white wine vinegar
1 cup vegetable oil
1/2 teaspoon granulated sugar
8 slices sourdough bread
6 tablespoons olive oil, plus more for drizzling
3 to 4 heirloom tomatoes, sliced 1/4-inch thick
1/4 cup chopped mixed herbs, such as basil, chives, mint and oregano
Flaky sea salt, for garnish
Lemon and lime zest, for garnish
Freshly ground black pepper, for garnish
Make the garlic mayo: In a heavy, medium bowl, whisk the egg yolks with the salt, dry mustard and garlic until smooth. Whisk in the lemon juice and vinegar until a thick paste forms. Slowly stream in the oil while whisking constantly until a thick mayonnaise forms. Season with the sugar.
Make the toasts: Spread 2 teaspoons of mayo on both sides of each slice of bread. Heat 2 tablespoons of the olive oil in a large nonstick skillet over medium-high heat. Place 4 slices of the bread in the pan and cook until golden, 2 to 3 minutes. Flip the bread and add another tablespoon of oil to the pan. Continue to cook until the other side is golden, another 2 minutes, then transfer to a cutting board. Repeat this process with the remaining bread and oil.
Arrange the tomato slices on the toast, then garnish with olive oil, herbs, flaky sea salt, lemon and lime zest, and fresh black pepper. Slice each toast in half, then arrange on a platter and serve.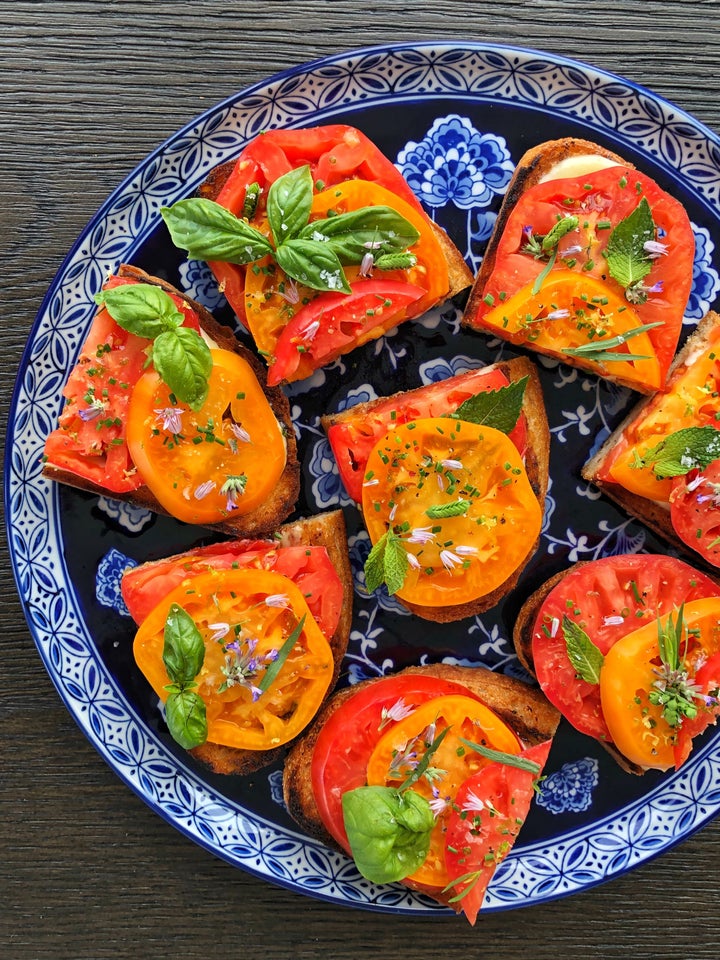 The recipe for garlic mayo in this story has been updated (to include the actual garlic!).