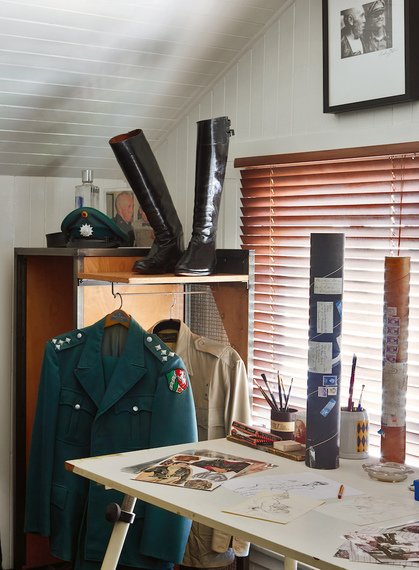 Back in the late 1970s at a bar called the Spike in New York, Durk Dehner glimpsed a small drawing of a man in leather that spoke to him with such compelling intensity that he sought out the artist and invited him to his home in Los Angeles.
Dehner became a muse of artist Tom of Finland (Touko Laaksonen, 1920-1991), as well as his archivist and business manager, which ultimately led to the founding of the Tom of Finland Foundation in 1984. By then, the artist had ended his full-time job at the Helsinki office of international advertising firm McCann-Erickson and was spending up to six months a year at Dehner's gabled Craftsman home in Echo Park. Throughout the last decade of the artist's life, the two men shared the home at 1421 Laveta Terrace, which is now known officially as Tom House.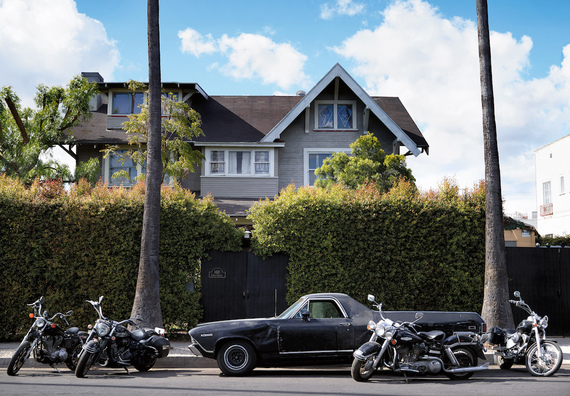 Published by Rizzoli, Tom House: Tom of Finland in Los Angeles offers an intimate perspective into the extraordinary world of one of the most revolutionary artists of the 20th century. Edited by Michael Reynolds, with a foreword by Mayer Rus and photography by Martyn Thompson, the 256-page volume provides an armchair equivalent of a private tour into a home that has served as a fraternity house and den of iniquity, as well as a haven of quotidian (and forbidden) pleasures.
Thompson's atmospheric photographs evoke the illicit thrills of Tom of Finland's arousing art: a row of boots in a bedroom, a closet filled with leather jackets and uniforms, a hand-painted sign leading to Pleasure Park. A stud-covered rimming chair, a pissoir fountain, an endless parade of penises -- all are rendered in full shelter magazine glory in Thompson's signature painterly photographs.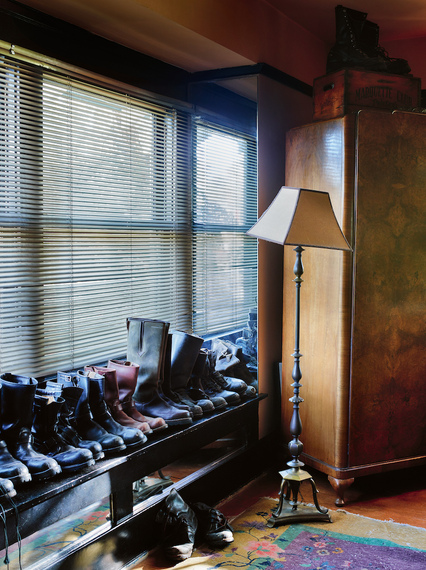 Nearly hidden by a massive hedge, Tom House is the headquarters of the Tom of Finland Foundation, as well as a shelter for LGBTQ youth and a gallery for outsider art. Originally built in 1912, Tom House featured dark oak paneling, sliding doors -- and a cellar that became a "proper gay dungeon" when painted in black. More than merely sex, however, Tom House has offered its various occupants "a place without shame or judgment" -- and, as Dehner explains, "It had a spiritual dimension."
As the current West Coast editor of Architectural Digest, Rus provides an insightful foreword that chronicles the evolving landscape of LGBT culture during Tom's tenure in the States. "During the bleakest years of the AIDS crisis," Rus writes, "Tom House hosted roughly 50 memorial ceremonies by Dehner's account." What lingers in Tom House, beautifully captured in Thompson's revelatory photographs, are the artworks that celebrate "the vital, sex-positive spirit" of Tom of Finland and his fellow artists.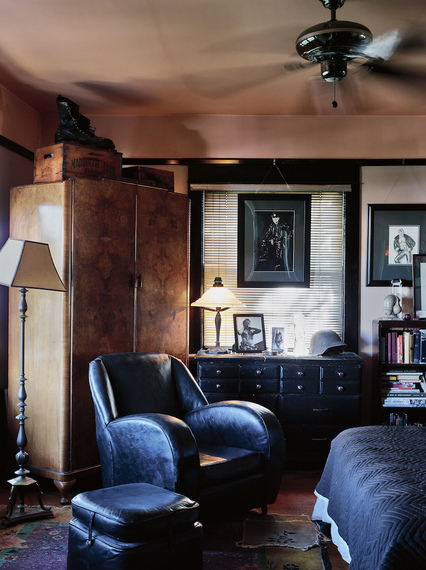 Throughout the sleekly-designed monograph, Thompson's evocative images recreate the suggestive seductive atmosphere that fueled Tom of Finland's art. The attic bedroom that the artist employed as a studio, sequestering himself for hours at a time, remains virtually unchanged since his residency. Family photographs, racks of flannel shirts and leather jackets -- and Tom's officer's uniform from his service in the Finnish army during World War II -- summon the man behind the hyper-masculine imagery.
As for the artist's vast collection of work, a cargo container has been repurposed as a refrigerated repository for the Foundation's most valuable holdings. According to Los Angeles gallery owner David Kordansky who represents the work of Tom of Finland, "It's so much more than a garnish for West Hollywood coffee tables. There's a politic involved and it's pretty fucking radical."
A member of the founding team of Wallpaper* magazine, as well as a contributing editor for Architectural Digest, Reynolds has edited an interior design tome that celebrates the unabashedly radical vision of Tom of Finland's oeuvre.
Still occupied by Dehner and others who have been influenced and inspired by the Finnish artist, Tom House functions not merely as a shrine to Tom of Finland but as an ongoing tribute to homoerotic sexuality.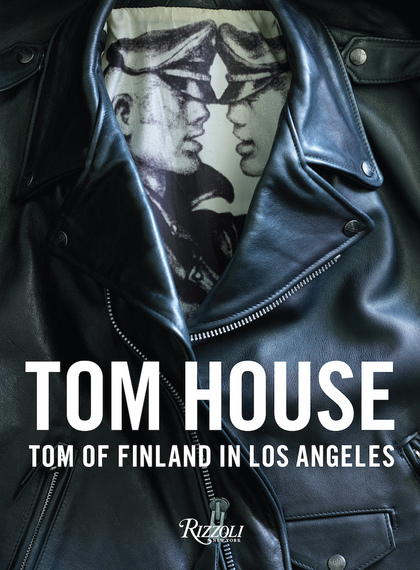 (All photographs © Martyn Thompson for Tom House: Tom of Finland in Los Angeles by Michael Reynolds, Rizzoli New York, 2016.)
Details:
Tom House: Tom of Finland in Los Angeles
By Michael Reynolds
Essay by Mayer Rus
Photography by Martyn Thompson
Hardcover / 256 pages / 8" x 11" / 200 color & b/w photographs and images ISBN: 978-0-8478-4811-9
Publication date: March 2016
Rizzoli New York
PRICE: $55.00 US and CAN / £40.00 UK
www.rizzoliusa.com
Popular in the Community