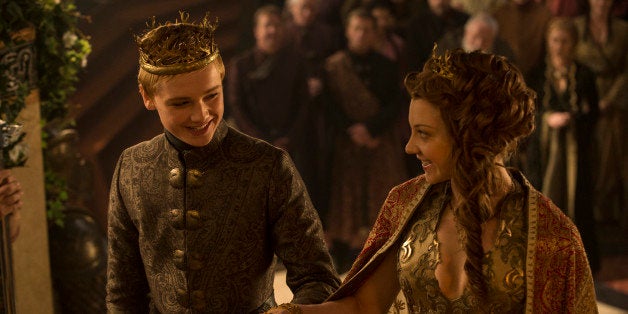 In the episode (spoiler alert) the young King Tommen (Dean-Charles Chapman) finally married Margaery Tyrell (Natalie Dormer), and like all "GoT" weddings, the marriage was consummated without delay. While we don't actually see them have sex, we see the two breathing heavily beside each other in bed afterwards, with Margaery naked and Tommen shirtless. The uncomfortable part? Tommen is still an adolescent.
Tommen is described as a 7-year-old in the beginning of George R.R. Martin's A Song of Ice and Fire books, but Chapman recently said that he approximates the boy to be about 12 years old in the series. Still, let us not forget that this is Margaery's third marriage and she is much older than Tommen. Chapman, now 17 years old, was 16 when he filmed the scene with the then 32-year-old Dormer.
Image via Tumblr
"It was very disturbing," he said. "I found out about that scene by reading the script, and I was really shocked. I didn't think it would have gone down like that on screen." Chapman was shocked just like the rest of viewers, since Tommen and Margaery don't actually have sex in the books. Watching the finished scene later was also a "weird" experience for Chapman. "Even if I watch it, it's pretty messed up, because Tommen is such a young kid."
While "GoT" showrunners D.B. Weiss and David Benioff are making a handful of bold moves this season (i.e. Sansa and Ramsay), this was particularly surprising, especially after Margaery's almost-inappropriate seduction scene last year. In Season 4, Margaery slipped into Tommen's bedroom and kissed him on the forehead, telling him it was their "little secret." The original scene in the script was apparently even more uncomfortable than that, as Dormer revealed to the Daily Beast last year. "That scene was altered because I phoned Dan [Weiss] and David [Benioff] and said, 'I'm not comfortable doing this,'" Dormer said.
But now that the two are married, Margaery is officially using sex to manipulate the young King and undermine Cersei. At this point, there's no rules for what will happen next in the Seven Kingdoms.
Calling all HuffPost superfans!
Sign up for membership to become a founding member and help shape HuffPost's next chapter
BEFORE YOU GO
PHOTO GALLERY
"Game Of Thrones"