Tommy Hilfiger is opening a massive 22,000-square-foot store on Fifth Avenue, and he's very excited about the new flagship location for his brand. I had a chance to interview this quintessential American designer and get some stunning pictures for a post.
Backstage, I got proof that models do eat. It's not a very good picture. A model had a burger on her plate. They also had brie, apples and assorted nibbles on a long table, everything was nearly gone. One of the models was even reading near the port-a-potties. This endearing moment might be one of my favorites of the week. There were many cases of Veuve Clicquot being poured for the celebrities attending. I got shooed away before I could take more photos of the prep: the fevered ironing, the almost manic fitting. The models, in an almost Zen like calm, contrasted the frenzy.
The front row had Penn Badgley,Taylor Swift, Rosario Dawson and Mary-Louise Parker. To remixed Doors and Sia (she crafted the final song to Six Feet Under) the models offered us great clothing, well made and striking. The colors were lyric - perfect, tones of green, rose and aquamarine, from the posh shores of California. You can see the full gallery at Coutorture. Tommy struck a beat to the theme of his long standing design ethos, staying true to a vision that's worked. As many designers have shown their need to reinvent and realign themselves. Tommy is growing strong.
I read Eat, Prey, Love and loved the concept of distilling the energy of the city. I've talked to many a young designer who doesn't know how to work a sewing machine. I think they need to. Tommy thinks perseverance is key, and he should know. Below is the quick interview; he's a busy man -- I didn't want to ask too many questions.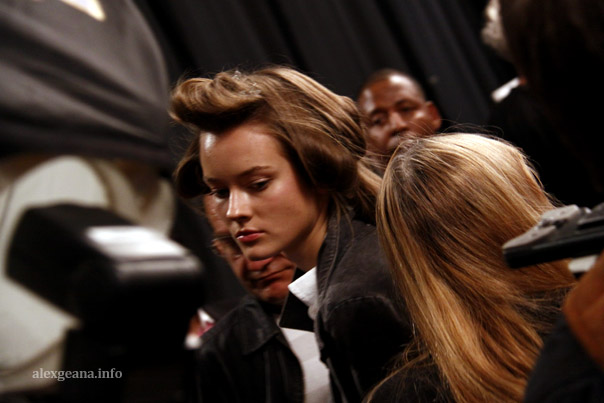 model getting ready for the Tommy Hilfiger show, for more pictures check out
my flickr stream.
An Interview with Tommy
What moment inspired your current collection?
The Spring 2010 Collection is inspired by the American way and a California boardwalk.

In one word how do you sum up the energy of New York?
Optimistic

What does Fashion mean to you, is it a concept or a word?
Fashion means style, it's about expressing yourself through your clothing choices.
If you were starting as a young designer today. What one job is most important?
I think it is really important to have a sense of business. As a designer you can get so wrapped up in the design and fashion side that you forget the business side.
Do you think a new designer should know how to sew, stitch or make they're own garment before outsourcing the work?
I think knowing how to design something yourself from start to finish is helpful. Having said that, it's not necessary because with a vision and determination, you can do anything.
What do you think of reality television?
I think reality TV is a lot of fun to watch, I'm often very amused!

Have you ever been star struck?
Yes of course, I think everyone is at some point. One of my first was Elton John!

What is your favorite food?
Sushi
Who is your most respected influence?
I've been influenced by so many wonderful people in my life and career - Karl Lagerfeld, Obama, Martin Luther King Jr..

Does a signature American style still exist?
I think the signature American style is casual sophistication- it's about a classic look updated for the times.

What do you miss the most?
I always miss my family when I'm away or working.
Notes from the Runway
I want to say thank you to Paul Wilmont. The online press corps is trying to collectively figure out how to cover Fashion Week. Every blog, newspaper and magazine is trying to get the news out in their own way. Our style is sometimes fresh and we tend to comment on mundane matters (for the fashion world) like the feel of the room, the music, sometimes we succumb to being star-struck by the celebs in the front row. For odd little me, I gushed over Bill Cunningham (street fashion reporter for the New York Times).
Yet, we collectively shape the conversation of fashion: as people search, click on links and pouch our content before the magazines can develop the conversation and focus it. Racked has mastered LiveBlogging the shows. I try to focus on substantive pieces for Huffington Post, while using my blog to remember a visceral reaction after the production. I was recognized backstage and whisked by the line, given a seat, on this, the final show of the week. I've seen 40. It get's very frustrating to constantly claw my way through. I don't report on the need to plan coverage and odd challenges of pushing out the news, since no one cares (but me). So it was amazing. Thank You.