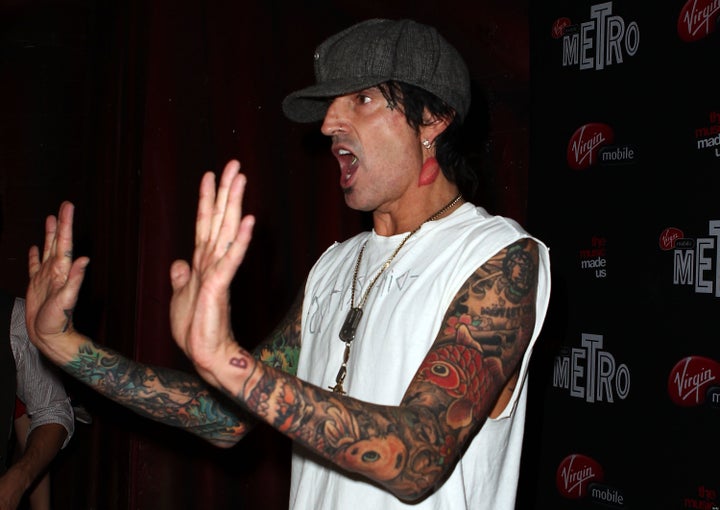 Musician Tommy Lee recently wrote a letter to Terry Prather, President of SeaWorld, as a response to SeaWorld's announcement that they would no longer allow trainers to have any personal contact with Tilikum, the orca whale involved with the death of three people. Lee, citing the support of PETA, expressed confusion and outrage over SeaWorld's latest decision, claiming trainers "masturbate" the whale with "a cow's vagina filled with hot water." He accused SeaWorld of not releasing the whale because it is their "chief sperm bank." Lee wrote:
Even during my wildest days with Motley Crue, I never could've imagined something so sick and twisted. Simply put, how can SeaWorld claim that trainers no longer have direct contact with this whale when they are jacking him off?
SeaWorld was quick to respond to the Motley Crue drummer's allegation, as a SeaWorld representative told TMZ, "The process of collecting semen for [artificial insemination] doesn't differ in any meaningful way from the techniques employed in managing livestock or other species for zoological display."
The rep attested that SeaWorld trainers currently do not, nor have they ever, entered the water for that purpose. Furthermore, the rep stated that SeaWorld is not surprised that PETA played a role in Lee's accusation, or that the organization was allegedly incorrect in its accusation. According to the rep, "PETA is as careless with their facts as they are extreme in their views."
Tommy Lee, however, is not alone in his thoughts about the cruelty of keeping animals captive. Ric O'Barry, famous for "The Cove," thinks captive animals contribute to people believing that it's okay to simply abuse nature. He believes that live animal shows teach us to see dominance as a positive force, and even goes so far as to calling places like SeaWorld "abusement parks."
The Humane Society is right on board with O'Barry and Lee. Dr. Naomi Rose, a senior scientist for the nonprofit, argues that SeaWorld creates a stressful environment for their captive whales. She told ABC, "When they're confined, I think they're under stress, I think they're at the very least very bored; and both stress and boredom, and depression, can kill you."
Unfortunately, the whales at SeaWorld are simply not living as long as they should be. On average, male orcas live over 30 years, while females live over 50 years.Many whales can even live into their 80s and 90s. The three whales that died at SeaWorld this year were 21, 12 and 25. Rose noted that "Orcas are in fact just too big to be maintained properly and adequately in captivity. SeaWorld is telling you otherwise but they are misleading the public when they say that."
Related
Popular in the Community